Looking for a side dish that cuts out carbs but not the flavor? You'll love this Bacon Chive Cauliflower Rice.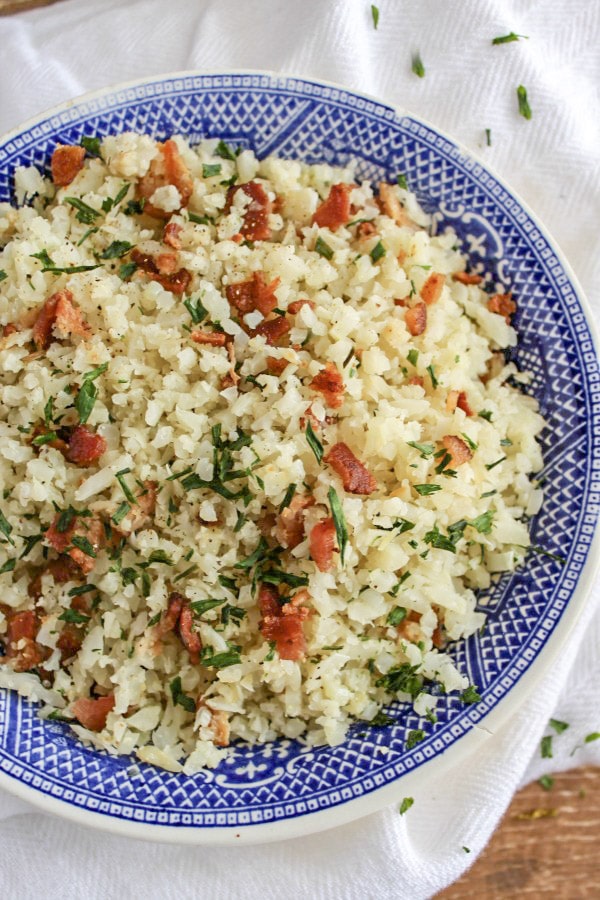 I admit that the first time I heard someone talk about making rice out of cauliflower I thought there's no way that's going to be good. Surprisingly it turns out that cauliflower rice is really quite good and it is also extremely versatile. Today I'm sharing a simple recipe for cauliflower rice you can put together for a weeknight dinner or prep ahead lunch. 

How do you make rice from cauliflower?
There are two popular methods for ricing a head of cauliflower. For both method you begin by removing the leaves and stem. Then breaking or chopping apart the florets into two the three inch pieces. Finally give it a quick rinse and pat dry with a clean dish towel or paper towel. 
Method 1: Box Grater 
After you've removed the stem and leaves and broken the cauliflower into florets grate the florets into rice on the large holes of the box grater by using an up and down motion. 
This method can get a little messy but I've got a tip for you to help cut back on some of the messiness. Using a large bowl place the box grater inside and then using grate the cauliflower into the bowl. This will help contain the rice. 
Method 2: Food Processor 
After cleaning and breaking the head of cauliflower down into florets place them into the cup of the food processor and pulse until it is broken down into small granules and resembles rice. 
After you have riced the cauliflower it's time to do my favorite part, fry the bacon! For this recipe you can use 3 to 5 slices of bacon. It really just depends on how much you love bacon. I tend to go all out and use five but it's totally a personal choice. 
For this recipe fry bacon in a skillet over medium heat until crispy and easy to crumble. Once the bacon is fried set it aside on a plate lined with paper towels and then reserve one tablespoon of the fat before draining the rest. 
In the same skillet combine the bacon fat and butter and warm until butter is melted. Reduce heat and add chopped onions. Cook until tender, about five minutes. 
Next, add the cauliflower rice and season with salt and pepper then sauté for about three minutes. Finally, add the bacon and chives and stir to combine. Remove from heat and serve immediately. 
Happy Cooking Y'all! 
Susanne 
LOOKING FOR MORE LOW CARB SIDES YOU'LL LOVE?
Let's connect follow me on: Instagram, Facebook or Pinterest!
Bacon Chive Cauliflower Rice
Looking for a side dish that cut out carbs but not the flavor? You'll love this Fried Cauliflower Rice with Bacon and Chives
Ingredients
1 1/2

cups

riced cauliflower

fresh or frozen

3-5

slices

bacon

crumbled

1

tablespoon

butter

melted

1/2

small onion

diced

3

cloves

garlic minced

2

tablespoons

chives

minced

salt and pepper to taste