My husband loves soup. He especially loves homemade soup. So you can imagine my surprise when I realized I'd never shared a soup recipe with y'all. That was until today. Today I'm sharing the recipe for Chicken Taco Soup.
When I say easy I mean that if you can work a can opener then you've pretty much mastered this recipe.
I love a fast recipe that I can have ready in a hurry. Especially when it's something that is delicious and filling. This soup meets all those requirements. Plus it has my hubby's stamp of approval.
I make this soup in a 7 quart stockpot but you could use a dutch oven if you have one. The most important thing is that it's big enough to hold all the ingredients and it has a lid.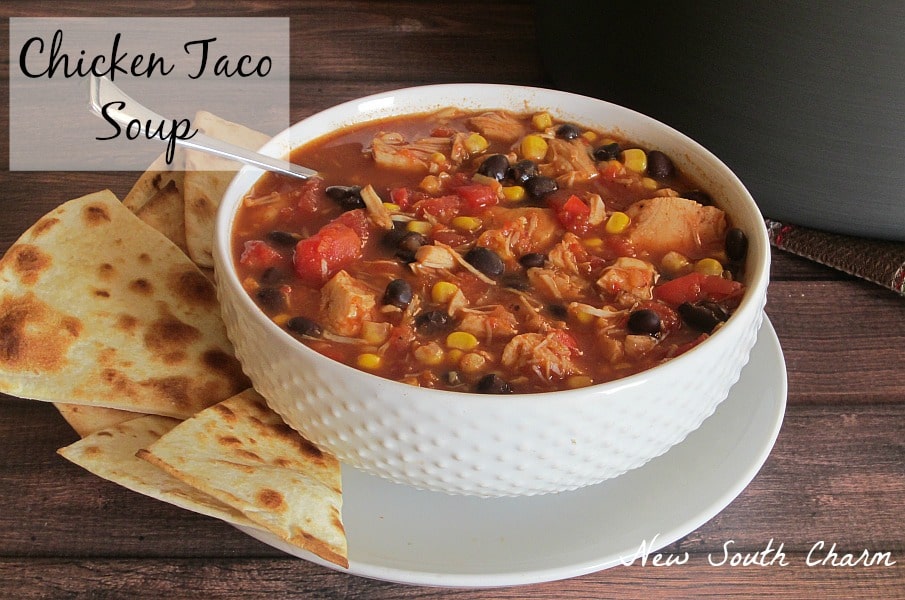 This recipe does require cooked chicken. A cubed or shredded rotisserie chicken will work fine. Just pick one up when you go to the grocery store and keep it in the fridge until your ready to make the soup.
Begin by finely dicing a red bell pepper and a small yellow onion. I use my food processor to chop up the pepper and onion. I do this for two reasons. The first is that it faster. The second and probably most important is that it chops the vegetables much smaller than I can by hand. If you don't have a food processor or just don't want to drag it out try to chop the onion and pepper as small as possible so they don't interfere with the texture of the soup.
After you've chopped the vegetables add them to a  large pot of warm olive oil. Then cook for about three minutes or until they are tender and the onion becomes translucent.
Next you'll add the broth, diced tomatoes, tomato sauce, taco seasoning, red pepper flakes, salt and pepper to the pot then stir well. Allow the liquids and seasonings simmer together for five minutes. Add black beans and corn to pot and bring to a soft boil. Turn heat to low and simmer for 15 minutes.
I like to serve this soup with toasted tortillas. If you'd prefer you can buy tortilla chips and serve them on the side or crumble them up in the soup. Cheese is also a yummy topping for this soup.
Do you love soup? If yes, do you eat it all year round or just in the fall and winter?
Thank you so much for reading!  Are you following New South Charm on Facebook? I'd love to hear from you; drop by and say hello!
Happy Cooking Y'all!
Susanne
Chicken Taco Soup
Ingredients
This recipe can be prepared and frozen for up to three months

2

chicken breasts cooked and shredded

about 2 cups

1

small yellow onion finely chopped

1

red bell pepper finely chopped

2

cups

chicken broth or one 14.5 oz can

1 14.5

oz

can of petite diced tomatoes with juice

1 8

oz

can of tomato sauce

1 15

oz

can of black beans

drained

1 15

oz

can of whole kernel corn

drained

1 1.25

oz

package of taco seasoning

1/4

teaspoon

red pepper flakes

salt and pepper to taste

tortilla chips, sour cream, cheese or any other topping of your choice
Instructions
Over medium heat warm olive oil. When warmed add onion and red bell pepper cook three minutes or until vegetables are tender

Add chicken broth, diced tomatoes, tomato sauce, taco seasoning, red pepper flakes, salt and pepper then stir until well combined let simmer five minutes

Add chicken, black beans and corn bring to a boil. Cover and reduce heat. Simmer 15 minutes.

Garnish as desired.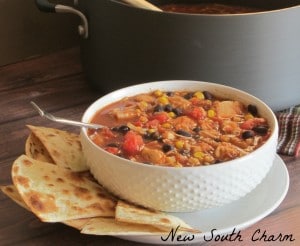 Looking for more TACO recipes?