Making dinner doesn't always have to be hard or take a long time. Let's  face it who has time every night to make a three course meal? Not me. Plus there are those nights I just don't (gasp!) want to cook. For these kinds of nights I keep a few quick fix dinners in my back pocket. These quesadillas are fast, cheap and filling. Perfect for those nights when you're tempted to run through the drive thru or order a pizza.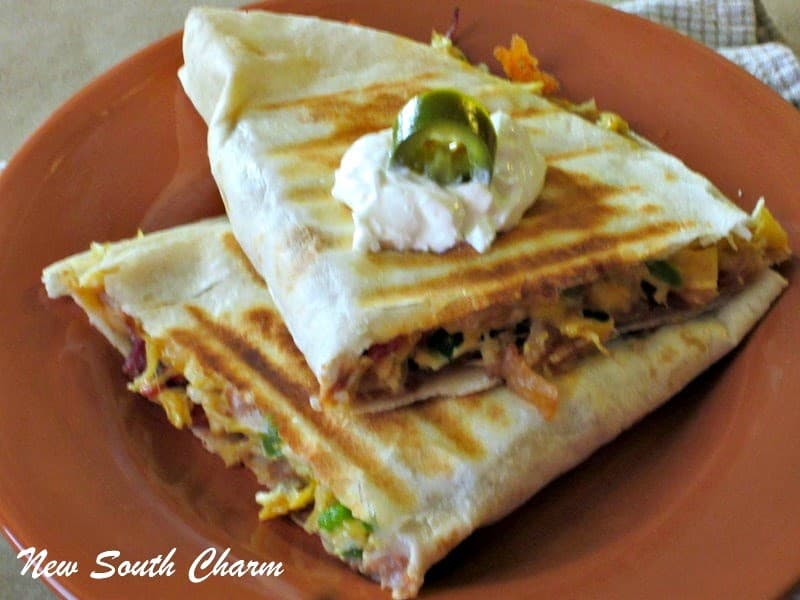 One of the best parts of these quesadillas is the bacon. That's right I said B-A-C-O-N!!! Here's the trick I use to cook the bacon in a hurry for this recipe. Using 3-5 slices on bacon – how much is up to you –  and slice it into small pieces. Then in a large skillet over medium high heat add the bacon and cook until brown and crispy, about 6-8 minutes. Set bacon aside.
The trickiest part of this whole recipe us flipping the quesadilla over. To to this I use a spatula and a fork to help me keep it balanced. But I'm a little klutzy so you may not need the fork. Once you've flipped the quesadilla over let the other side cook until it's cooked though evenly. Then using the spatula and fork remove it from the skillet.
Like this recipe? Follow me on
Facebook
for lots of recipes and ideas that your family will love.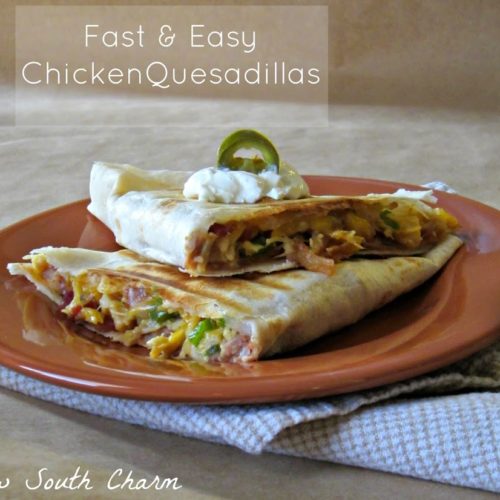 Fast and Easy Chicken Quesadillas
Ingredients
1

package of 8 Large Flour Tortillas

Shredded Chicken

Bacon

½

cup

of green bell pepper diced

½

of yellow onion diced

¼

cup

of red onion sliced

optional

1

can of refried beans

1

package shredded cheese

Sour Cream

for garnish

Jalapeno Peppers

for garnish

Large Skillet or Grill Pan
Instructions
Cook bacon and set aside (see post for quick tip) When chicken is cooked dice or shred and set aside in the same bowl as the bacon.

In the skillet add onions, green peppers and cook until tender add to bowl with chicken and bacon. Add in refried beans. Mix everything until well combined.

Lay one tortilla on flat surface and pile chicken mixture and cheese on evenly on one side. Fold empty side over and place on skillet/grill pan until the tortilla is toasted. (You have to use a spatula and peek from time to time. I know you probably figured that out already)

Flip the quesadilla over and cook other side evenly.

Serve with toppings of your choice