Easy Red Beans and Rice gives you all the flavor of the traditional version in just 30 minutes. Plus it cooks in just one skillet saving you tons of time when doing the dishes. This just might be the perfect recipe.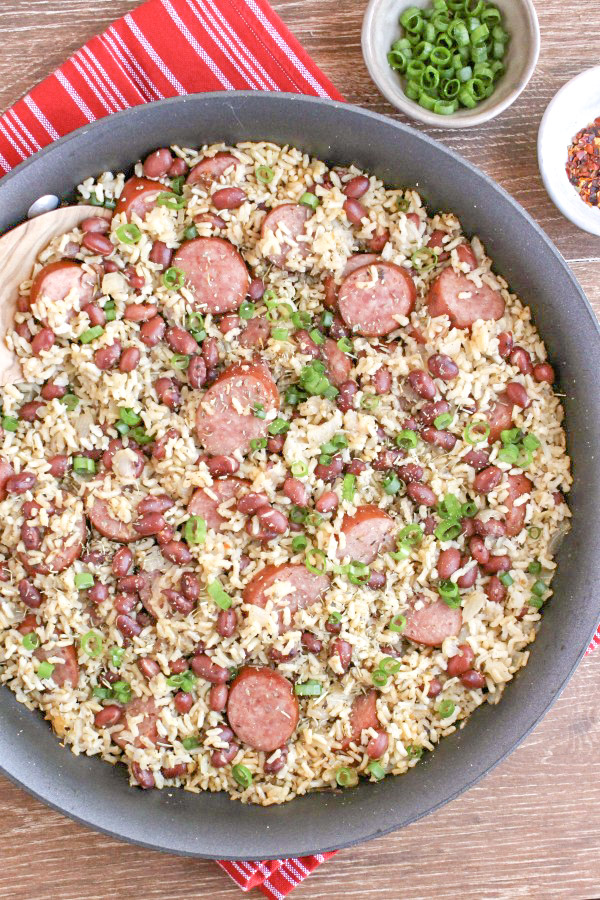 (This post was updated with better directions and photographs on May 2019)
When my husband and I first got married I made Red Beans and Rice one night for dinner. I think that meal might have been the worst thing I've ever cooked. I mean it was disgusting. I mean it was completely inedible I used way, way too much spice and the rice wasn't cooked through. It was years before I decided to try it again.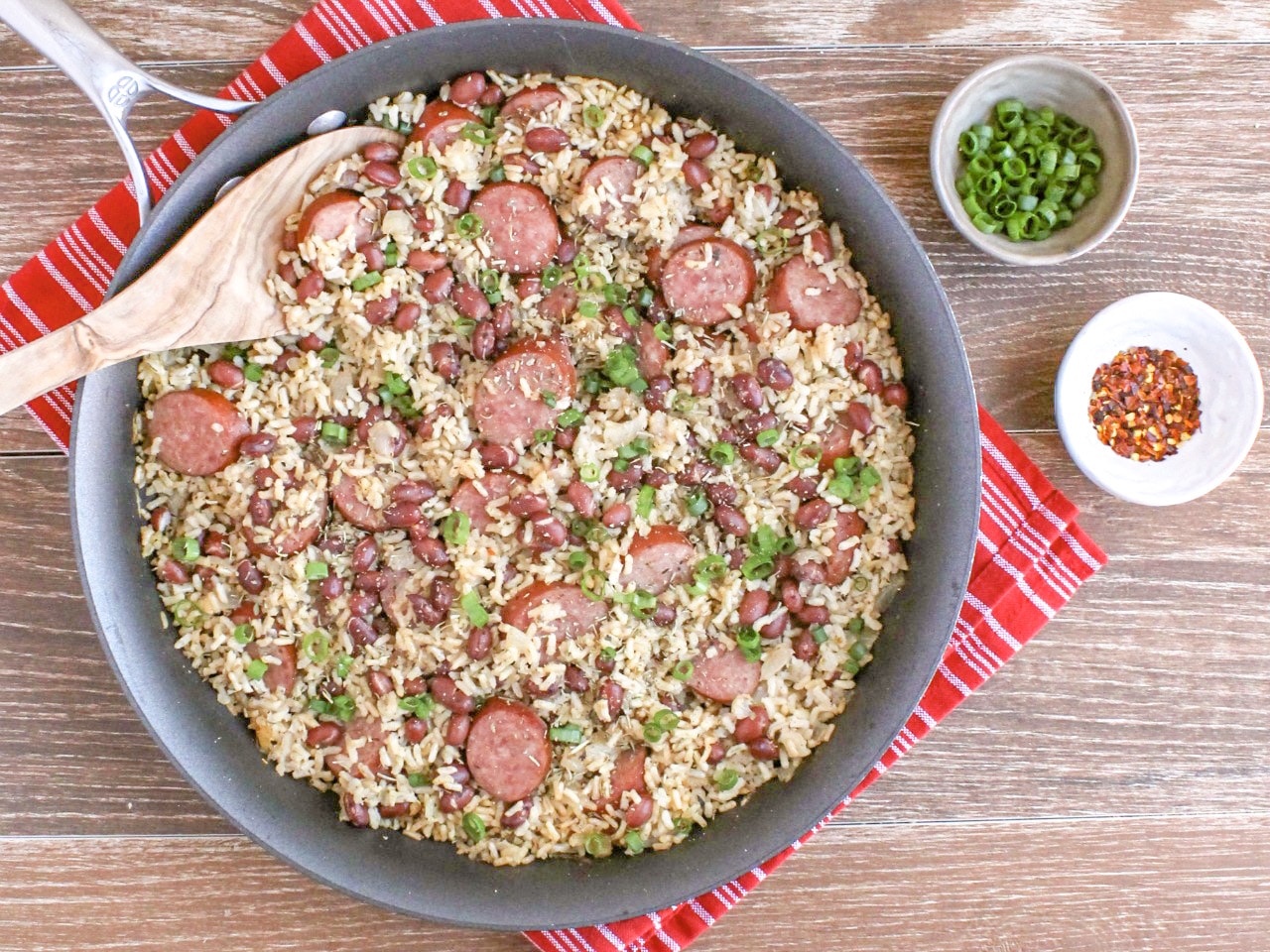 The recipe I'm sharing today is nothing like that first version. In this version I've worked to build the flavors and get them compliment each other rather than compete. I also really cut back on the spicy seasonings but if you are one of those people who just loves a lot of spice you can add cajun seasoning, red pepper flakes or even some hot sauce to meet your preferred heat level.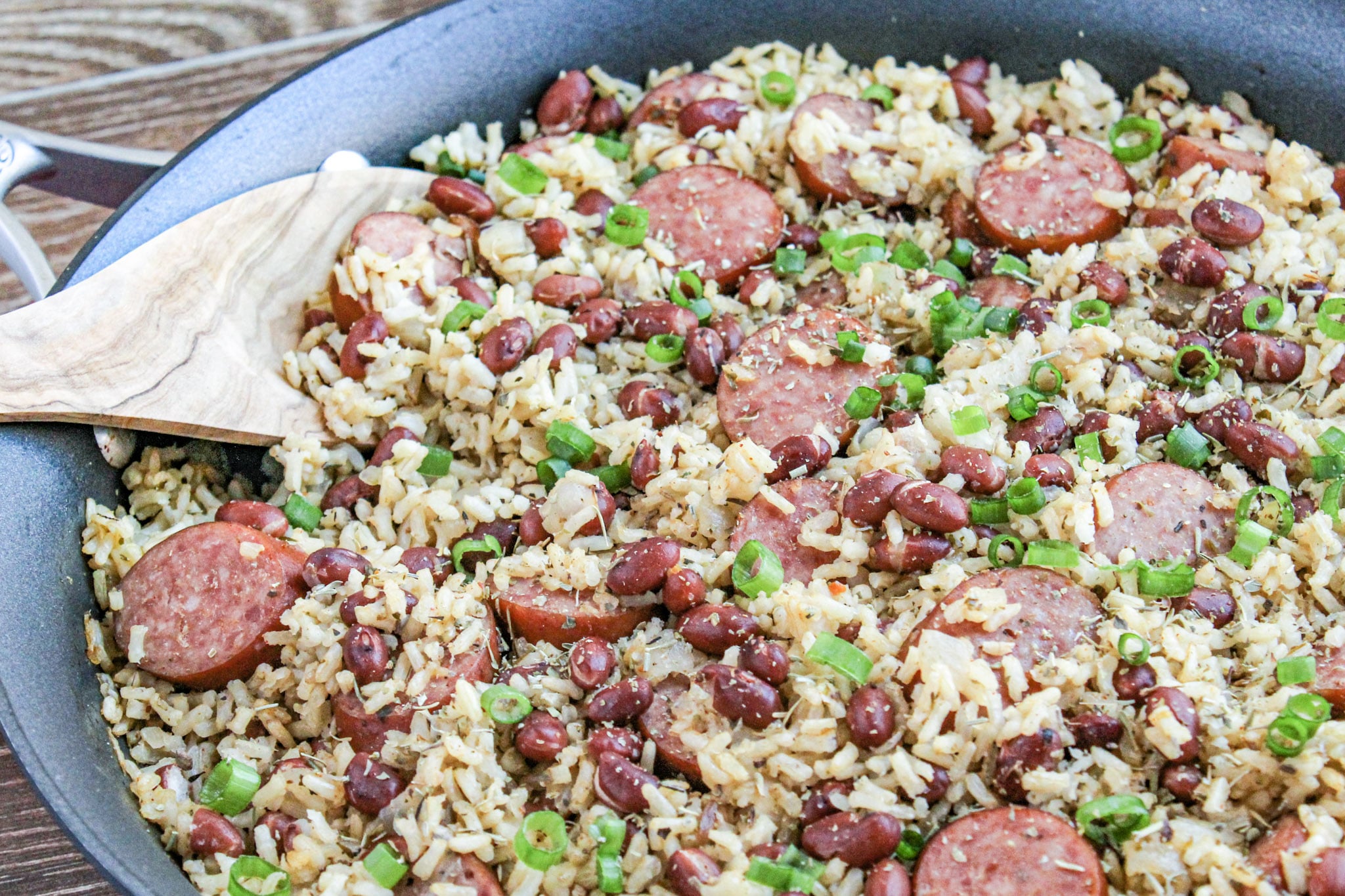 Are red beans and kidney beans the same thing?
Although they are very similar and can be interchanged easily in recipes there are a couple of small differences. Red beans are slight lighter in color, smaller and rounder. Another difference between the two is that kidney beans have more fiber per serving. 
To make this version of red beans and rice you will need:
kielbasa
red beans (canned)
rice (white or brown)
onion

 

garlic
Cajun seasoning
Italian seasoning
chicken broth

 

extra virgin olive oil

 

black pepper

 
How to make Easy Red Beans and Rice:
In a large skillet warm olive oil for about a minute. Add sausage and onions to the skillet. Cook until onions are tender and translucent.
Add minced garlic and cook for one minute while stirring. (if using powder skip this step)
Add beans, Italian seasoning, cajun seasoning, red pepper flakes (optional) and stir to combine.
Next add rice and chicken broth to skillet and stir to combine.
Bring everything to a boil, reduce heat to medium low cover and simmer for 20 minutes. Stirring occasionally.
Garnish with sliced scallions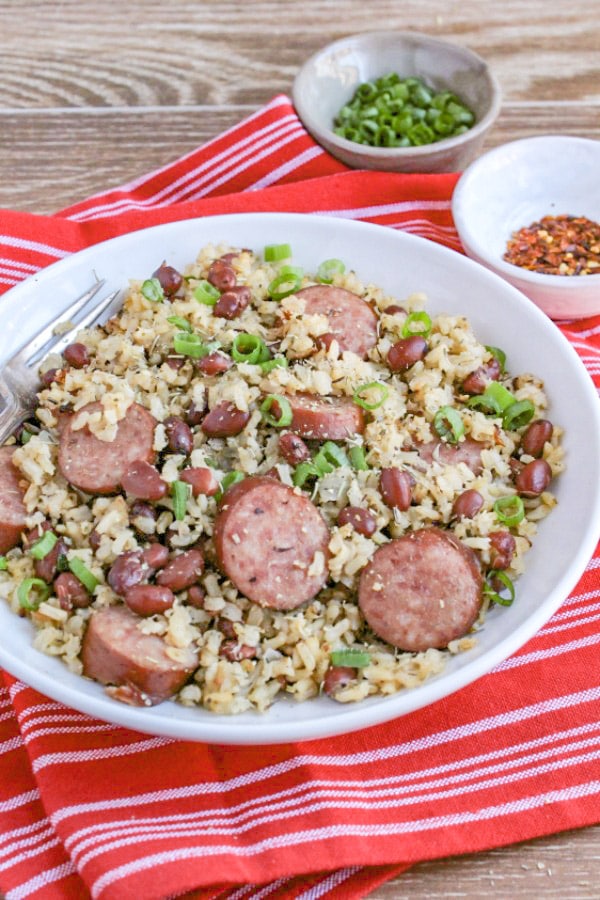 My tips for this recipe:
If you like your Cajun food spicy you can add a 1/4 a teaspoon red pepper flakes to the recipe and add them in when you add the cajun seasoning. This will give the dish a little extra heat.
If you can't canned red beans at your grocery store you can use light red kidney beans instead.

 
Happy Cooking Y'all!
Susanne
Looking for more delicious ways to cook with rice?
Easy Smoked Sausage and Rice Skillet
Spicy Mexican Chicken and Rice 
Slow Cooker Teriyaki Chicken and Rice
Instant Pot Cajun Chicken and Rice 
Easy Red Beans and Rice
Easy Red Beans and Rice gives you all the flavor of the traditional version in just 30 minutes in one skillet.
Ingredients
1

lb.

Kielbasa sausage

sliced into half inch pieces

1

cup

rice

white or brown

2

cups

chicken broth

12 14

oz. cans

red beans

drained and rinsed

1

medium onion

diced

3

cloves

of garlic

minced or one tablespoon garlic powder

1

tablespoon

Italian Seasoning

1//2

teaspoon

Cajun Seasoning

or more to taste

1/4

teaspoon

red pepper flakes

optional

2

tablespoons

olive oil
Instructions
In a large skillet warm olive oil for about a minute. Add sausage and onions to the skillet. Cook until onions are tender and translucent.

Add minced garlic and cook for one minute while stirring. (if using powder skip this step)

Add beans, Italian seasoning, cajun seasoning, red pepper flakes (optional) and stir to combine.

Next add rice and chicken broth to skillet and stir to combine.

Bring everything to a boil, reduce heat to medium low cover and simmer for 20 minutes. Stirring occasionally.

Garnish with sliced scallions
Recipe Notes
 

add a 1/4 a teaspoon red pepper flakes to the recipe and add them in when you add the cajun seasoning if you want to add more spice to the recipe
light red kidney beans can be used in place or red beans