Easy Pecan Pie Bars are made with a crescent roll crust. Easy and fun to make, these pecan pie bars will become a family favorite!
Some of my favorite memories of being with my Meemaw (don't laugh we call our grandparents funny names in the South) are of shelling pecan at her kitchen table. Those pecans would become some of the best pies, cakes and cookies you ever had.
In the spirit of my beloved Meemaw I decided I would make a cookie with pecans. After looking through my favorite cookbooks I settled on Easy Pecan Pie Bars. This recipe just seemed like something she would have loved.
So like all of the desserts I share with you this one is easy so even if you're like me and only bake a few times a year you'll be able to whip these together without even using a mixer.
The crust for the bars is actually canned crescent dough from the refrigerator section of the grocery store. To use it simply unroll it in the bottom of an 9×13 pan and press around the edges to form about a half inch crust.
I was able to find crescent dough in sheets that did not have the perforated lines. If you can't find the she sheets a regular can of crescent dough will work just a well. To use it simply unroll it in the bottom of a 9×13 pan and press firmly to close the diagonal perforations so that the dough seamlessly covers the pan. Then press the edges of the dough up the sides of the pan to form about a half inch crust around the edge.
Place the pan in a 350º oven and bake for eight minutes. The dough will not be completely baked through. That's fine, you're going to bake it a few more minutes once you add the pecans. So don't put it back in the oven. You don't want a burnt crust.
While the dough is in the oven whisk together melted butter, corn syrup, sugar, vanilla and a beaten egg until smooth.
Next, add the pecans to the bowl and stir together until the pecans well coated.
Remove dough from the oven and pour the pecan mixture over the top while it is still warm.
Return pan to oven and bake for another 18-20 minutes or until the filling is set and the dough is a golden brown.
You will need to let the pan cool completely before cutting it into bars. I recommend waiting at least an hour. Believe me that hour I waited was the longest hour of my whole life. I kept walking into the kitchen and checking the timer because they just smelled so good.
When the bars are cooled cut them into squares and serve.


At the beginning of this post I told you that I chose the recipe because it reminded me of my Meemaw and spending time in her kitchen. Her kitchen wasn't fancy and honestly she wasn't either but she loved a good home cooked meal, and enjoyed baking at the holidays but most of all she loved sharing food with people. I guess this apple didn't fall to far from the tree.
Thanks for stopping by New South Charm! If you haven't already I've love of you to follow me on Facebook or Instagram. I'm always sharing something good and I promise you'll love it too.
Happy Cooking Y'all!
Susanne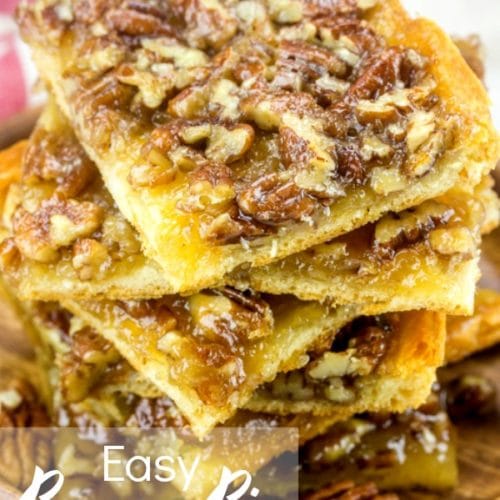 Easy Pecan Pie Bars
Ingredients
1

can

8 oz refrigerated crescent rolls

1

cup

pecans

chopped

2

Tbsp

butter or margarine

melted

1/2

cup

corn syrup

1/2

cup

sugar

1

tsp

vanilla

1

egg

beaten
Instructions
Unroll dough in the bottom of a 9x13 pan and press together any holes. Press dough along the side of the pan to create crust

Place the pan in a 350º oven and bake for eight minutes. The dough will not be completely baked through.

While the dough is in the oven whisk together melted butter, corn syrup, sugar, vanilla and a beaten egg until smooth.

Next, add the pecans to the bowl and stir together until the pecans well coated.

Remove dough from the oven and pour the pecan mixture over the top while it is still warm.

Return pan to oven and bake for another 18-20 minutes or until the filling is set and the dough is a golden brown.

Cool bars completely before cutting