Confetti Corn is the perfect side dish to jazz up a simple dinner. It's a great side to serve with chicken breasts, pork chops or even ham. It would even be great with hamburgers or barbecue. This dish is delicious with corn fresh from the cob but it's just as good when made with frozen corn kernels.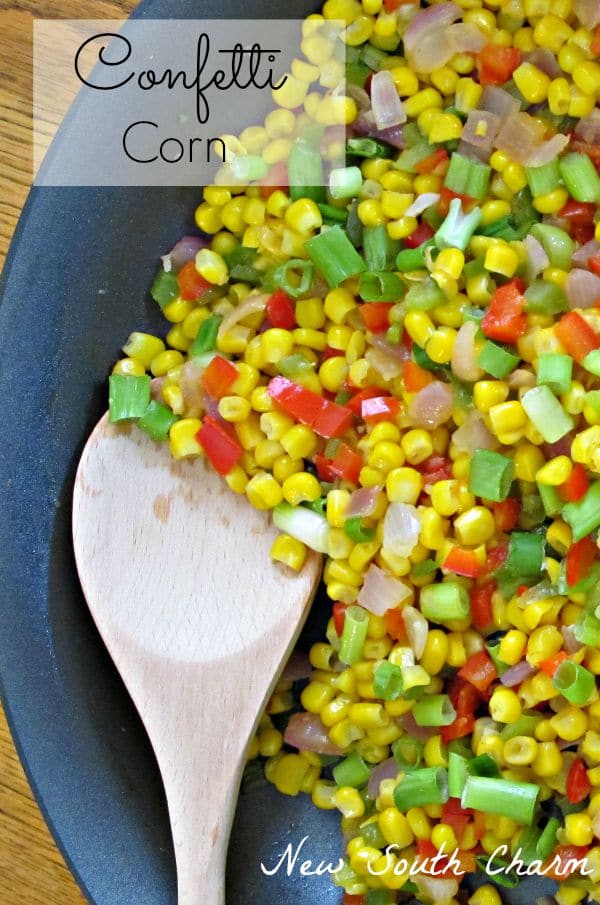 Probably like a lot of  you I'm guilty of serving the same veggies on repeat. Boring. So in order to change things up some and make eating at home more fun; I've been trying out new recipes. Of course I'll be sharing all the best ones with y'all. Today is one of those recipes, Confetti Corn.
This recipe starts with chopping peppers and onions. Two kinds of peppers and two kinds of onions. Now you might be asking why two of each? Wouldn't just one be enough, Susanne?
Maybe, but you would be missing out on a lot of extra flavor. There are differences between the two bell pepper and two types of onions in this dish.
Red bell peppers have a sweet flavor while green bell peppers have a slightly bitter taste.Scallions provide a light onion flavor but also give recipes texture because they are crunchy and juicy. Red onions are a little spicy and become soft when cooked.
So you see each pepper and onion in this dish is adding a different to the flavor to the recipe.
Thank you so much for reading! Are you following New South Charm on Facebook? I'd love to hear from you drop by and say hello!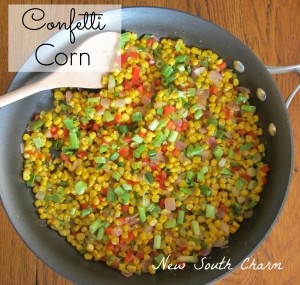 Happy Cooking Y'all!
Susanne
Confetti Corn
Ingredients
4

cups

of corn

fresh or frozen

1

tablespoon

Extra Virgin Olive Oil

2

tablespoons

butter

1/2

cup

red onion

chopped

3

scallions

sliced

1/2

cup

green bell pepper

diced

1/2

cup

red bell pepper

diced

3

cloves

of garlic

finely minced

salt and pepper to taste
Instructions
Heat EVOO in a skillet over medium heat until warm

Add peppers, onions and garlic to skillet and cook until tender

Melt butter and then add corn, salt and pepper, stir until combined

Turn heat to low and cover skillet

Cook 10 minutes stirring occasionally