Chicken Parmesan Couscous takes about 30 minutes to make. It's also a simple recipe but don't let that fool you, this dish is packed with lots of yummy goodness.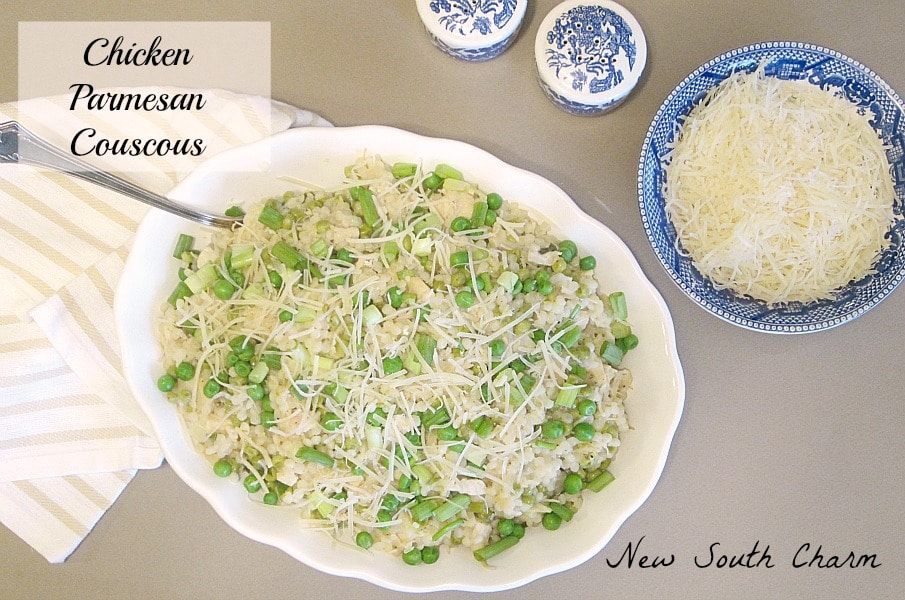 Couscous is a pretty new food for us. In fact it's become somewhat of an obsession for me. If you've ever been to a Texas de Brazil then maybe you've tried the Couscous Salad. We ate at the one in Memphis a couple months ago and that's where my love of couscous began. Since then I've started looking for recipes that feature this small round pasta that cooks in ten minutes.
There are a few different types of couscous. This recipe uses Pearl or Israeli Couscous. This type of couscous is a little larger than other types. It also has a slightly nutty flavor. This makes it great for simple dishes like this one because it adds more flavor.
To begin this recipe you'll toast the couscous in olive oil. This will help bring out it's natural flavor. After toasting the pasta you'll add chicken broth, lemon juice, garlic, salt and pepper to the pot. Bring everything to a boil before for turning the heat to low and allowing it to simmer.
The reason it is important to add the seasoning now is because the only chance you have add flavor to the pasta is while it's boiling. This is actually true of any pasta type or shape.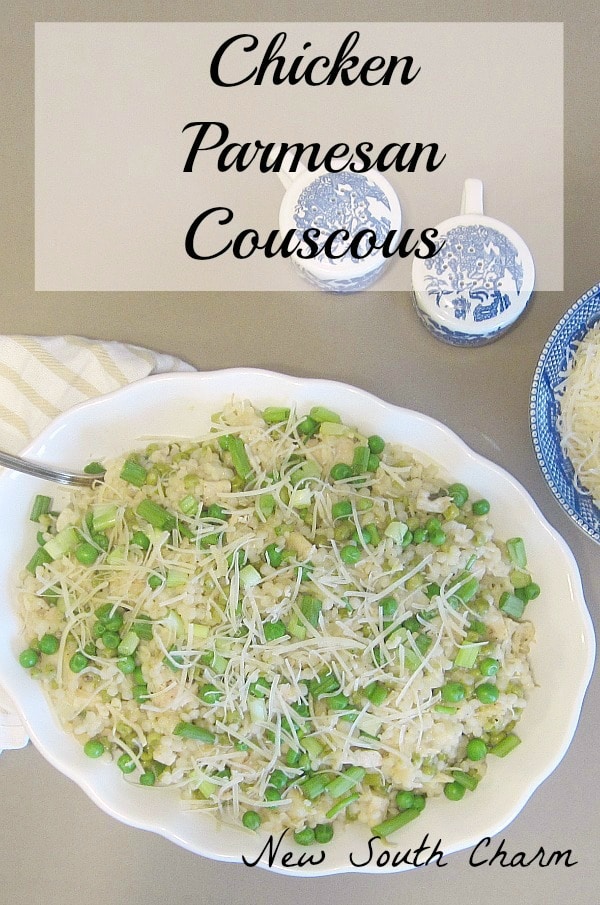 After the couscous is done simmering on low heat you will add in the chicken, peas, scallions and cheese. Then stir it continually until the cheese is melted.
The most time consuming part of this recipe is cooking the chicken. However there are some options a few time saving options for cooked chicken. One of my favorites is frozen prepared chicken that can be tossed in the microwave. If you have time to grab a rotisserie chicken that's always a great option. Or if you are really organized (something I'll never be) you could make the chicken in advance and store it in the fridge and heat it up before adding it to the mixture.
Do you have a favorite tip or trick for busy nights? I'd love to hear about it. Leave me a message in the comments and let me know.
Thank you so much for reading! Are you following New South Charm on Facebook? I'd love to hear from you; drop by and say hello!
Happy Cooking Y'all!
Susanne
Chicken Parmesan Couscous
Ingredients
2

cups

cooked chicken

2

tablespoons

extra virgin olive oil

1 1/2

cups

Israeli Couscous

2 1/2

cups

chicken broth

1/4

cup

lemon juice

1/2

cup

scallions

1

cup

frozen peas

thawed

2

cups

Parmesan cheese

plus extra for garnish

1

teaspoon

garlic powder

salt and peper to taste
Instructions
Over medium high heat warm olive oil in a large sauce pan

Pour in couscous and cook for 2-3 minutes, stirring frequently, cook until lightly toasted

Add chicken broth, lemon juice, garlic powder, salt and pepper to pot, bring to boil, reduce heat and cover, simmer for 8 minutes (there should be some liquid left in the pot when done simmering)

Stir in peas, scallions, and cooked chicken. Mix until well combined.

Garnish with Parmesan cheese