Chicken Pot Pie is the ultimate comfort food. It's the kind of food you want when you've had a bad day or when the weather is cold. It is food that's good for the soul.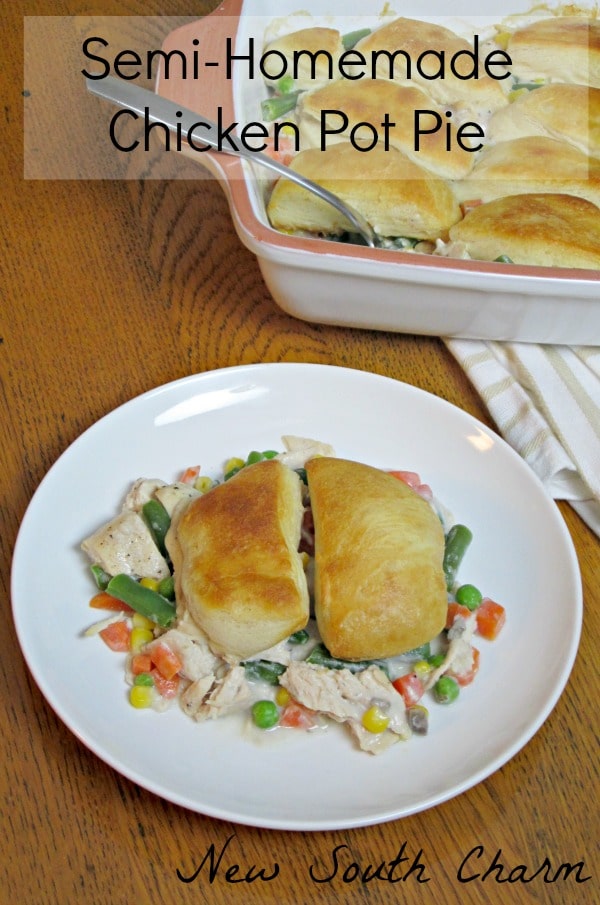 Let's face it, the weather is turning cooler and day's are getting shorter. Fall is here and in my house that means warm comfortable throw blankets, lots of hot tea, and comfort foods.
One of our favorite comfort foods is Chicken Pot Pie. But making it from scratch takes time. That's why I love this semi-homemade version. I can have all the flavor and warm goodness without all the work.
I like to cook the chicken myself and season it with a little salt and pepper. A rotisserie chicken is another option if you want to skip a step. Whether you a rotisserie chicken or to prepare it yourself the chicken will need to be shredded or diced the chicken into bite size pieces.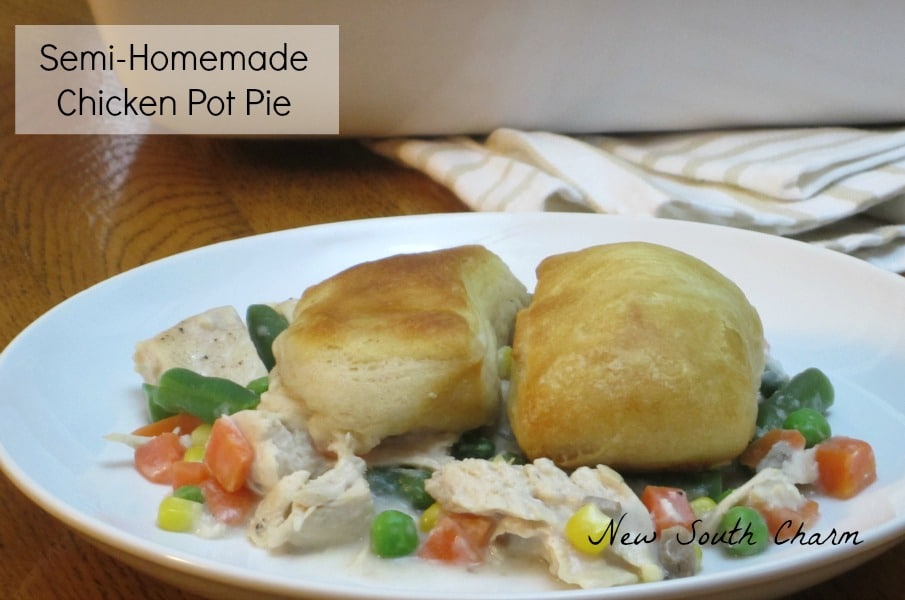 The filling for the pie is made by combining frozen vegetables, cream of mushroom soup, water salt and pepper in a bowl. Once all the ingredients are mixed together transfer everything into a 9×13 casserole dish. Then cover then cover the dish with foil before placing it in a 400 degree oven for fifteen minutes.
While the filling is cooking in the oven it's time to get the crust ready.
To create the "crust" you will use a can of refrigerated biscuits. I like to use Pillsbury Grands Flaky Layers (I'm not being paid to say that) they seem to work the best for this recipe.
You will need eight biscuits cut in half for this recipe. After you halved the biscuits pat them flat with your hands. When you take the filling out of the oven pull off the foil lay the biscuits on top and pop it back in the oven for 20-25 minutes or until biscuits are golden brown and cooked through.
That's all there is to it. In just a about an hour you can have this delicious recipe on the table for your family.
Thank you so much for reading! Are you following New South Charm on Facebook? I'd love to hear from you; drop by and say hello!
Happy Cooking Y'all!
Susanne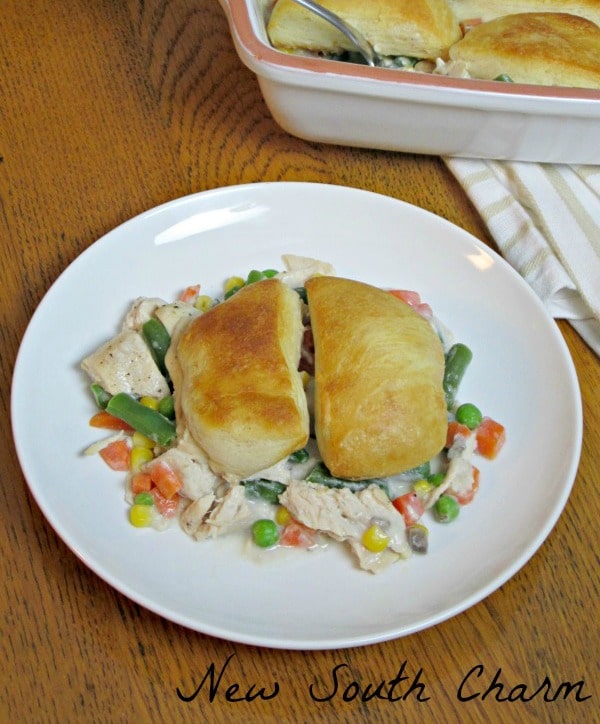 Semi-Homemade Chicken Pot Pie
Ingredients
2

cooked chicken breasts

shredded

10-

ounce

package frozen mixed vegetables

10.75-

ounce

can condensed cream-of-mushroom soup

10-

count container refrigerated biscuits
Instructions
Preheat oven to 400 degrees

Combine the shredded chicken, mixed vegetables, cream of mushroom soup, pepper, 3/4 cup water, salt and pepper in a large bowl.

Transfer the mixture to a 9x13 casserole dish. Cover with foil and bake for 15 minutes.

While vegetable mixture is in oven, prepare biscuits by cutting in half and patting them flat with your hands. (See directions in post)

After 15 minutes remove foil and place the biscuits on top of vegetable mixture. Replace in oven and continue baking until the biscuits are golden brown and cooked through, about 20 - 25 minutes. Remove both the casserole and the biscuits from the oven.
Looking for more great recipes?