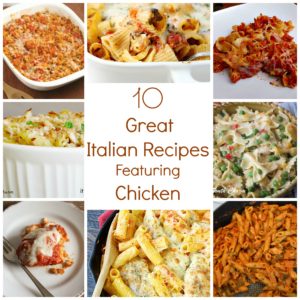 I've put together a collection of chicken recipes with Italian flair. These are great recipes from some of the best food bloggers. They are easy and family friendly. I hope you'll find some great recipes for your family. I know I have!
This Bruschetta Chicken Bake from The Gracious Wife is filled with cheese, garlic, tomatoes and chicken. It is full of flavor and makes a great family meal.
http://www.thegraciouswife.com/bruschetta-chicken-bake/
I love Chicken Parmigiano and this recipe from An Italian In My Kitchen is a great healthier version of this classic dish. I love that she baked the chicken instead of frying it.
http://anitalianinmykitchen.com/baked-chicken-parmigiano/
Chicken Pasta Florentine from Thrifty Jinxy is an easy to make skillet meal that makes it easy to get dinner on the table on busy nights.
http://thriftyjinxy.com/chicken-pasta-florentine-recipe-one-pot-cooking/
This pasta dish from Call Me PMC brings a little spice to a great pasta dish by adding roasted red peppers. It's a recipe you won't want to miss.
http://www.callmepmc.com/creamy-roasted-red-pepper-chicken-pasta/
Penny Pincher Jenny shared this recipe for Chicken Parmesan Cheese Bake. It's made with simple ingredients from your pantry and is absolute comfort food.
http://pennypincherjenny.com/chicken-parmesan-cheese-bake
This recipe for Six Cheese Chicken Pasta Bake from Love Bakes Good Cakes is amazing. It's full of cheese so even the pickiest eaters are sure to love it.
http://www.lovebakesgoodcakes.com/2015/02/six-cheese-chicken-pasta-bake.html
I just love skillet dinners. I mean who doesn't really? They are easy to make and easy to clean up. This skillet meal from Thrifty Jinxy features broccoli, chicken and bow tie pasta making it a great go to meal for those busy nights.
http://thriftyjinxy.com/skillet-broccoli-parmesan-chicken-with-bow-tie-pasta-recipe/
Love Bakes Good Cakes shares this recipe for Italian Chicken Strips. These are kid friendly and a great way to prepare chicken with a delicious twist.
http://www.lovebakesgoodcakes.com/2013/06/italian-chicken-strips.html
Garlic Parmesan Chicken Pasta is easy enough to make for a family dinner but fancy enough to impress. It features a bread crumb crust and lots of cheesy goodness.
http://www.itisakeeper.com/11257/garlic-parmesan-chicken-pasta/
This is one of my very favorite recipes from my blog. It's so easy to make that I'm almost embarrassed to admit it. I you love chicken and pasta in a creamy sauce then you're going to love this Creamy Chicken Farfalle.

https://newsouthcharm.com/2014/10/creamy-chicken-farfalle.html
I hope you've enjoyed this collection of Italian Recipes Featuring Chicken. I know there are a few new recipes I'm going to try really soon.
Happy Cooking Y'all!
Susanne