These 30 Minute French Bread Pizzas are one of those recipes that I pull out on nights when I don't really want to cook dinner. It's really easy to make and since everyone can customize their own it's a definite crowd pleaser.
I love pizza. I'm not kidding. I could eat it at least once a week and never grow tired of it. Recently I was having a conversation with my Mom about a local pizza place that we go to  a lot. She laughed and said my Grandpa once said I'd probably sweat tomato sauce.
It's sad to say that almost 40 years later nothing has changed. I still love any food you make with marinara sauce. But pizza holds a special place in my heart. It just might be the perfect food.
To make this I used my 15 minute Marinara Sauce. Sometimes I use purchased jarred sauce. Especially when I don't have time or I just don't want to (gasp!) make the sauce. So if you don't make your own sauce I won't judge you. Nope not all. We all have days where it's all we can do to make to dinnertime much less throw together a gourmet meal or take extra time to make sauce.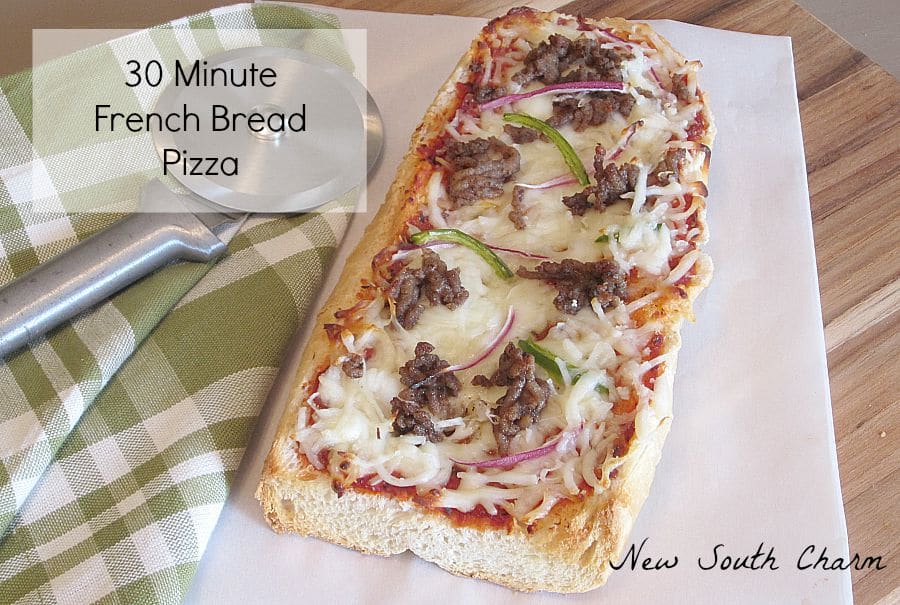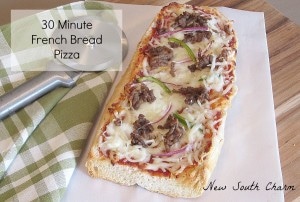 One of the things I like about this recipe is how easy it is to customize to everyone's preferences. My husband loves to add jalapeños and I don't care for the extra spice. Sometimes we'll make this with pepperoni and mushrooms. I've even made these pizzas with extra cheese like cheddar or Monterrey Jack. It really is up to you. No matter what you decide this is great dinner idea for a busy night or a family movie night.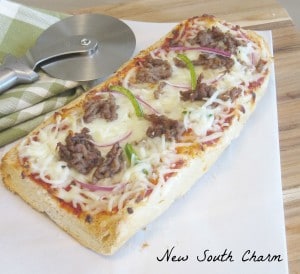 Happy Cooking Y'all!
Susanne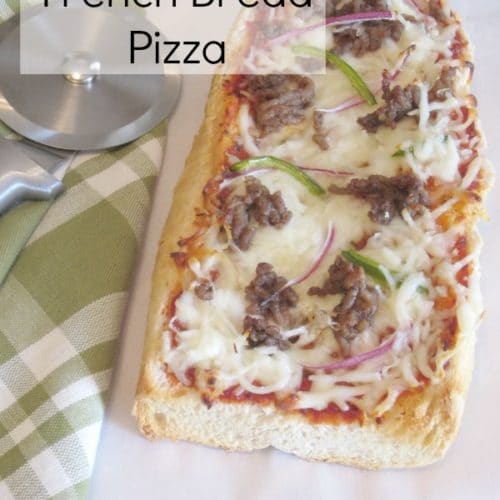 30 Minute French Bread Pizza
Ingredients
1

loaf French Bread

1

jar or Pizza or Marinara Sauce

click here for my Marinara Sauce Recipe

2

cups

Mozzarella Cheese

1/2

teaspoon

garlic powder

1

teaspoon

Italian Seasoning

1/2

tablespoon

butter

1

tablespoon

Extra Virgin Olive Oil
Instructions
Preheat oven to 400 degrees

Slice loaf in half and then half lengthwise

Melt 1/2 tablespoon butter (about 10 seconds in the microwave) and then mix together with olive oil, Italian Seasoning, and Garlic Powder with a fork. Brush mixture over bread,

Spread Pizza or Marinara Sauce over bread (desired amount)

Sprinkle on Mozzarella Cheese over slices of bread

Add pizza toppings of your choice

Bake in 400 degree oven for 10-15 minutes or until cheese is golden brown