It's been a while since I've shared a casserole with y'all. So today I'm sharing a great one; Easy Three Cheese Tortellini Bake. It's so good you're going to want to lick the plate.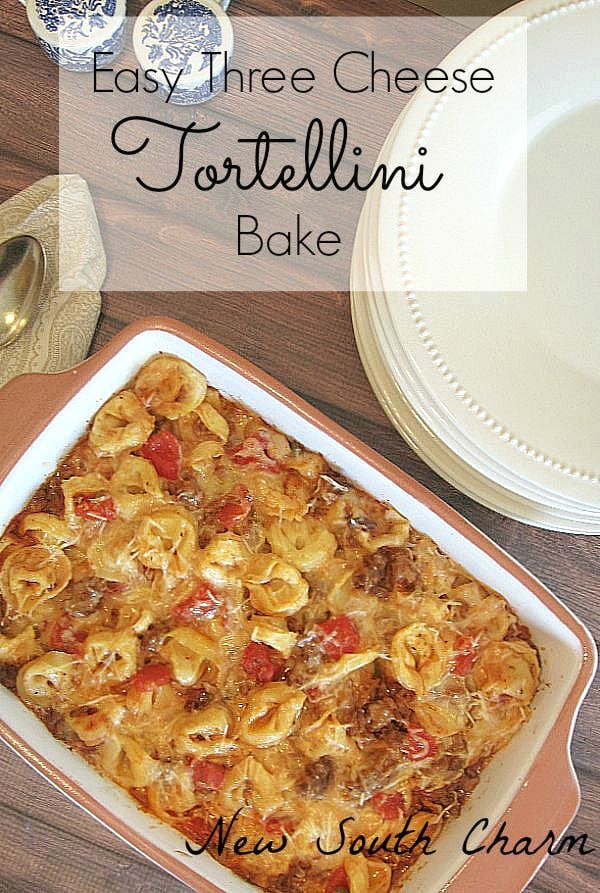 Three different kinds of cheese take this tortellini bake from good to great. This recipe has Parmesan, Mozzarella, and Romano cheeses. If you've been following along with me for anytime at all you know that I have a deep and abiding love for cheese. I mean it's almost an obsession. I wonder if there's a support group for cheese lovers?
Honestly, I don't remember where this recipe came from I just know that it's one of my favorites. I just love how full of flavor it is. I also love how easy it is to make.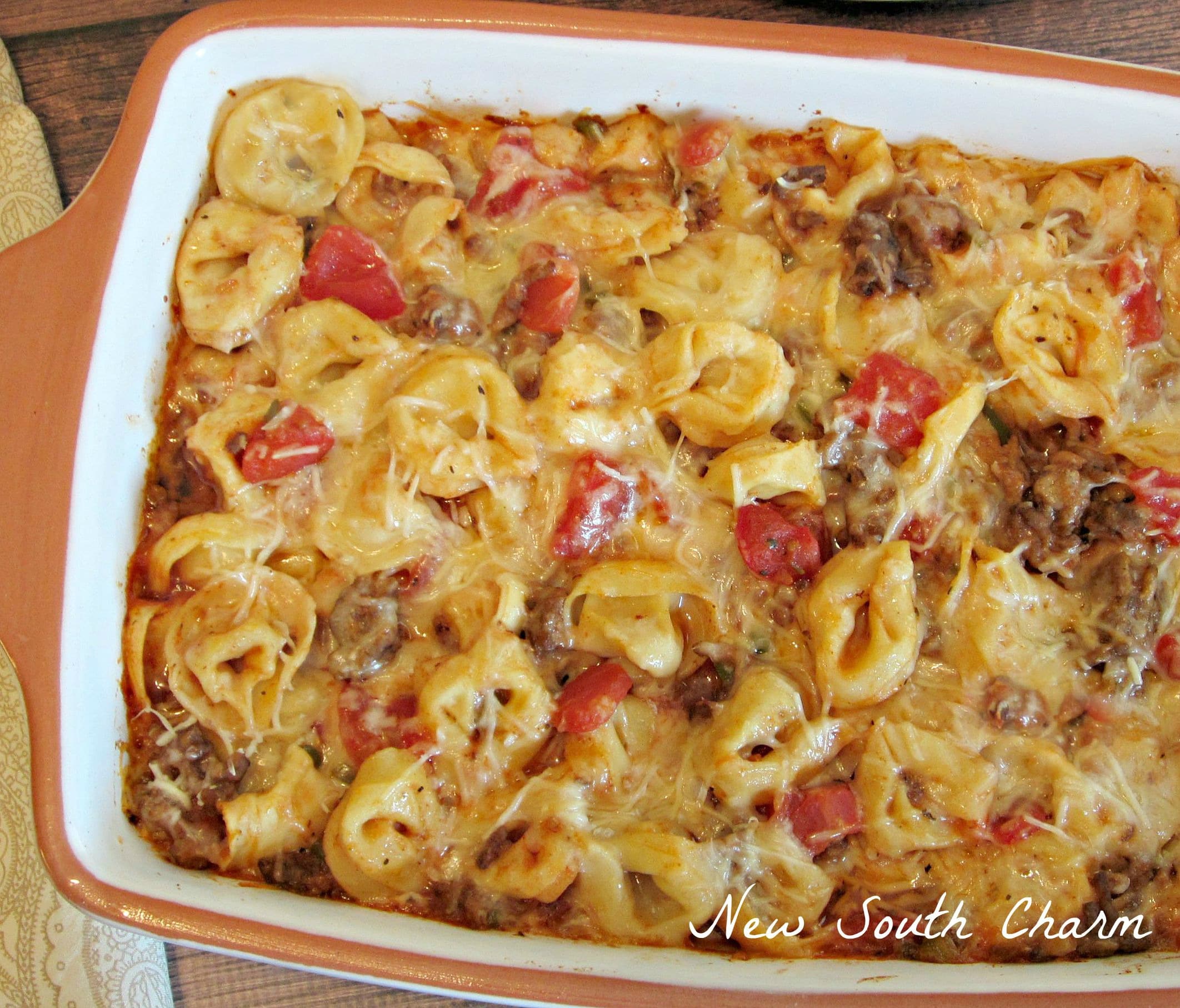 One of the things that makes this recipe so delicious refrigerated pasta. It has a much fresher flavor than dried pastas. For this recipe I use cheese tortellini but you could use beef or spinach if that's what you prefer.
At my local grocery store I find it in the pasta aisle in a small refrigerated case. If you can't find refrigerated pasta frozen works just as well. Just follow the directions on the package for preparation for either choice.
The meat sauce is the best part of this recipe in my opinion. I love how it's seasoned and how full of flavor it is. Seasoning is probably one of the most important parts of making any Italian dish.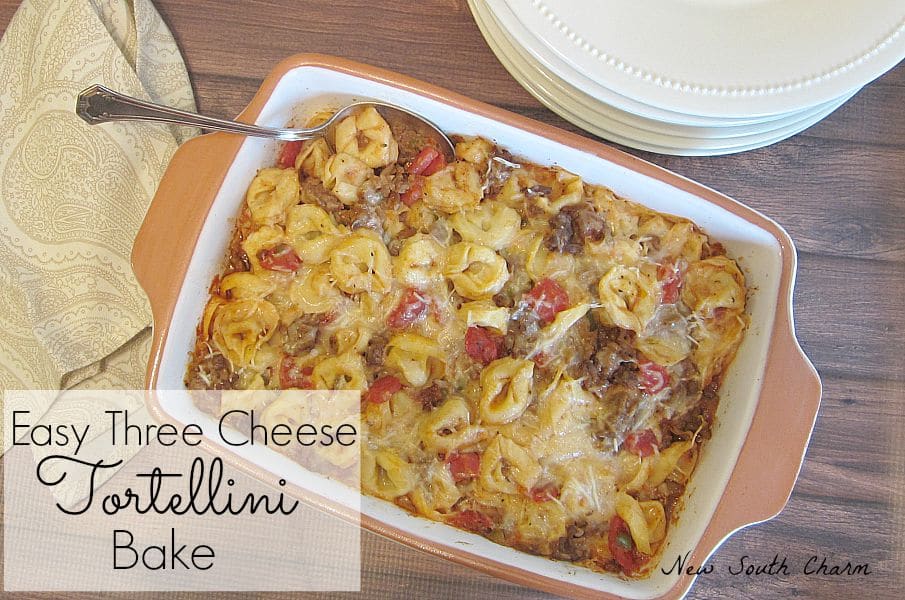 This recipe isn't any different the seasoning is what makes it so delicious. Oregano and garlic are used in pretty much every Italian dish. This recipe calls for a lot of garlic. Four to five cloves finely minced to be exact. You might think that's a lot of garlic but trust me you'll love it. I mean how could you not there's pasta, cheese and garlic.
Do you love Italian food? Or do you prefer Mexican? Maybe Chinese?
Thank you so much for reading! Are you following New South Charm on Facebook? I'd love to hear from you drop by and say hello!
Happy Cooking Y'all!
Susanne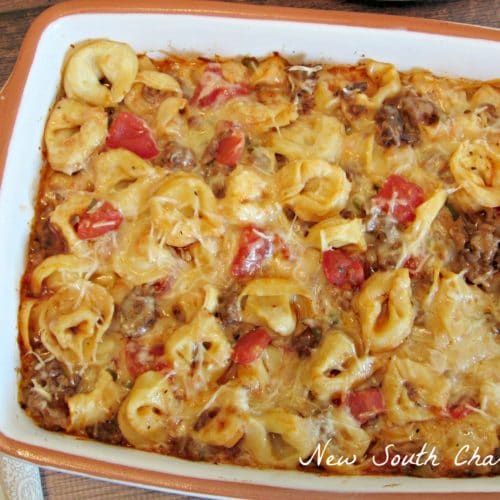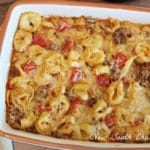 Easy Three Cheese Tortellini
Ingredients
1

lb.

ground beef

2 9

oz.

packages tortellini

1

cup

onion

1

cup

green bell pepper

4-5

cloves

garlic finely minced

1 14.5

oz.

can of diced tomatoes

1 10.75

oz.

can of tomato soup

1

teaspoon

basil

1

teaspoon

oregano

1

teaspoon

Italian Seasoning

1/2

cup

shredded mozzarella cheese

1/2

cup

shredded Romano cheese

1

cup

shredded Parmesan cheese
Instructions
Preheat oven to 375 degrees

Prepare Tortellini according to package directions; drain and return to pot and cover to keep warm

While Tortellini is cooking in a large skillet melt a table spoon of butter and brown beef add onions, peppers, and garlic cook until beef is browned and vegetables are tender. Drain fat.

Add tomatoes, soup, basil, oregano, and Italian Seasoning stir until combined

Gently stir in cooked Tortellini

Transfer mixture into a lightly greased baking dish. Sprinkle cheeses over the top and bake for 20 minutes
Looking for more great pasta dishes?