This recipe Shrimp Creole is a great dinner idea  for any night of the week. This recipe can also be easily adapted for feeding  a crowd.
Until recently I thought Shrimp Creole was one of really complicated recipes that  I could never make. I can't tell you how wrong I was. It turns out this cajun favorite is easy to make.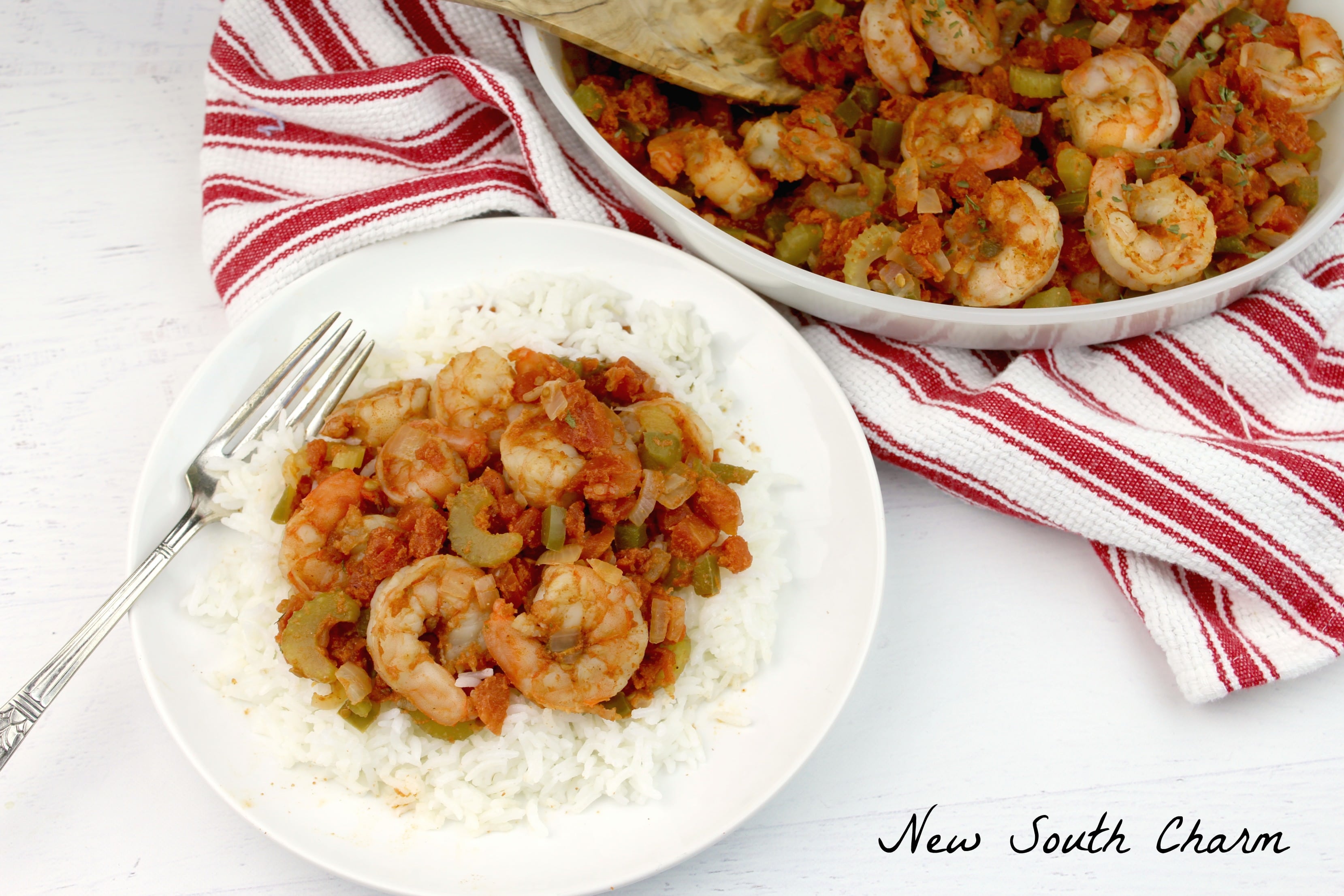 My husband L-O-V-E-S Cajun food. So every once in a while I like to try to make one of his favorites at home. He gave this Shrimp Creole two thumbs up and that's good enough for me.
The recipe calls for thawed shrimp. If you need to thaw the shrimp in a hurry just place in a colander and then run lukewarm water over it for several minutes.
Begin by warming olive oil over medium heat in a large skillet. Next add the diced onion, bell pepper and sliced celery to skillet and cook until vegetables are tender.
Add the tomatoes, garlic, cajun seasoning, salt and Worcestershire sauce to the skillet. Bring everything to boil then reduce heat. Allow to simmer for 45 minutes.
Finally add the shrimp to the skillet and stir the shrimp not the sauce. Then cover the skillet with a lid and simmer for another ten minutes.
While the shrimp is simmering prepare the rice. Finally spoon the shrimp and sauce over the rice and garnish with parsley and hot sauce is desired.
Thank you so much for reading!  Are you following New South Charm on Facebook? I'd love to hear from you; drop by and say hello!
Happy Cooking Y'all!
Susanne

Shrimp Cerole
Prep time:
Cook time:
Total time:
Ingredients
1½ lb. shrimp, cleaned, detained and tail off
1 cup onion, diced
1 green pepper, sliced
3 stalks celery, sliced
1 28 oz. can petite diced tomatoes
1 tablespoon Worcestershire sauce
1 teaspoon cajun seasoning (or to taste if you want it really spicy)
1 teaspoon white sugar
Instructions
Heat olive oil to a large skillet over medium heat and cook onions and celery until tender.
Add garlic, tomatoes, Worcestershire sauce, chili power, sugar and salt to skillet. Bring to a boil, reduced heat, cover and simmer together for 45 minutes
Add thawed shrimp and bell peppers to sauce cover with lid and simmer for another five minutes
Serve over rice and garnish with hot sauce if desired.
Looking for more great recipe
s?