Want to make something EPIC for dinner but don't have hours to spend in the kitchen? I've got just thing recipe for you, with this 30 Minute Skillet Tortellini.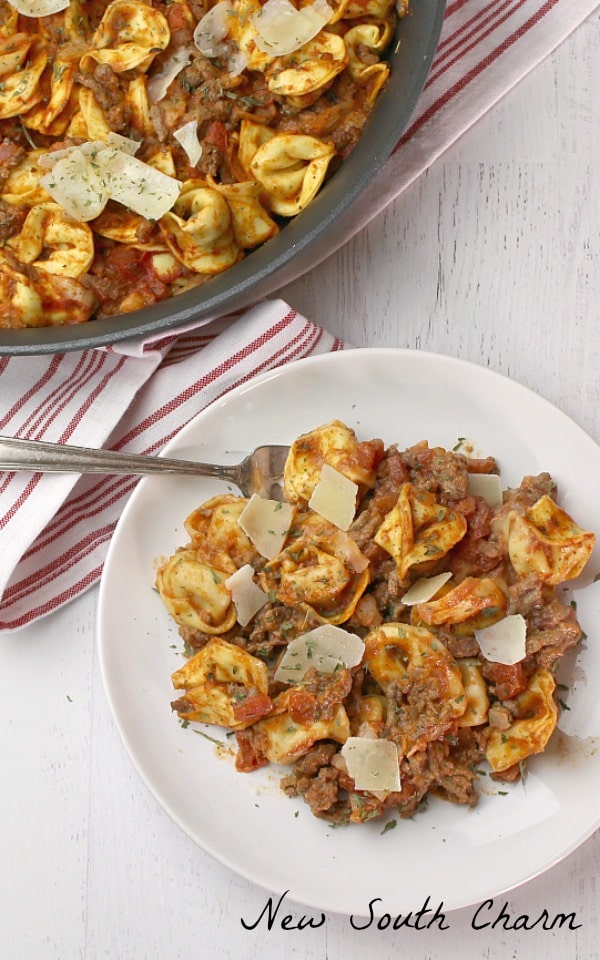 The only thing that can get my attention faster than a half off sale on shoes is tortellini. That might be a little bit of an exaggeration but not by much.  Tortellini is one of my most favorite things in the world.
As much as I love tortellini I have to admit it's not the best part of this recipe. The best part is the sauce. The sauce is simple but has a warm, savory flavor that really makes this pasta dish great.
Besides the deliciousness (is that a word?) there is another reason I love this 30 Minute Skillet Tortellini that's how easy this is put together. It only takes 30 minutes and everything cooks in one pan so cleaning up later is super easy. Oh! and the leftovers, y'all I swear this was as good or maybe better the next day.
I bought tortellini from the refrigerated section on the pasta isle of my grocery store. If your store doesn't have this type of pasta I've made this with frozen in the past and it has turned out just a good. Just make sure to thaw the frozen pasta before adding to the skillet.
To make the sauce begin by heating a tablespoon of olive oil in a large skillet. Then add onion to skillet and cook until tender and translucent. Next add garlic and cook for about a minute or until fragrant.
Add a pound of lean ground beef to the onion and garlic, salt and pepper and cook until browned and no longer pink. Drain fat from skillet and return to heat.
Combine beef with chicken broth, a can of petite diced tomatoes, heavy cream and Italian Seasoning. Then stir to combine. Next mix in the tortellini and bring to a boil. Reduce heat can cover simmer for 15 minutes stirring once halfway through. Finally add parmesan cheese to the top of the skillet and stir in the cheese to melt.
If you want to create a cheesy top to the pasta sprinkle some cheese on to the top and pop it under the broiler for a couple minutes. I always do this because… well cheese!
Thank you so much for reading!  Are you following New South Charm on Facebook? I'd love to hear from you; drop by and say hello!
Happy Cooking Y'all!
Susanne
30 Minute Skillet Tortellini
Prep time:
Cook time:
Total time:
Ingredients
1 (16 oz) package tortellini (fresh or thawed if frozen)
1 lb. lean ground beef
1 tablespoon olive oil
2 cups onion, diced
2-3 cloves garlic, minced
¾ cup chicken broth
½ cup heavy cream
1 (14 oz) can petite diced tomatoes
1 teaspoon Italian Seasoning
1 cup parmesan cheese, shaver or shredded
salt and pepper to taste
Instructions
In a large skillet warm a tablespoon of olive oil over medium heat then add onions to skillet and cook diced onions until tender and translucent. Next, add garlic and cook for about one minute or until fragrant
Brown the ground beef in the skillet with onions and garlic until no longer pink, drain away fat
Combine beef mixture with chicken broth, tomatoes, cream, Italian Seasoning, ,tortellini and stir to combine.
Bring everything to a boil then cover and reduce heat. Allow to simmer for 15 minutes.
At the end of 15 minutes stir in parmesan cheese until melted.
Garnish with parsley and more parmesan cheese if desired.
Looking for more EASY PASTA recipes?