The official start of Fall is about a week away. That can only mean one thing at my house it's time for chili. In the cooler months chili is my go to meal. This recipe I'm sharing with you today is for 30 Minute One Pot Chili.  This is an easy recipe you can have on the table in just a half an.
We love chili here and I love to make it. This recipe is my go to recipe for busy nights when the weather gets cooler. I even been known to make this in the summertime because it's so easy and doesn't require turning on the oven.
Just a fun fact: traditional chili is actually a dish that is made beans, tomatoes, and seasoning but without meat. Did you know that? I didn't, it was something I heard on TV the other day. I'm betting that most of you, like me, have always had some sort of ground beef or ground turkey in your chili.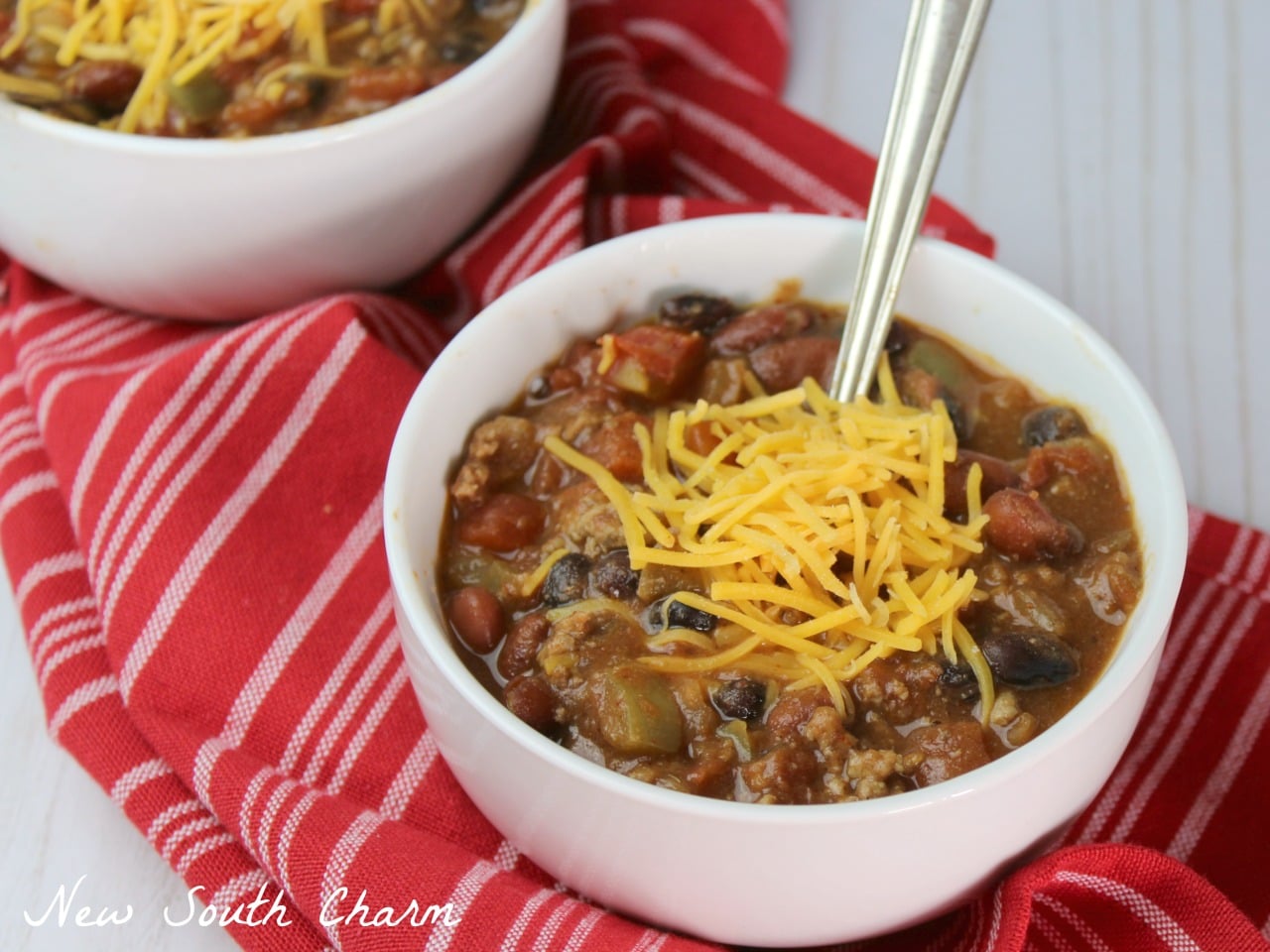 To begin this recipe begin with melting a teaspoon of butter in the bottom of a large pot or dutch oven. If you don't like to cook with butter or you want a healthier alternative you could use a teaspoon of Olive Oil. I prefer butter because it does add a rich flavor to the beef.
Once you've prepped the pot add the onion, pepper, and garlic to the pot and cook for two to three minutes until the garlic and onions are transparent and the peppers are tender. Add beef or turkey to pot and brown. Drain excess fat.
After the beef is browned add seasonings and Worcestershire sauce mixing until meat is throughly coated. Add in both cans of tomatoes and stir until combined. Repeat with both can of beans. Bring contents of pot to a boil. Cover and reduce heat. Simmer for fifteen minutes.
I like to garnish with cheese and scallions but it's great with crackers or freshly sliced jalapeños.
Thank you so much for reading!  Are you following New South Charm on Facebook? I'd love to hear from you; drop by and say hello!
Happy Cooking Y'all!
Susanne
30 Minute One Pot Chili
Prep time:
Cook time:
Total time:
Ingredients
1 lb. lean ground beef or ground turkey
1 large green pepper chopped
1 small onion chopped
2 cloves garlic minced or 1 teaspoon garlic power
1 teaspoon ground mustard
2 tablespoons chili powder or 1 package chili seasoning
2 teaspoons Worcestershire sauce
1 can dark red kidney beans drained and rinsed
1 can black beans drained and rinsed
1 20 oz. can diced tomatoes
1 small can tomatoes and chilies
1 teaspoon butter
Instructions
Brown meat with pepper, onion and garlic in a large pot or dutch oven
When meat is browned add chili seasoning, ground mustard, and
Worcestershire sauce
Stir diced tomatoes, tomatoes and chilies, and both cans of beans
bring to a boil
Reduce heat and simmer for 15 minutes
Looking for more great CHILI RECIPES?