Slow Cooker Pepper Steak is easy and full of great flavor. This recipe is better than take out and easier on your budget.
Pepper Steak is a dish on most Chinese restaurant menus and buffets. This savory dish is made a just a few simple ingredients. Plus, cooking it all day in the slow cooker makes it extra tender.
This is a simple recipe that you can just pop in the crock pot and leave to cook. I have a couple easy tips to help save you time and make this recipe even easier to make.
The most common cuts used to make Pepper Steak is Flank or Skirt Steak. These are usually fairly inexpensive cut of beef.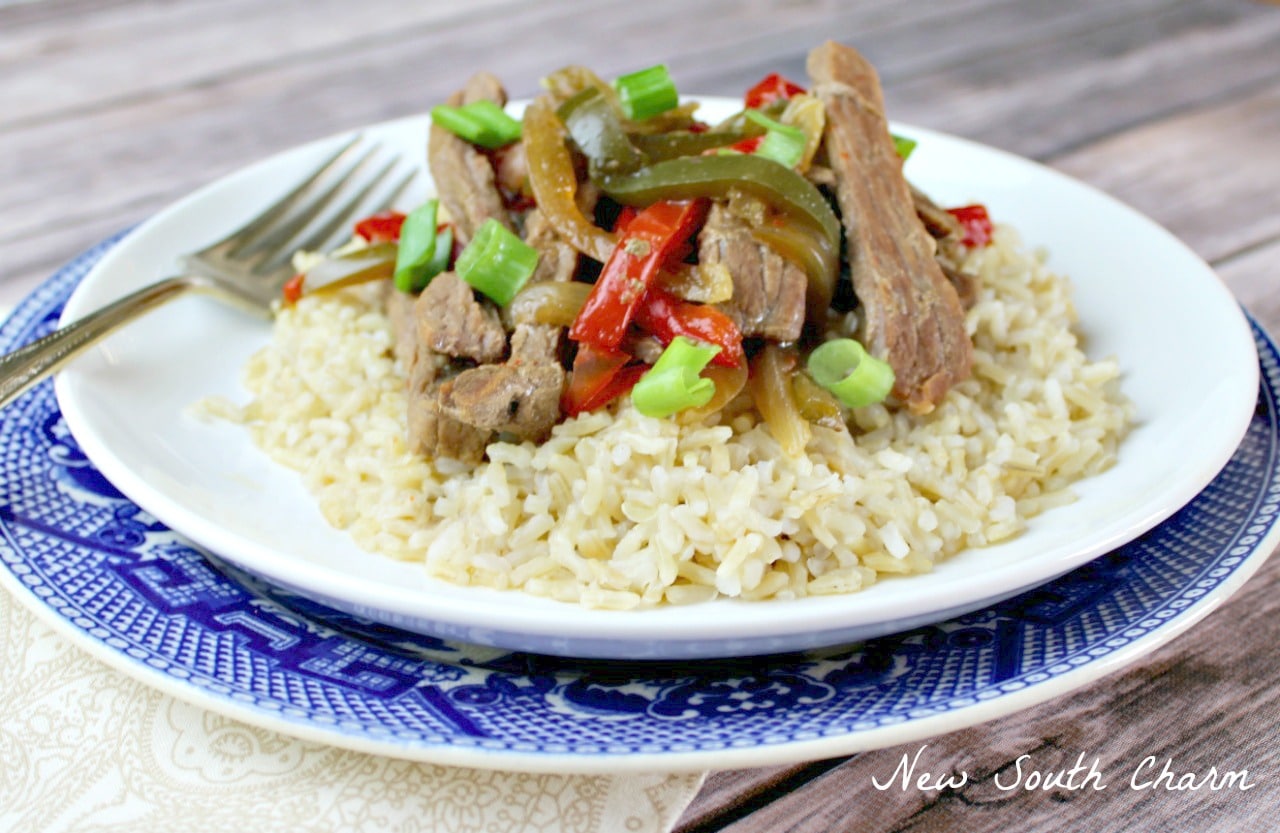 The hardest part of making Slow Cooker Pepper Steak is slicing the steak into strips. Cutting raw meat can be messy and if you don't have a sharp knife it can be time consuming.
Let's me share a tip with you that I recently learned that might be able to save you valuable time. In your grocery store's meat department look for a package of stir fry or fajita meat that has already been sliced. It's works great for this recipe.
If you can't find it ask if the butcher will slice a steak for you in one inch slices. I definitely believe in working smarter not harder.
Now let's get down to details of making this great recipe.
Begin by placing the sliced beef in the bottom of your crock pot. Season with salt and pepper. Next layer on the bell peppers and onions. Pour in beef broth.
In a small bowl combine soy sauce, garlic powder, and corn starch whisking it until smooth. Add the mixture to the bowl of the slow cooker. Then stir it together with broth.
Place the lid on top and cook on low for six hours. Garnish with green onions serve over rice ( I used brown rice) or noodles.
Thank you so much for reading!  Are you following New South Charm on Facebook? I'd love to hear from you; drop by and say hello!
Happy Cooking Y'all!
Susanne
Slow Cooker Pepper Steak
Prep time:
Cook time:
Total time:
Ingredients
3 lbs. sliced steak (see post for easy tips)
4 cups or a 32 oz carton of beef broth
1 green bell pepper, sliced
1 red bell pepper, sliced
1 cup onion, sliced
½ cup of soy sauce
1 teaspoon garlic powder
2 tablespoons corn starch
salt and pepper to taste
Instructions
Spread beef on the bottom of the slow cooker
Season with salt and pepper
Layer the bell peppers and onion on top of the beef
Pour on the beef broth
In a small bowl whisk together soy sauce, garlic powder, and corn starch until smooth
Add mixture to crock pot and stir to combine
Cover and cook on low for six hours or high for 4 hours
Serve over rice or noodles
Garnish with green onions if desired
Looking for more great recipes?