A few months ago I shared a recipe for Easy Homemade Mac 'n Cheese this is the recipe that I go to when I'm cooking dinner in a hurry. Today I'm sharing  my  favorite traditional Macaroni and Cheese recipe, Southern Style Macaroni and Cheese.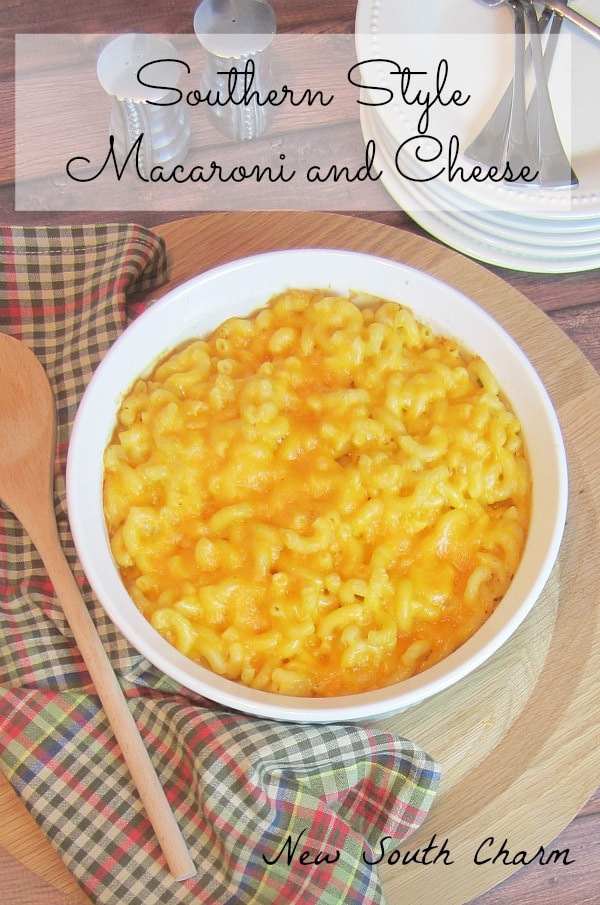 When my husband and I were first married I was asked to bring a dish of Macaroni and Cheese to Thanksgiving dinner with my in-laws. Now like most newly weds I wanted to impress my new mother-in-law with my cooking skills so I spent days pouring over cookbooks and websites looking for the perfect recipe.
After thinking about it for a couple days my mom reminded me that sometimes the simplest things are the best things. She suggested I give up my ideas of fancy cheeses and sauces and that I just make a simple recipe that everyone was sure to love. She was right and this recipe was a hit with everyone.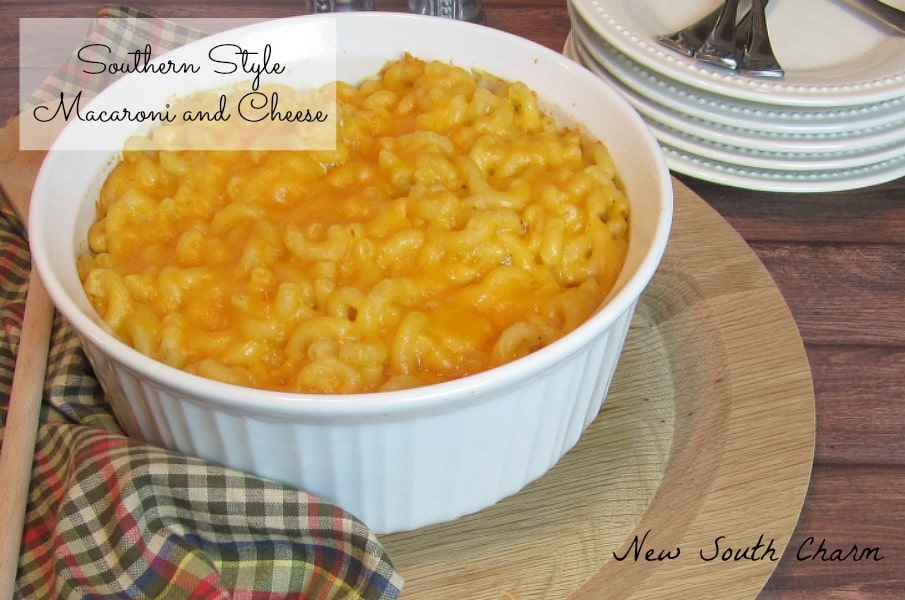 Don't let the word traditional scare you away, this is still a really easy recipe.
The key to making the Macaroni and Cheese really creamy is the roux. A roux is actually just flour, butter and milk that is constantly whisked over heat until it's smooth.
Begin by melting two table spoons of butter in a medium saucepan. Then add flour, dry mustard,  salt and pepper to butter wishing it together for about a minute before adding the milk in slowly. Continue whisking for about ten minutes, or until the mixture smooth.
Once smooth remove pot from heat and add in a cheese stirring constantly until melted. Just like that you've made a rich creamy cheese sauce.
Add the sauce to prepared elbow pasta in a 3 quart baking dish. Top with remaining cheese and place in oven for 25 minutes.
That's all there is to it. Nothing too complicated. It's easy and delicious.
Thank you so much for reading! Are you following New South Charm on Facebook? I'd love to hear from you; drop by and say hello!
Happy Cooking Y'all
Susanne
Southern Style Macaroni and Cheese
Ingredients
16

oz.

of elbow macaroni

1/4

cup

of all purpose flour

1/2

teaspoon

dry mustard

1/2

teaspoon

garlic powder

2

tablespoons

butter

2 1/2

cups

of milk

2

cups

Sharp Cheddar

shredded
Instructions
Prepare elbow pasta according to package directions

Over medium heat melt butter in a saucepan

Add flour, mustard, and garlic powder to melted butter and whisk for two minutes

Slowly add in milk to to pot

Whisk until smooth (about 10 minutes)

Remove from heat and add cup and a half of cheese, stirring until melted

In a three quart baking dish combine pasta and cheese sauce (stir if needed)

Top with remainder of cheese

Bake for 25 minutes at 375 degrees
Looking for more great recipes?