Loaded Taco Salad with Chipotle Lime Sauce  has been one of our favorites for years and I can't believe I've never shared it with you all before. But that changes today!
Loaded Taco Salad is the perfect weeknight dinner because it's ready in just 20 minutes, flavor packed and always a crowd pleaser.
This salad is entree sized and perfect for a light dinner or prepped ahead for an easy on the go lunch. We eat this often in the summer when it's so warm we can stand the thought of a heavy casserole is just too much.
This recipe is really flexible allowing you can add or swap out any of your favorite toppings to customize the salad to your taste.  My husband likes to add a few jalapeño slices to his but I'm not quite sure about all that spice so I let him have them all.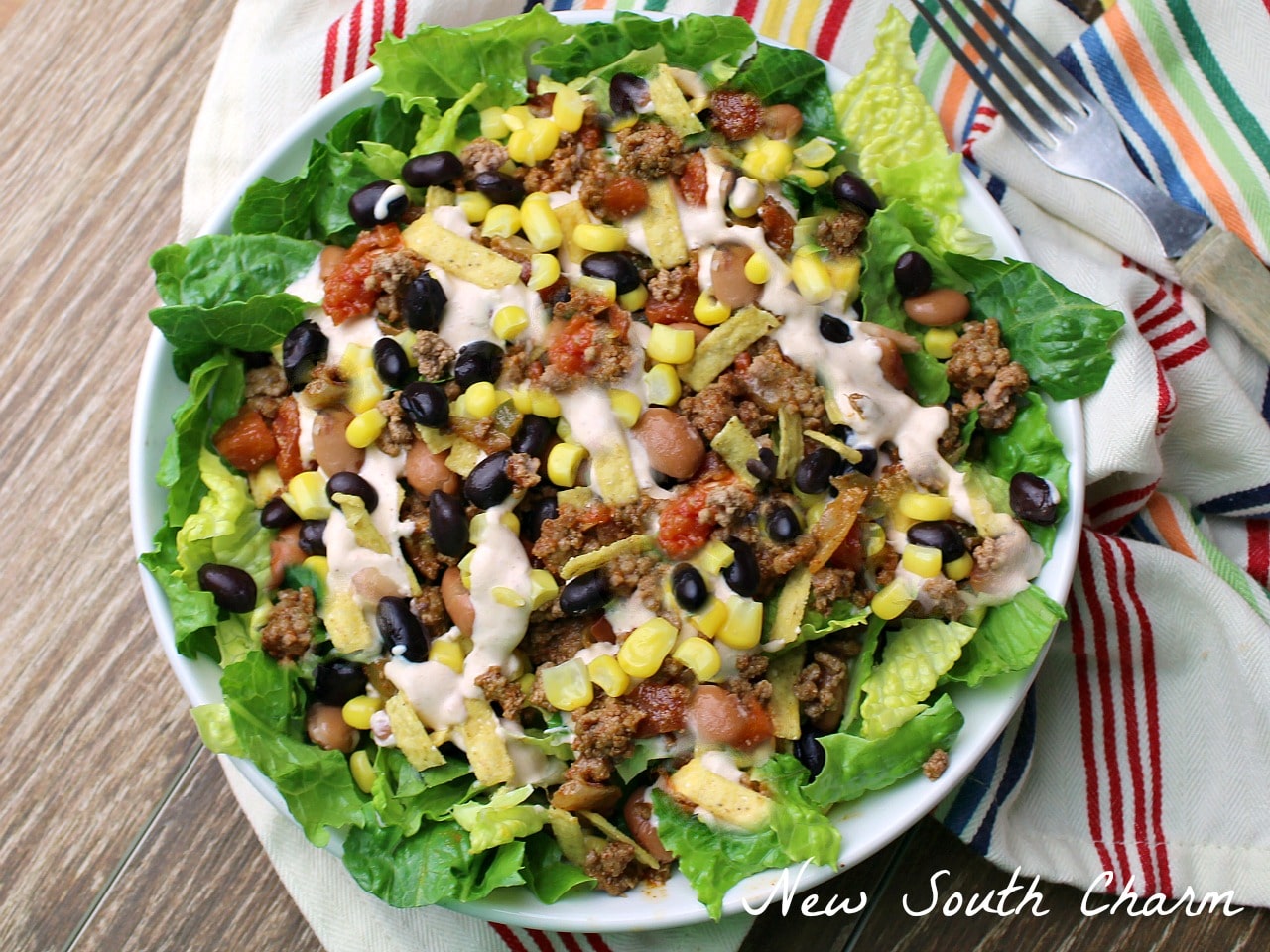 Once you've put the salad together you'll want to top it off with this recipe for Chipotle Lime Sauce. This dressing is has a smokey flavor that compliments the beef and gives the salad just a bit of kick.
Loaded Taco Salad with Chipotle Lime Sauce
Prep time:
Cook time:
Total time:
Ingredients
4 cups romaine lettuce
1 cup onion, diced
1 cup bell pepper, diced
1 can tomatoes and chilies
1 can corn drained
1 can black beans, drained and rinsed
1 can pinto beans, drained and rinsed
1 package taco seasoning
1 package tortilla strips or chips (crushed) for garnish
2 tablespoons olive oil
Instructions
Wash and tear lettuce to desired size for salad
In a large skillet heat olive oil and then brown ground beef adding onions and bell peppers half way through
Stir in taco seasoning until combined
Next add cans of tomatoes and chilies, black beans, pinto beans, and corn to beef, cover and reduce heat simmer for 10 minutes
Spoon taco beef mixture over lettuce and drizzle with Chipotle Lime Sauce
Garnish with tortilla strips, cheese, or any other favorite taco toppings
Recipe for Chipotle Lime Sauce: http://newsouthcharm.com/2016/04/chipotle-lime-sauce.html