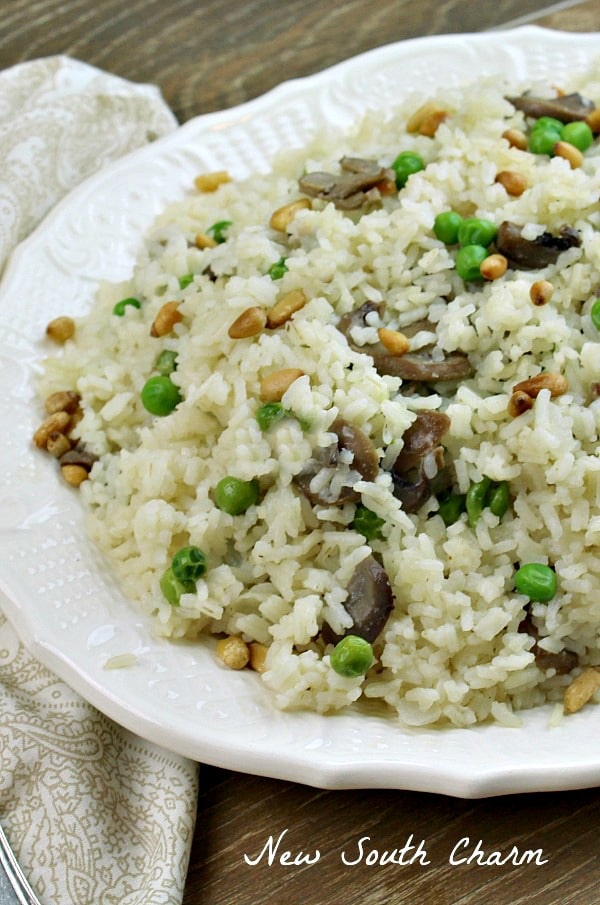 Thank you VEETEE RICE for sponsoring this post and making it so easy to get dinner on the table! All opinions are 100% my own. 
I host Thanksgiving at my house and it's one of my favorite times year. Every year I make the traditional foods: turkey, potatoes, green bean casserole and corn bread dressing, and pie. However, a couple years ago I started a new tradition and that was making a side dish that is different something new. So far I've made Cranberry Relish which I shared on the blog last year and Ambrosia Salad which I shared a couple years ago. This year I'm making this Mushroom and Toasted Pine Nut Pilaf. It's a simple dish but it's going to be perfect accompaniment to the turkey.
Now I know you're thinking rice pilaf? What's exciting about that? Well this isn't just any ordinary, bland rice. This rice is full of great flavors and is just a little bit fancy.
I believe fancy doesn't have to be complicated. Actually that's kind of profound; maybe I should cross stitch is on a pillow or maybe t-shirts.  Ok, back to the recipe.
This recipe will make enough for about six small portions. Depending on how many friends and family you have around your table you might need to adjust the recipe for more or less.
I started by toasting the pine nuts. There are several ways to do this but I recommend just dropping them into a skillet and cooking over low heat for a few minutes while stirring constantly.
When the nuts become fragrant and golden brown they are done. Once the nuts have been toasted set them aside in a bowl.
Then in a stock pot over medium high heat cook onions and mushrooms until tender. Then add the VeeTee Long Grain Rice and frozen peas and cook for about three minutes. Next, pour in chicken stock, butter and pine nuts to mixture bring to a boil. Then reduce heat and simmer for ten minutes stirring occasionally.
Making this dish with VeeTee Rice really cuts down on cooking time. Because you can stir fry the rice in just minutes there's no wait for the rice to cook!  How can you not love that when your busy cooking so many other dishes for your Thanksgiving feast?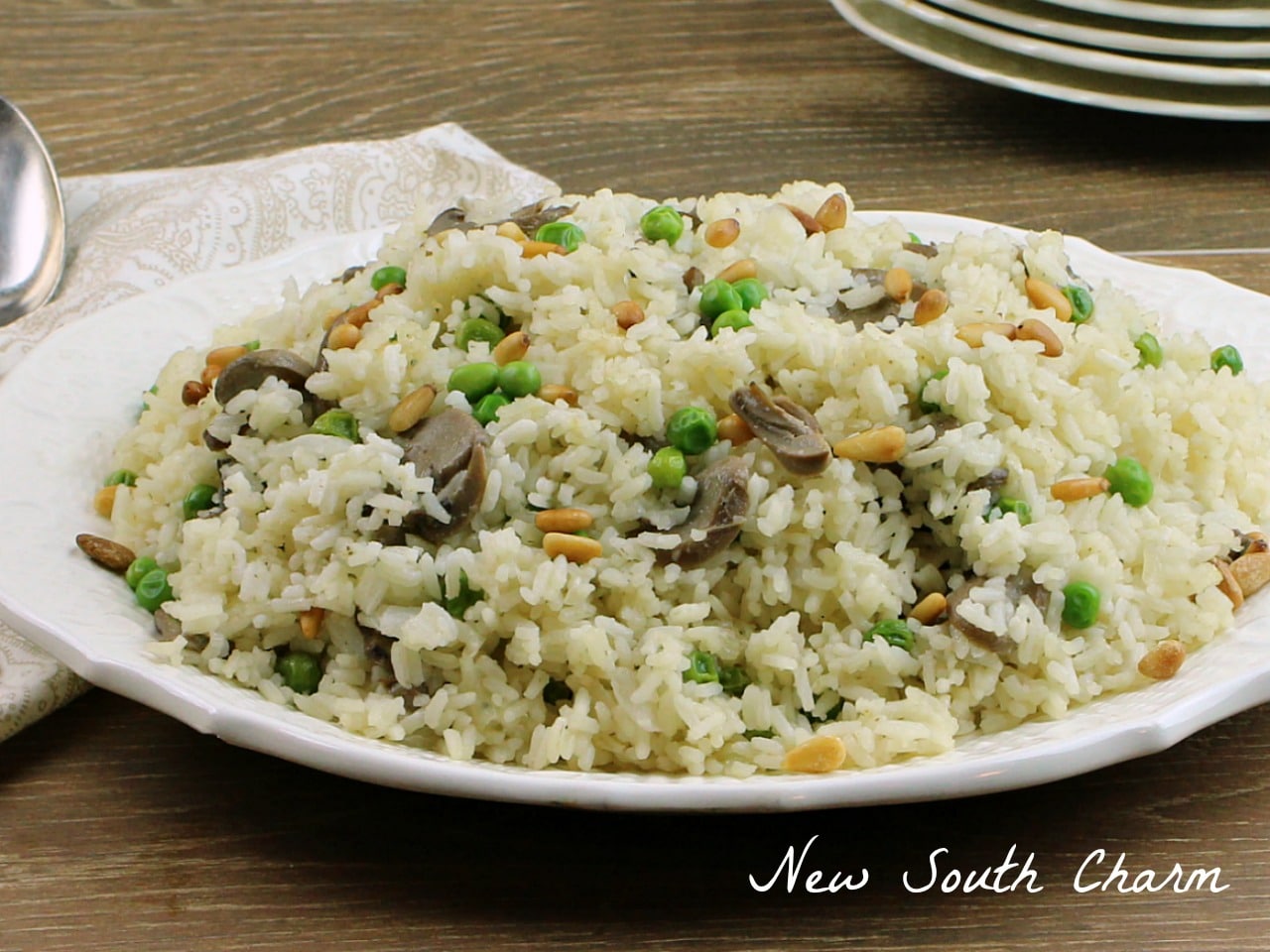 Be sure to scroll down to the bottom of the page to see links to the other great recipes I've made with VeeTee Rice!
Happy Cooking Y'all!
Susanne

Mushroom and Toasted Pine Nut Rice Pilaf
Prep time:
Cook time:
Total time:
Ingredients
2 (10 oz.) packages VeeTee Long Grain White Rice
¼ cup pine nuts, toasted
1 small onion, chopped
1 (4 oz) jar sliced mushrooms
1 cup chicken stock
¼ cup frozen green peas
2 tablespoons olive oil
Instructions
Toast pine nuts in a skillet over low heat stirring constantly for about three minutes or unit golden brown and fragrant.
Add olive oil to a stock pot over medium high heat cook onions and mushrooms until tender
Add the VeeTee Long Grain Rice and frozen peas and cook for about three minutes
pour in chicken stock, butter and pine nuts to mixture bring to a boil. Then reduce heat and simmer for ten minutes stirring occasionally.
Remove from heat and serve immediately
More easy recipes featuring VEETEE RICE: