These BBQ Chicken Pinwheels are perfect for a party but we also enjoy them for a light dinner or lunch on the weekends.
Sometimes on Saturday I'll make something a little special for lunch. This past Saturday I made these BBQ Chicken Pinwheels to enjoy while we were planted in front of the TV watching a Fixer Upper marathon.
What is it about that show? You sit down to watch one maybe two episodes and six hours later you're thinking about moving across the country to Waco just so you can meet Skip and Joanna. Am I right?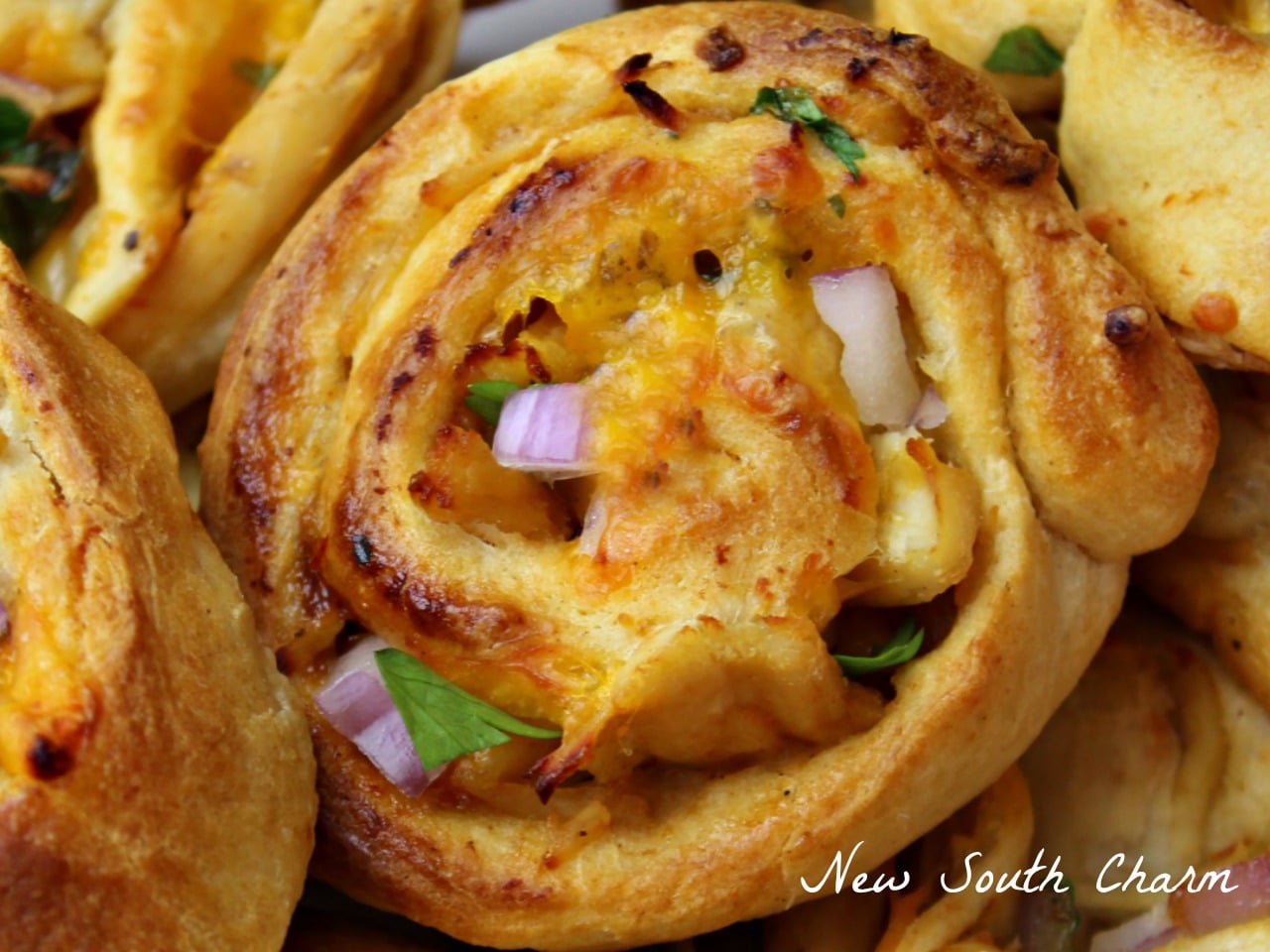 These are made with refrigerated crescent dough that's found with the canned biscuits. Recently I discovered that they make the dough in sheets that are not precut into triangles. If you can find these at your grocery store I recommend using them for this recipe.
If you can't find the crescent dough sheets then buy the regular crescent dough and press the precut portions closed to form a solid sheet.
Once the dough is rolled out spread the BBQ sauce across the dough evenly. Then add the cooked chicken, red onion, Monterrey Jack Cheese, and cilantro.
Tightly roll the dough width wise (the long way) into a spiral and then pinch along the seam to seal the dough.
Then using a sharp serrated knife cut the roll in half. Then cut each half into six slices.
Place the slices on a greased cookie sheet in a 350 degree oven and bake for 9 – 11 minutes.
Thank you so much for reading!  Are you following New South Charm on Facebook? I'd love to hear from you; drop by and say hello!
Happy Cooking Y'all!
Susanne
Looking for more great recipes?