These White Chicken Enchiladas are flavor packed and topped with a fantastic sour cream sauce and loads of cheese! They're going to want you make these over and over again!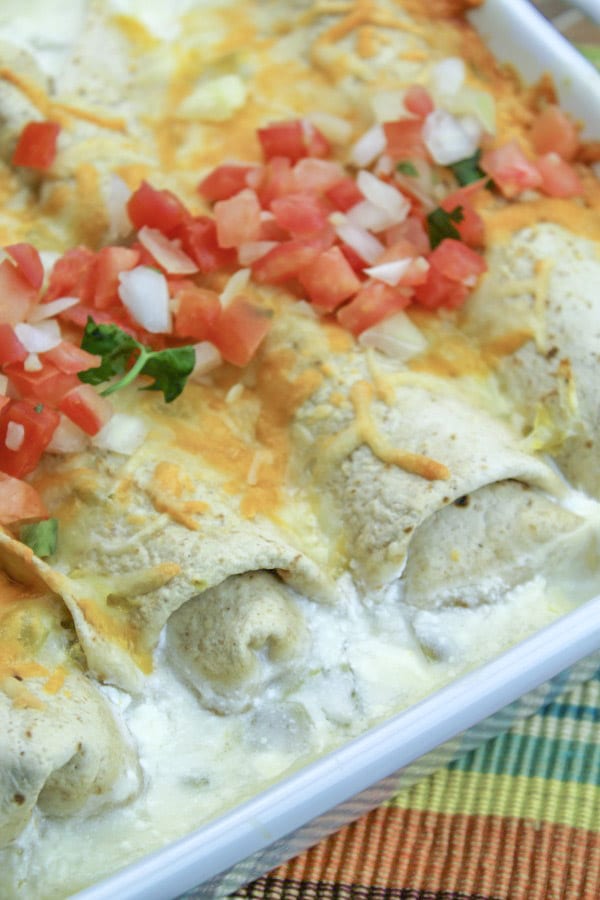 It's no secret that I love to cook. I mean have a blog all about cooking.  So my husband gets to try a lot of new recipes for dinner. Recently he told me this is one of his favorite things I make. Since he loves these White Chicken Enchiladas that much I had to share the recipe with y'all.
This recipe for White Chicken Enchiladas requires cooked shredded chicken. You can bake or boil the chicken to prepare it. I used my instant pot to prepare the chicken. I did this by placing frozen chicken breasts in the bowl of the cooker and then pouring in two cups of chicken broth. Then I sealed the pot and cooked on high pressure for 25 minutes. At the end of the cooking time I released the pressure then moved the chicken to a plate and shredded it with two forks. So easy!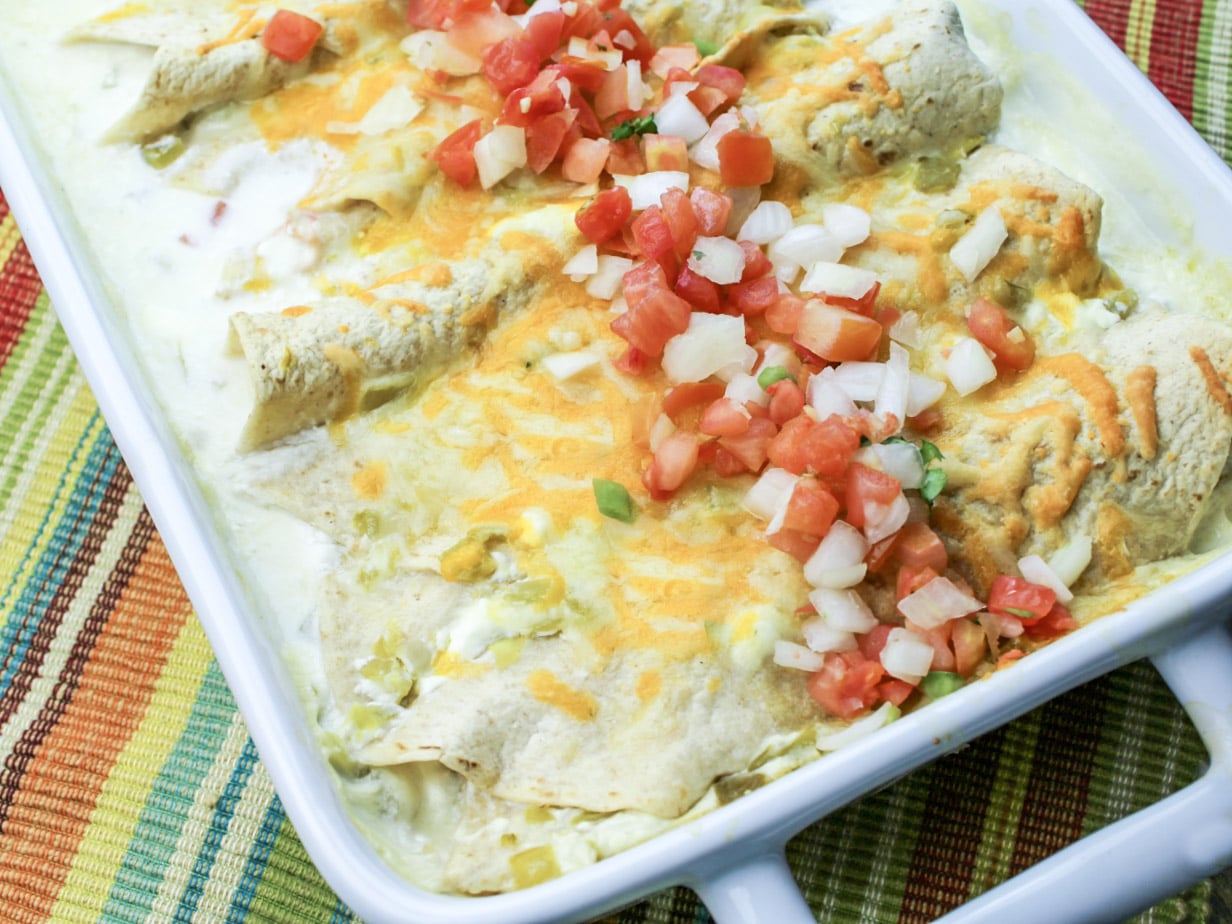 What types of tortillas are used to make enchiladas?
Enchiladas can be made using either flour or corn tortillas. We prefer flour tortillas so that's what I used to make these White Chicken Enchiladas. Corn tortillas are firmer and do tend to hold their shape better BUT if you're like us and prefer flour they work and taste great too!
What goes well with enchiladas?
Lot's of things go great with enchiladas. Side dishes like these are the perfect way to round out your plate.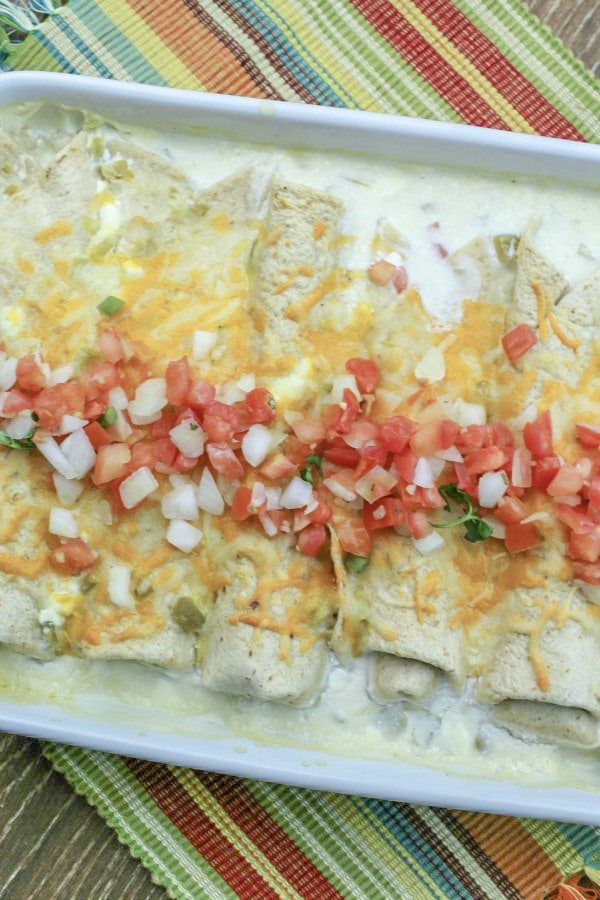 These White Chicken Enchiladas are always a huge hit with my family and make a great dinner to take to a new mom or friend that just needs a little pick me up because they can be warmed up easily and are really filling!
Thank you so much for reading!  Are you following New South Charm on Facebook? I'd love to hear from you; drop by and say hello!
Happy Cooking Y'all!
Susanne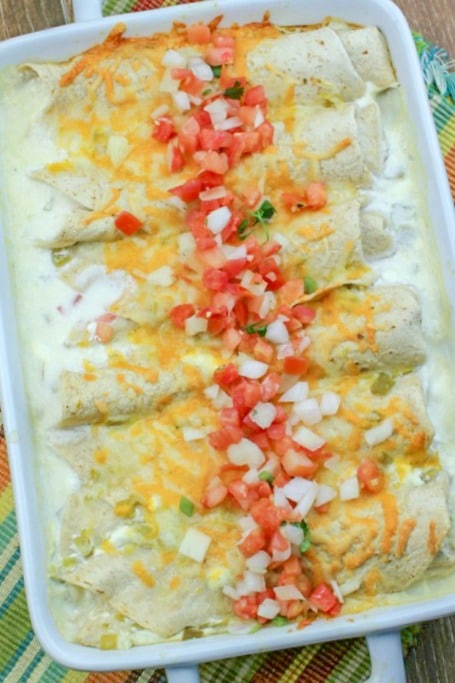 White Chicken Enchiladas
These White Chicken Enchiladas are flavor packed and topped with a sour cream sauce. These enchiladas will be a new family favorite that they ask for again and again!
Ingredients
8-10

flour tortillas

2

cups

shredded cheese

I used Oaxaca

2-3

chicken breast

shredded

3

tablespoons

flour

3

tablespoons

butter

1

clove

garlic minced or 1 tablespoon garlic powder

1

cup

sour cream

3

cups

chicken broth

1 

small onion

1

small bell pepper

1

can diced green chilies

2

tablespoons

olive oil

salt and pepper to taste
Instructions
Preheat oven to 350

Prepare chicken and shred, set aside

Coat bottom of a large skillet with olive oil. Warm over medium high heat.

Place diced onion, bell pepper, and garlic in warm skillet cooking for about 3 minutes or until onions start to become tender. Turn heat down to low cook for another 3 to 5 minutes until onions are transparent. Add cooked chicken to the skillet and allow to warm, stir occasionally.

Spray a 9x13 pan non-stick cooking spray.

On the side of a large flour tortilla place chicken and cheese, roll and place into your casserole dish.

In a small sauce pan over medium heat add three cups of chicken broth, and 3 tablespoons of flour, whisk until well blended and mixture thickens.

Add sour cream, and chilies Continue to whisk until sour cream is blended. Do not allow the mixture to boil. If the mixture reaches a boil  the sour cream will curdle.

Pour mixture over the top of the enchiladas. Lastly sprinkle with cheese and place in oven at 350 for 30-40 minutes, or until cheese is bubbly.

Garnish with pico de gallo or salsa if desired.