Teriyaki Steak Bites are an easy restaurant quality recipe made with tender seared steak, with a savory Teriyaki marinade and garnished with sesame seeds and crisp fresh scallions.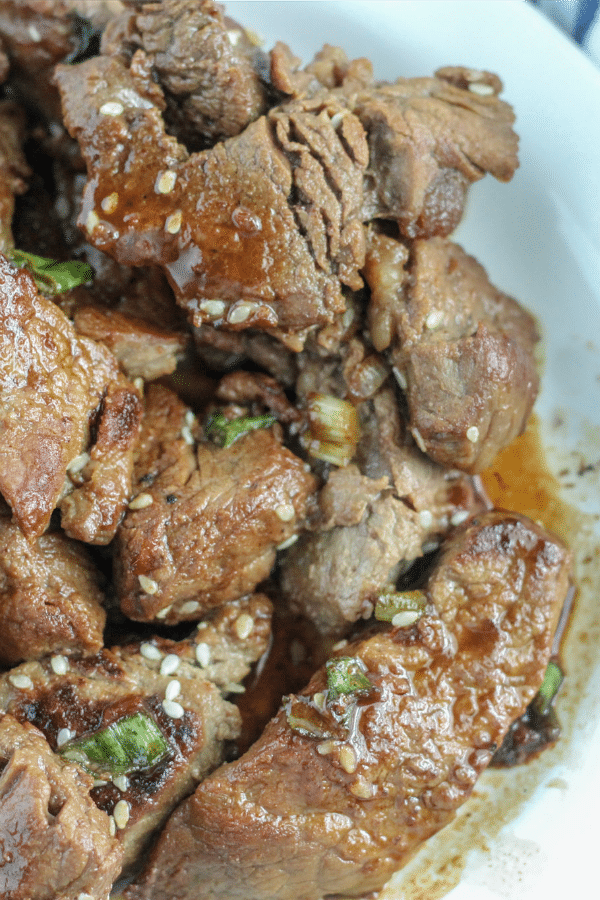 There's a local Japanese steakhouse here that we just love! We recently went there to celebrate my husband's birthday. He ordered a couple sushi rolls and I ordered the Hibachi Steak and that is what inspired this recipe for Teriyaki Steak Bites. 
Because these bite sized pieces of steak are marinated they are both tender and flavorful. Two of the most important things when cooking any kind of beef but even more so when cooking steak.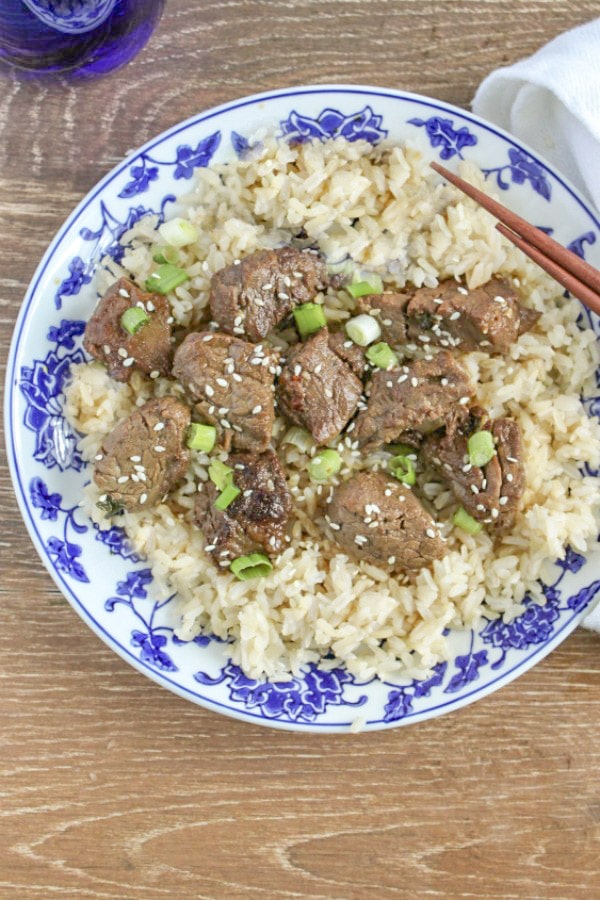 What kind of steak can you use for Steak Bites?
There are actually several types of steak you can use to make steak bites. You can use any cut of steak to make steak bites. Many people use an inexpensive cut like top sirloin, flat iron or skirt steak. You an also purchase steak that's been precut for stew. Choosing stew meat is a little bit easies option because most of the butchering is done. Although you may have to halve some of the larger pieces. 
How do you prepare steak bites?
The easiest way to prepare steak bites is by sautéing them in a skillet over medium high heat for 4-6 minutes.  Turning them once half way through the cooking time. I recommend not crowding the pan but instead cooking the bites in batches allowing the steak.
Why shouldn't you overcrowd the skillet when cooking?
 Putting too much beef (or chicken/fish)  in the skillet at one time slows down the browning process by reducing the heat level in the skillet. It also causes the beef to release moisture causing steam. This can cause the steak to brown slower or not at all.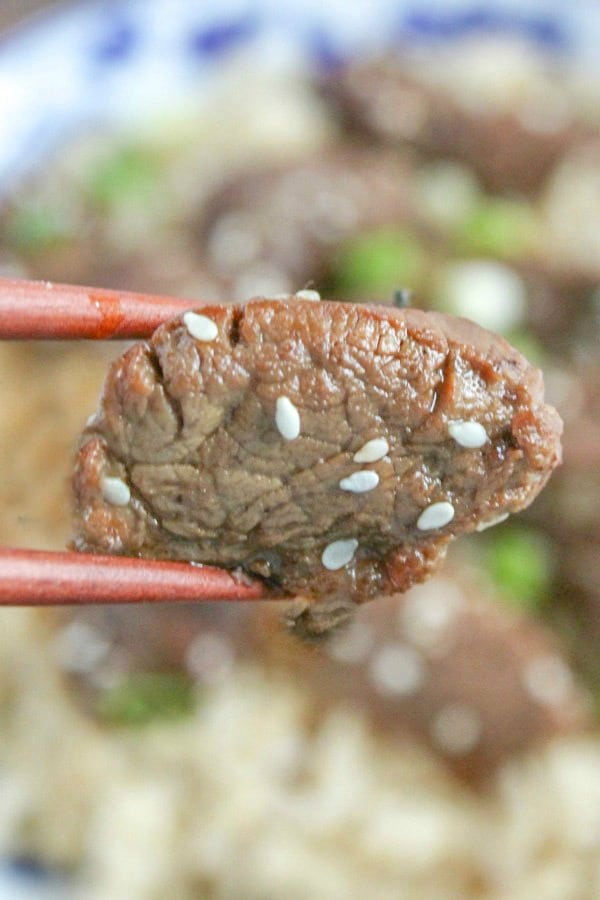 The best part of this Teriyaki Steak Bites recipe is absolutely without a doubt the marinade. The teriyaki marinade is what gives the steak it's flavor.  To make the marinade whisk together teriyaki sauce, soy sauce, apple cider vinegar, garlic, and black pepper in a medium sized bowl. 
After you've made the marinade put in the bite sized pieces of steak in the bowl. Toss the steak to coat it in the liquid. Then cover tightly with plastic wrap or foil and place in the refrigerator for 4-6 hours. 
To cook the steak heat a heavy skillet over medium high heat until pan is very hot. When the skillet is hot cook the steak in batches to avoid overcrowding the skillet.  Cook for 3-5 minutes turning once halfway through the allotted cooking time. Transfer the to a platter and continue cooking in batches.  Garnish with sesame seeds and scallions if desired. 
You can serve these Teriyaki Steak Bites over rice but we really love them just on their own with  a side salad. 
Happy Cooking Y'all 
Susanne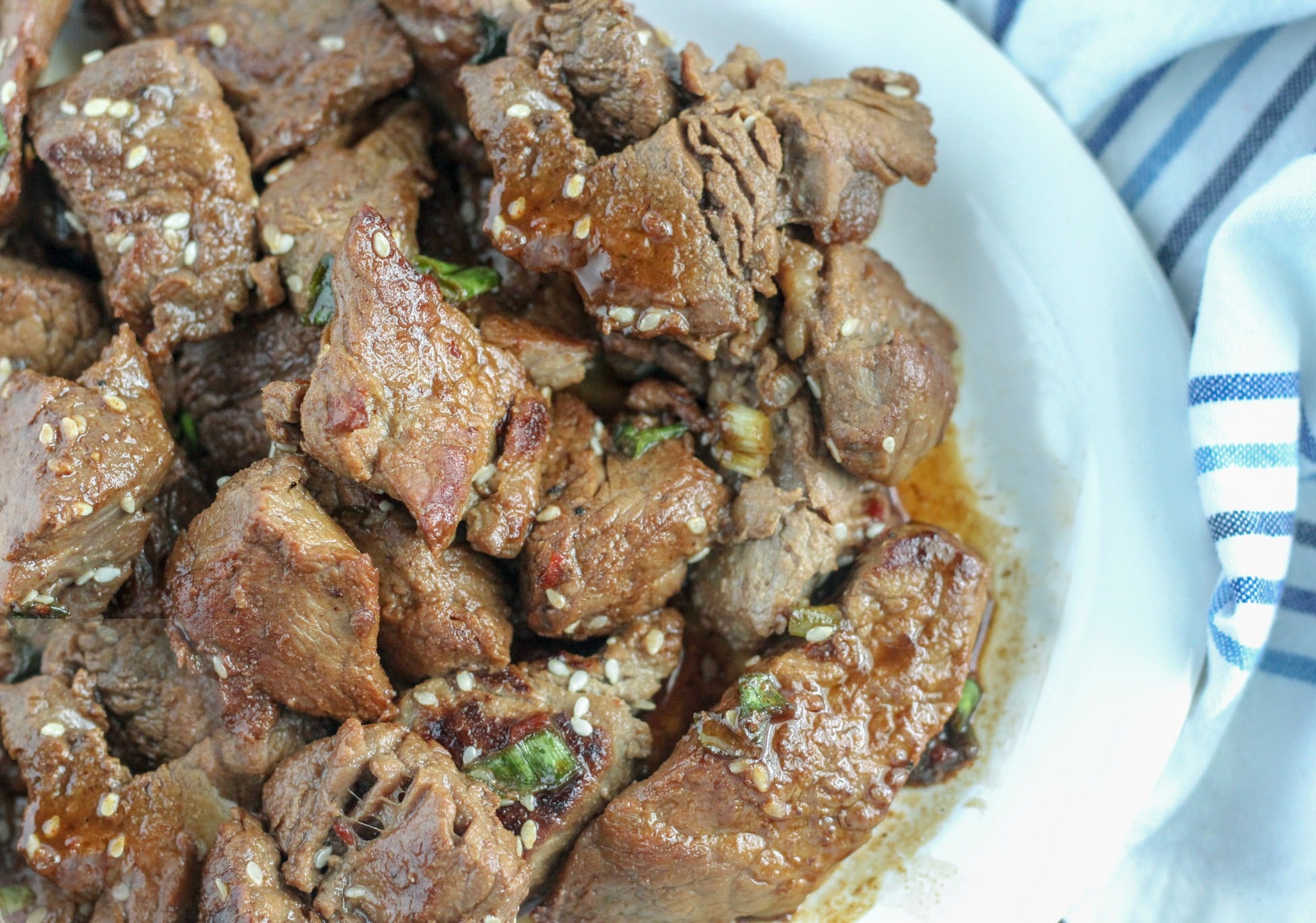 Looking for a few great side dishes for this recipe?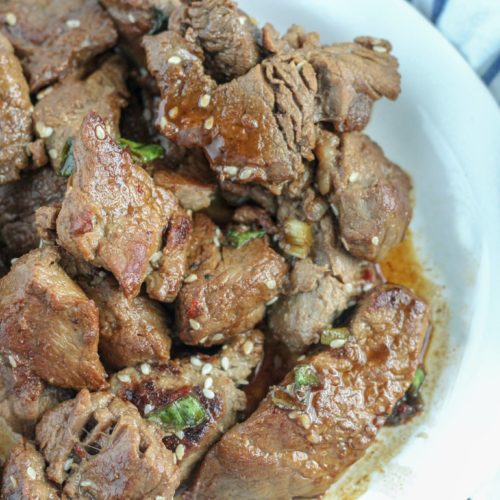 Teriyaki Steak Bites
Teriyaki Steak Bites are an easy restaurant quality dinner you can make at home with just a few ingredients.
Ingredients
11/2-2

lbs.

sirloin or flank steak. cut into bite sized pieces

1/4

cup

teriyaki sauce

1

tablespoon

soy sauce

1

tablespoon

apple cider vinegar

4

cloves

garlic

minced or 1 tablespoon garlic powder

1/4

teaspoon

red pepper flakes

optional

freshly ground black pepper

sesame seeds for garnish
Instructions
Cut steak into a small bite sized pieces and place in a medium sized bowl

In a second bowl combine teriyaki sauce, soy sauce, apple cider vinegar, garlic and black pepper in a bowl and whisk it together to make the marinade

Pour the marinade over the steak and then toss to coat. Cover bowl tightly with plastic wrap or foil and refrigerate for 4-6 hours

Heat a heavy skillet, like cast iron, over medium high heat until very hot. Cook steak 3-5 minutes turning once halfway through. Discard any remaining marinade

Transfer prepared Teriyaki Steak Bites to a plate or platter and garnish with sesame seeds and scallions if desired.

*don't crowd the skillet cook the steak in two or three batches see comments in above post