Don't serve the same old microwave popcorn at your next movie night. Give them warm, fresh, buttery, delicious homemade Stovetop Popcorn. It's hands down it's the absolute best popcorn you've ever had.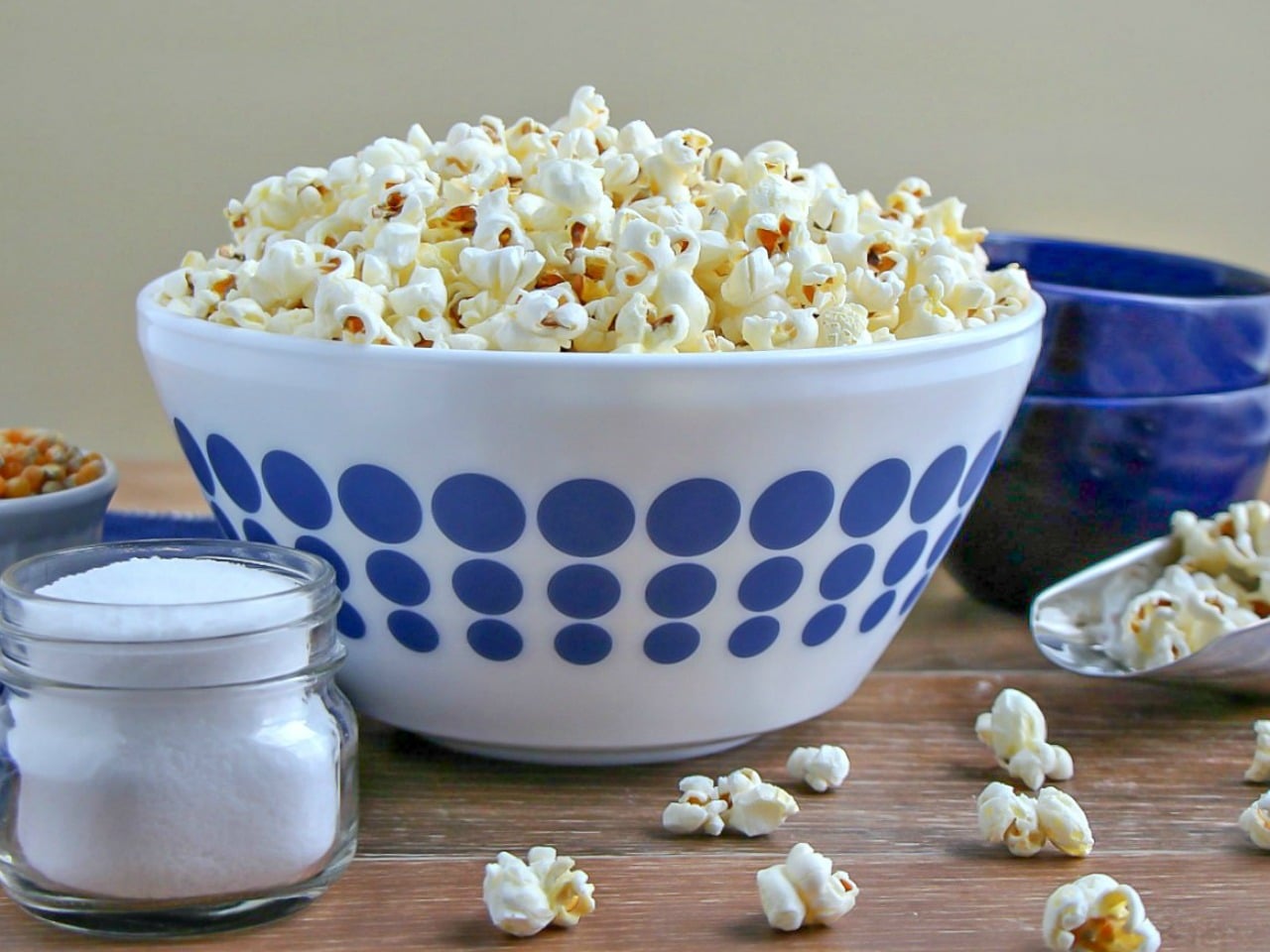 Just last weekend we had a Tom Hanks marathon. A whole day of his best movies: Big, You've Got Mail, Capitan Phillips and of course Forrest Gump. If you're going to sack out on the couch and binge movies all weekend you need a good bowl of popcorn. Like they say nothing beats homemade, right.
How to make on the stove top:
In a a large pot such as a 3.5 quart stock pot with a lid, heat the oil over high heat.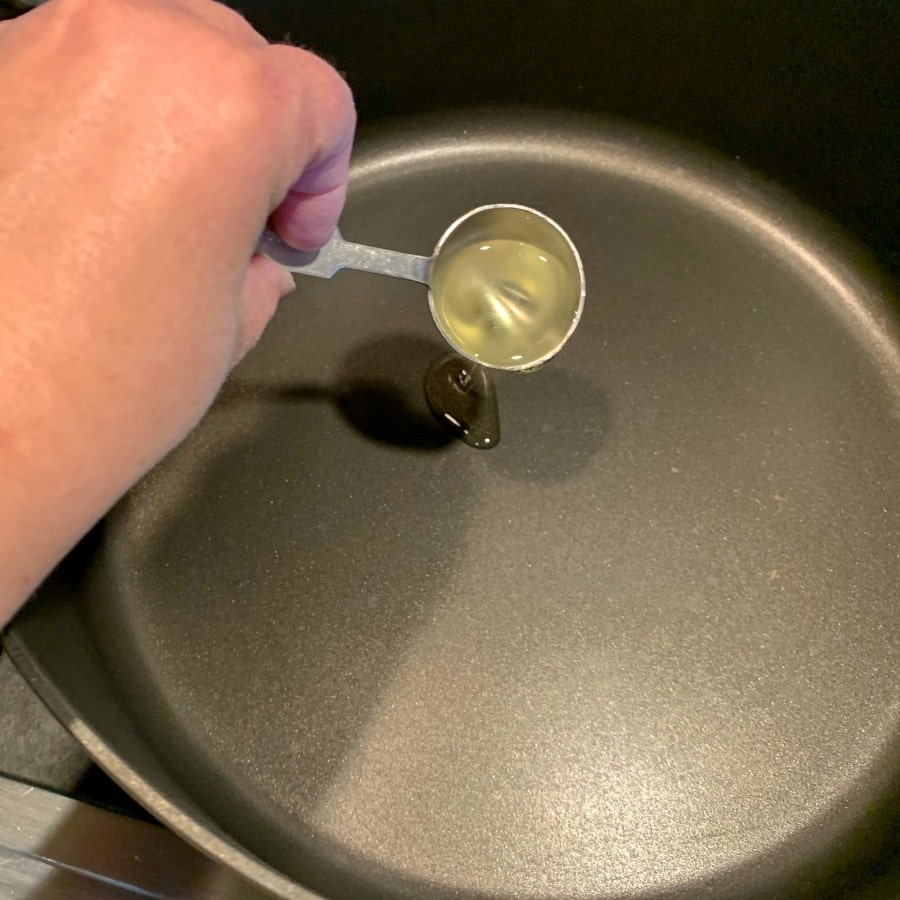 Place to kernels in the pan and cover. Wait until both kernels pop then remove the pot from the heat. Take out the two popped kernels.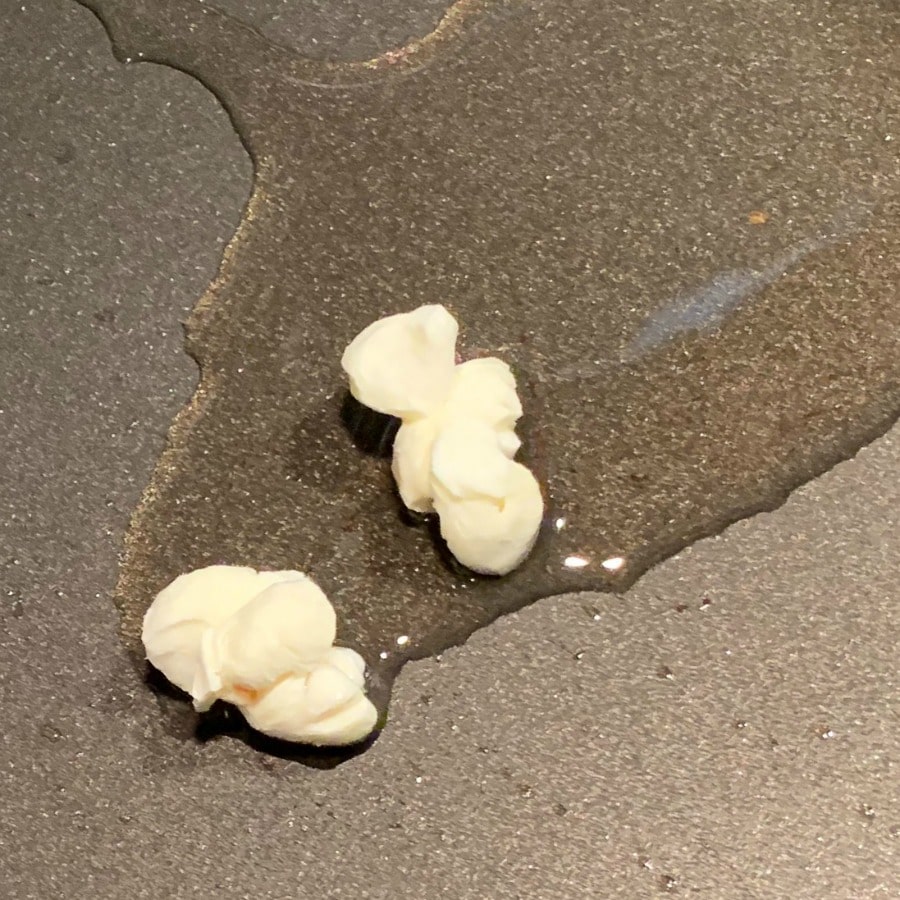 Add in the remaining kernels to the oil and and return to heat. When the kernels start popping give the pan a good shake occasionally to ensure even cooking. 
Once the popping begins to slow down remove the pot from the heat but leave the lid on for another minute to give any stubborn kernels a chance to pop. 
Pour into a serving bowl and top as desired.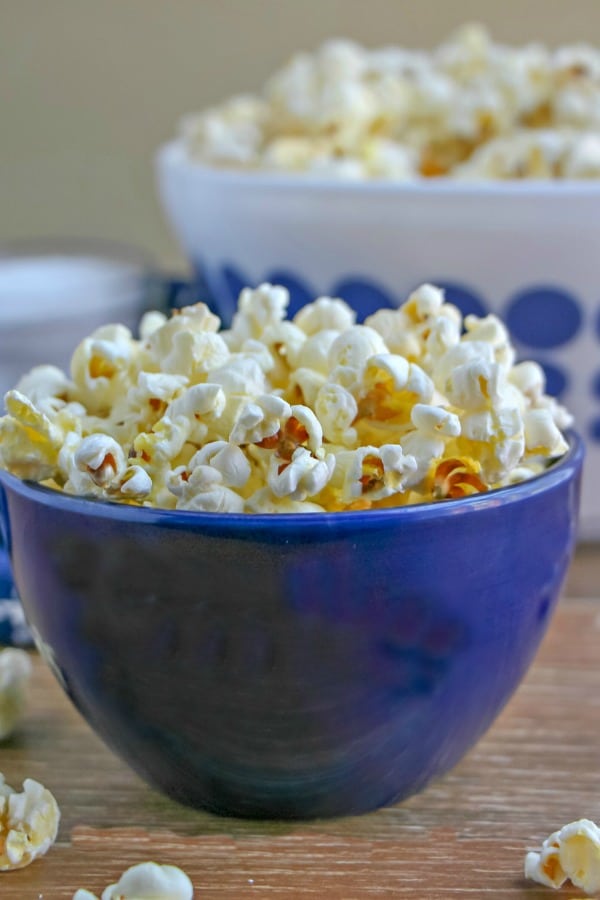 How to add melted butter and salt to freshly popped popcorn:
Butter and salt are an absolute must for popcorn. I mean they go together like peanut butter and jelly right? Adding the butter an salt to stovetop popcorn is super easy and it tastes so much better than the stuff in a bag of microwave popcorn or even from a concession stand. I recommend adding salt to the popcorn as soon as your done popping it and before you add butter. Once you've salted the popcorn to you liking you'll want to add the butter.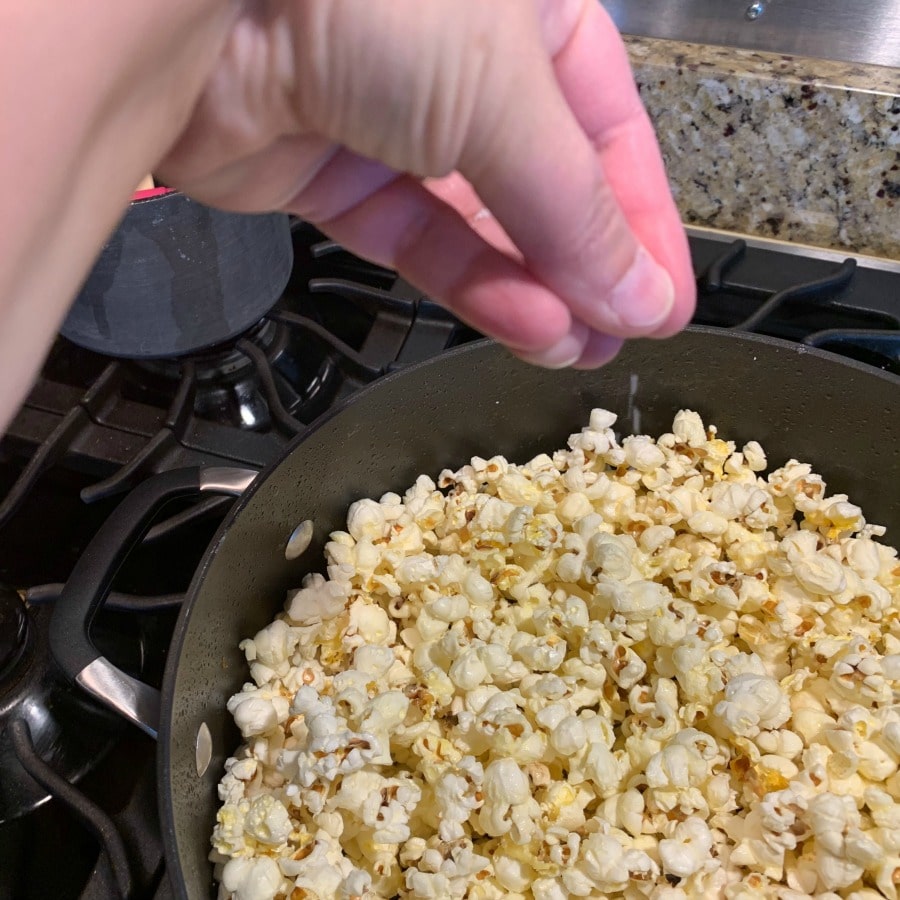 For a half cup of popped kernels I used four tablespoons of butter or about a half a stick. which I melted over low heat in a sauce pan. Next pour the melted butter over the popcorn slowly tossing the popcorn as you go. If there's someone around to help you do the stirring as you add the butter that's perfect. If you're alone pour the butter and stir intermittently until it's well combined.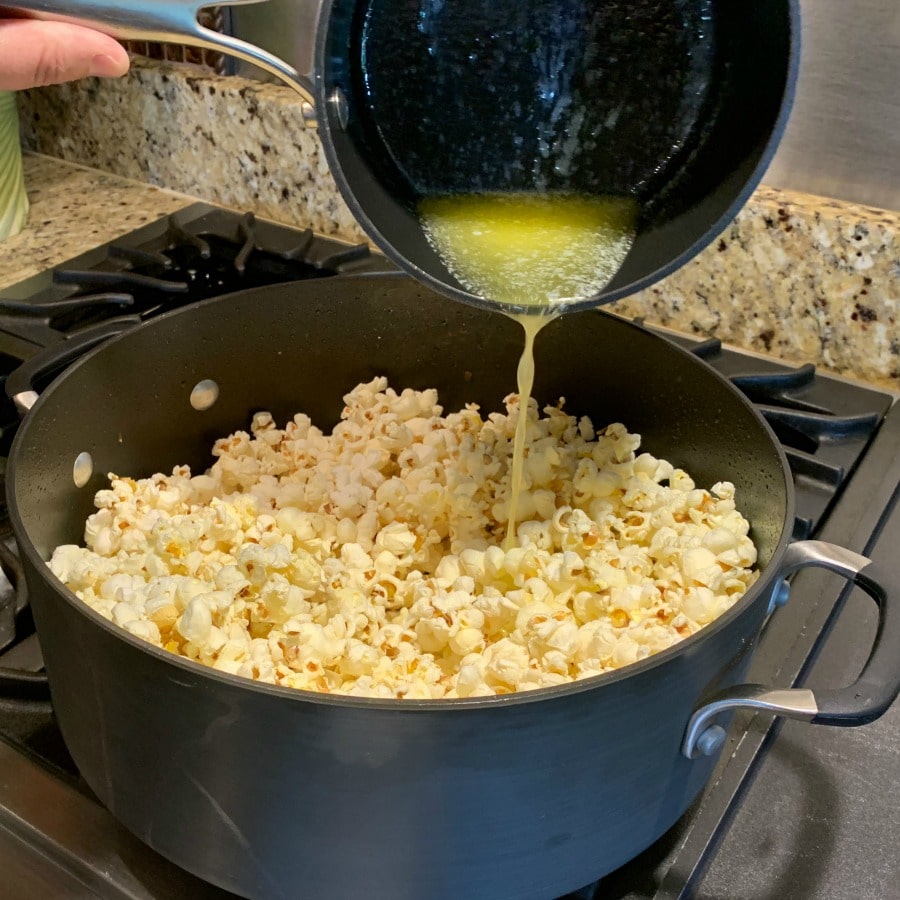 Other topping ideas:
There are tons of other ways to top homemade popcorn. Some of my other favorites include:
ranch seasoning
cinnamon sugar
melted dark or white chocolate
toss in a handful of M&M's
caramel
 Everything Bagel Seasoning
& hot sauce or sriracha
Tips for making the perfect pot of popcorn on your stove:
1. Use a big pot like a soup pot or stock pot.  Don't use a dutch oven or enamel pot. The heavy nature of the pot will not heat a fast and leave you with more duds.  A thin pot with a will heat more quickly and help the prevent unpeopled kernels. 
2. Use a high smoke point oil to prevent the oil from burning. Even if your oil starts to smoke your popcorn will taste burnt. 
3. Start you pot with two unpopped kernels when the oil is hot enough they will pop and you are ready to get popping! (Yes, it was a bad pun I couldn't stop myself.) 
4. If he popcorn starts to over flow the pan and push the lid off while you are still popping it remove the pan from the heat. Then scoop out some of the popcorn before returning your pan or pot to the burner. Be careful the pan and popcorn will both be HOT to the touch! 
Cooking oils with high smoke points:
and some virgin olive oils be sure to check the label to determine if it's suitable for high temperature cooking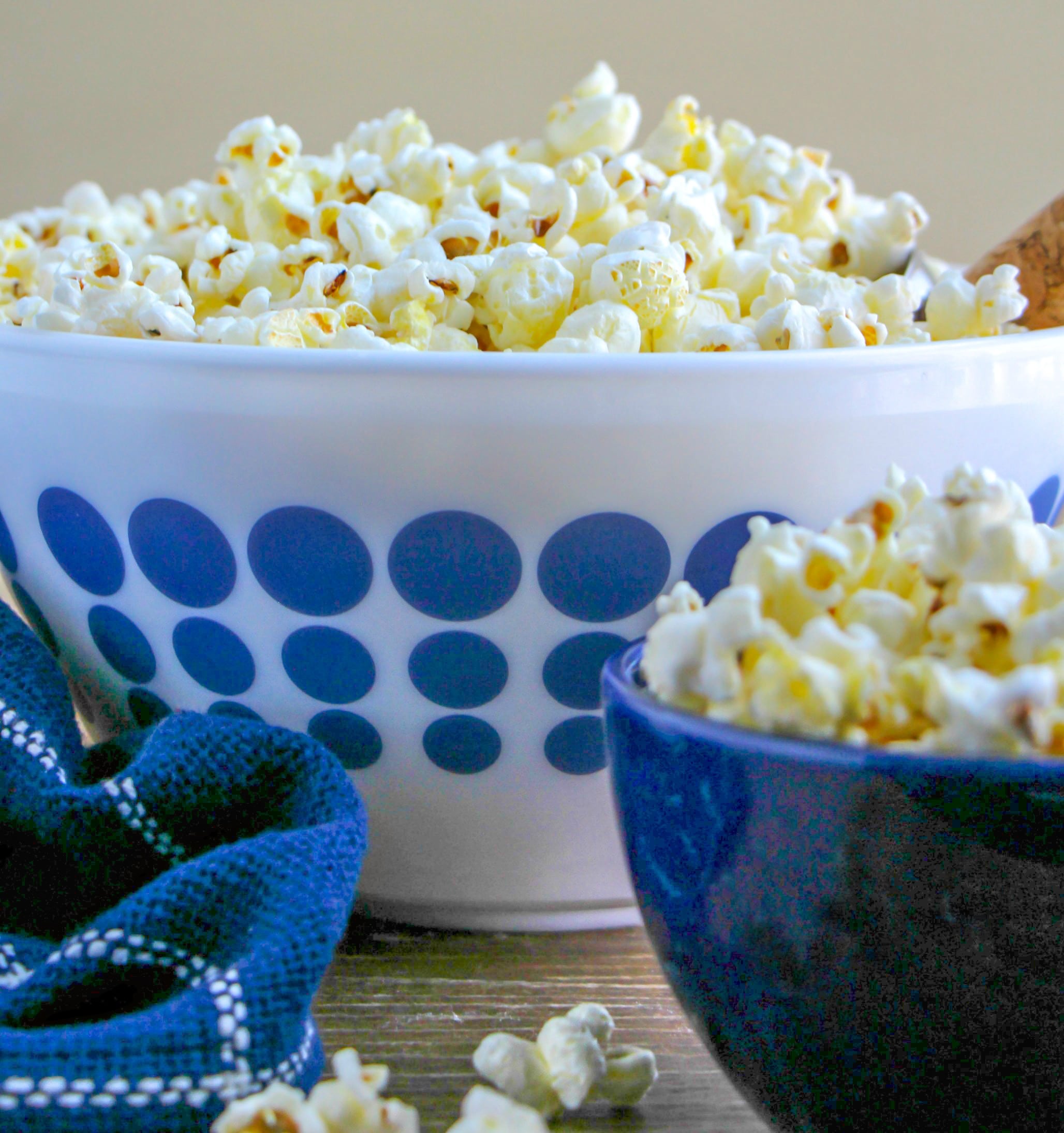 But don't think making Stovetop Popcorn is just for movie night. Popcorn is perfect for game day, slumber parties, game night and even packing in your lunchbox. 
Happy Cooking Y'all! 
Susanne