Things around here have been really busy lately. Which means I've been using my slow cooker more than usual. Today, I made a classic Southern dish Ham and White Beans. Actually I made Slow Cooker Ham and White Beans. It's pretty much the same thing expect I left the house instead of slaving over the stove.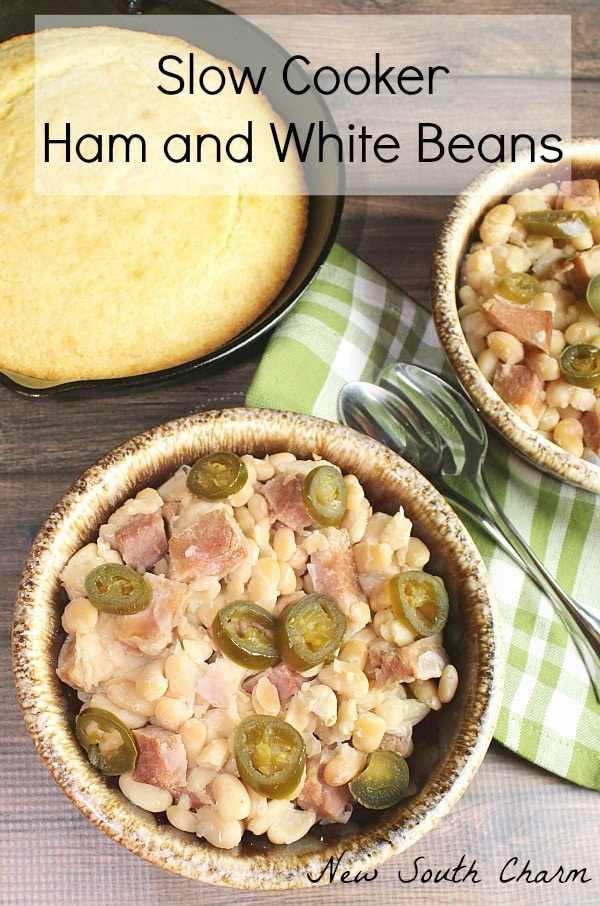 When I know things are going to be busy and I might not be home in time to cook dinner I try to plan ahead and make something in my crock pot. I mean a few minutes in the morning means not eating out for dinner. Not going out to dinner saves money and we eat healthier too.
There is no need to presoak the beans if you are preparing them in the slow cooker. The slow steady heat will allow the dried beans to soften. The key cooking the beans for so long is to use enough water. As the beans cook water will evaporate from the slow cooker. If the water becomes too shallow they beans will overheat and become mushy, or worse burn.
I have a seven quart slow cooker and I add ten cups of water when I cook dried beans. If you have a smaller slow cooker you might need less water. A good rule of thumb is to fill your cooker with water stopping just a couple of inches from the top.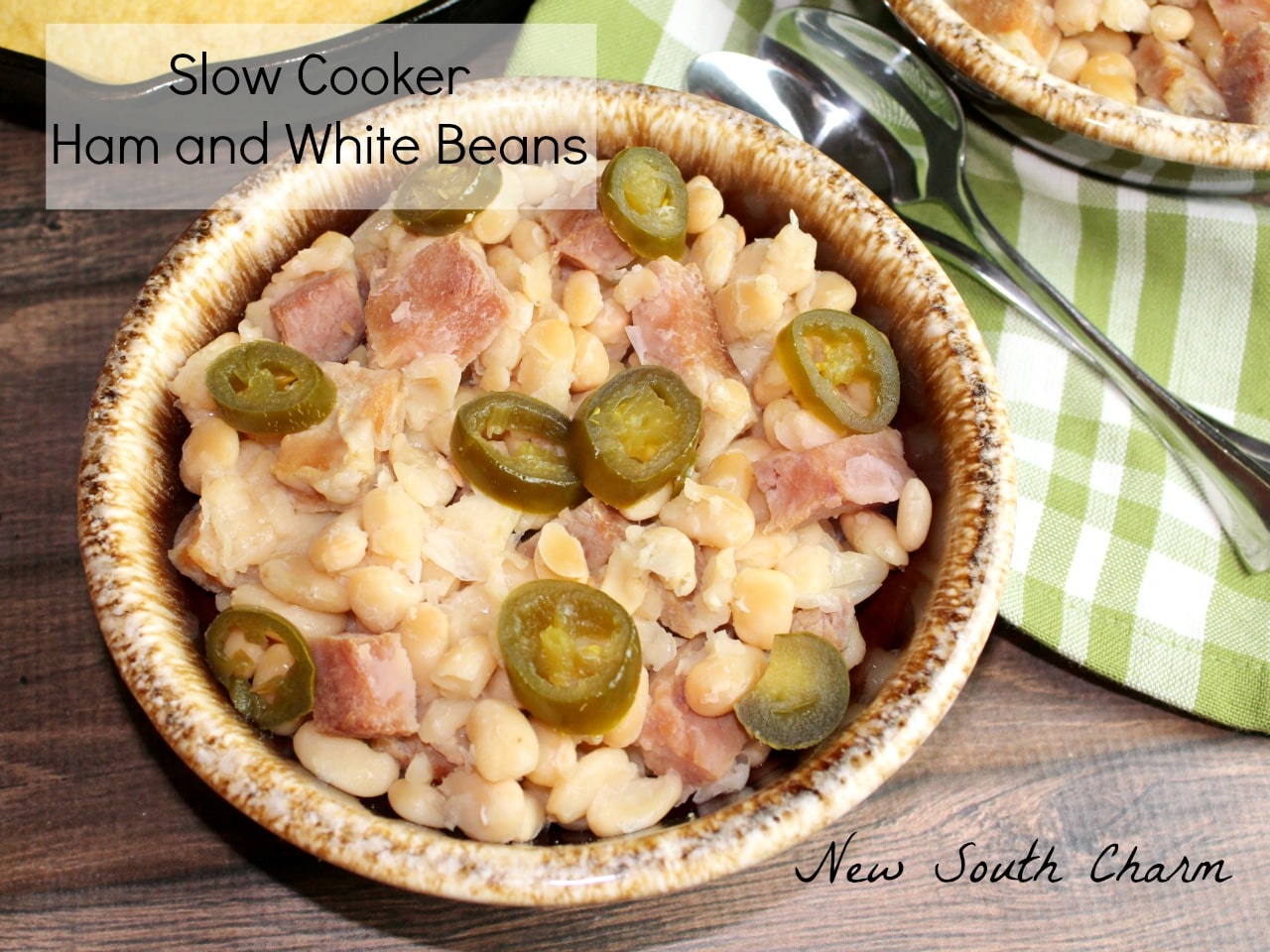 For this recipe begin by pouring one pound of White Beans in the bottom of your slow cooker. Sort through the beans and remove any that have turned brown or are unappealing.
Next layer a pound of ham on top of the beans. I like to buy a large slice of smoked bone-in ham. I don't put the bone in the slow cooker but I do think that the bone in slices have more flavor. You can use a slice or boneless ham or even leftover ham. No matter what cut you choose you'll need to cut the ham into bite size pieces before putting it int he crock pot.
Once you've put the beans and ham in the slow cooker add water, cover and cook for six to eight hours.
Around here people add ketchup to their beans, I'm not sure if people do that in other part of the country. If not it probably sounds strange, but honestly it's pretty good. My sweet hubby likes his with a little spice so I always make sure to have jalapeños sliced up for his bowl.
Of course there's one more very important Southern tradition that is an absolute must when serving Slow Cooker White Beans and Ham; cornbread. It's just not the same meal if you don't serve it with warm buttery cornbread.
Thank you so much for reading! Are you following New South Charm on Facebook? I'd love to hear from you; drop by and say hello!
Happy Cooking Y'all!
Susanne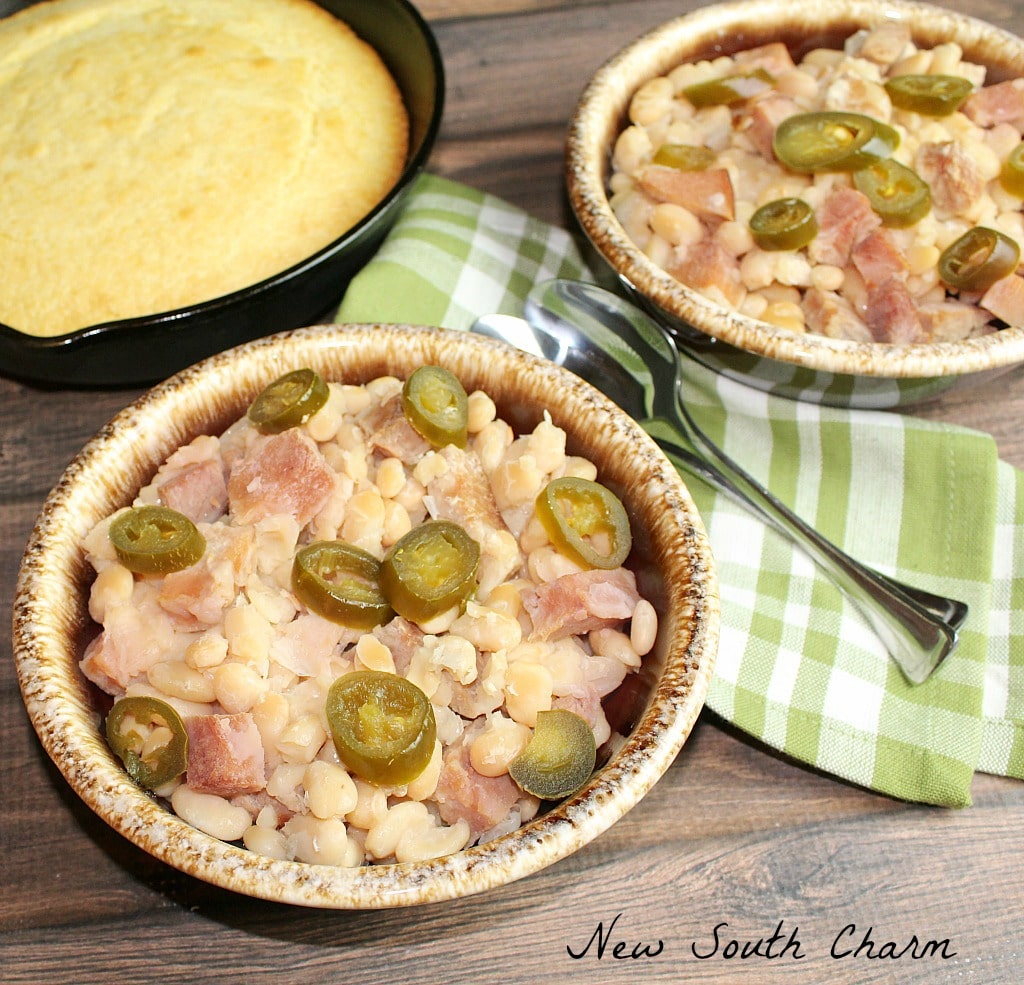 Slow Cooker Ham and White Beans
Total Time
6
hours
10
minutes
Ingredients
1

lb.

Ham

cut into bite size pieces

1

lb

Dried White Beans

10

cups

water
Instructions
In the bowl of a 7 quart slow cooker layer beans then ham add 10 cups of water*. Cook for 6 hours.

If you have a smaller slow cooker fill with water until 2 inches from the edge of the bowl.

Garnish with jalapeños if desired.