Slow Cooker Chicken Chili is so easy to make it will become one of your go to meals for getting dinner on the table. It's so simple all you have to do is drop the ingredients in the slow cooker turn it on and walk away.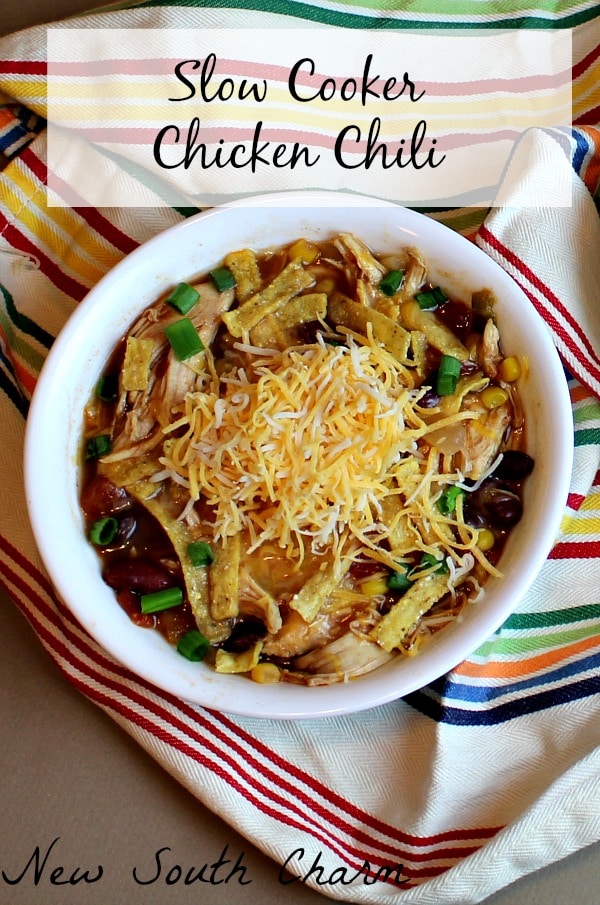 Do you love your slow cooker? I LOVE mine. It might be the best appliance in the whole kitchen. What other appliance do you have that can work all on its own? Well maybe one of those robot vacuums but, yeah, besides that?
Don't you just hate when you see a slow cooker recipe that looks like it would be so good and then you realize it requires a ton of prep work? I admit it doesn't necessarily stop me from trying the recipe, BUT I like easy. Everyone likes easy, right?
This is absolutely on of the easiest recipes I've ever made. You just put the ingredients in the slow cooker and then eight hours later you have dinner.
Begin by placing two frozen chicken breasts at the bottom of the slow cooker. Then add two cups of chicken broth. Followed by one can of black beans, kidney beans, tomato sauce, two cans of tomatoes and chilies, and a package of frozen corn kernels. Lastly add in a packet of taco seasoning. Stir everything together and cook on low for eight hours.
Now I'm sure you noticed that onions are listed in the ingredients. If you're putting this together in the morning before you head out for the day you might not have time to chop an onion. Don't worry I've got you covered. Here are two choices You can add a 1/2 cup frozen chopped onion or one tablespoon dry minced onion. See easy-peasy.
I like to toss a little Mexican blend cheese and tortilla strips on top. If I already have tortilla chips on hand I just crush a few up and use them instead. If you want to add a little spice you could chop up a jalapeño and add it on top.
Do you like to use your slow cooker in the winter time? What's your favorite slow cooker recipe? Leave me a comment below and let me know.
Thank you so much for reading! Are you following New South Charm on Facebook? I'd love to hear from you; drop by and say hello!
Happy Cooking Y'all!
Susanne
Looking for More great recipes?