Layers of lettuce, onions, hard boiled eggs, bacon, cheese, peas and dressing come together to make this salad. Seven Layer Salad is a classic Southern side dish that's perfect for a family gathering or a potluck.
I was asked to make a salad for a luncheon at out church. The meal is a part of a series of lunchtime meals and devotionals that lead up to Easter. Each week the meal is hosted by a different church in the community. Since we were going to be feeding a crowd I decided to make a Seven Layer Salad.
Seven Layer Salad is a staple at my family's holiday meals. Usually I'm the one assigned to make it. I don't mind though because it's easy to make and everyone loves it.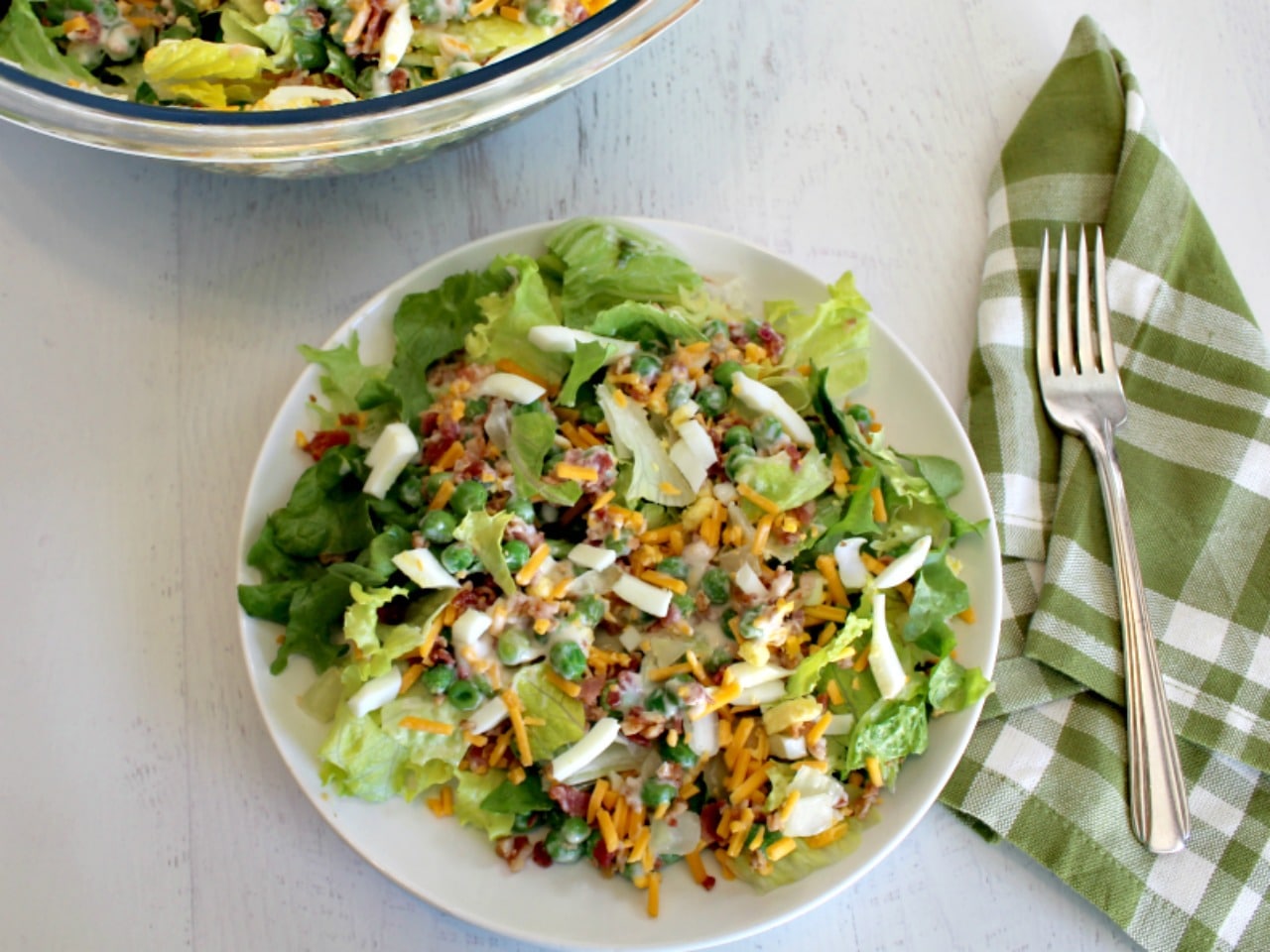 What's in Seven Layer Salad?
Seven Layer Salad is made up a layers of ingredients. Those layers are lettuce either Iceberg or Romaine. I prefer Romaine because I feel like it has more flavor. Then diced onion. I use yellow for the sweet flavor but if you want an little more kick you could choose red onion. Then hard-boiled egg and green peas. I recommend using frozen peas, thaw them first, but they will crunchy instead of soft and soggy like from a can. The three final ingredients are bacon or bacon bits and cheese and of course salad dressing.
My tips for making this salad: 
If you are making this salad in advance be sure to dry the lettuce before adding it to the bowl. Moisture left on the lettuce will make the salad soggy. No one likes soggy lettuce. I use my salad spinner to dry the lettuce fast. If you don't have a salad spinner you lay the lettuce out flat to dry or dab it dry with a clean dishtowel.
There's not a particular order for putting the salad together but this is the order I found works best. Begin by placing the lettuce at the bottom then layer on the onions, eggs, bacon then peas.
Next, using a rubber spatula spread the dressing on top. I've found that the peas are the easiest  layer to spread on the dressing. If you try to add the dressing to the cheese at the end the cheese sticks to the dressing on the spatula turns into messy glob.
Finally add the cheese over the top of the salad and then seal the bowl with a lid or tightly with plastic wrap and place in the fridge for 3 hours to overnight. Toss to combine before serving.
Thank you so much for reading! Are you following New South Charm on Facebook? I'd love to hear from you; drop by and say hello!
Happy Cooking Y'all!
Susanne
Seven Layer Salad
Seven Layer Salad is a classic Southern side dish that's perfect for a family gathering or a potluck.
Ingredients
2

cups

mayonnaise

2

tablespoons

sugar

1

head of Romaine lettuce

1

medium yellow onion

diced

1 12

bag of frozen peas

still frozen

3

hardboiled eggs

chopped

3

cups

shredded sharp cheddar cheese

1

lb.

bacon

chopped
Instructions
In a large bowl or 9x13 casserole dish layer together ingredients in this order: lettuce, onion, egg, bacon, cheese and peas.

In a small bowl combine mayonnaise and sugar to make the dressing.

Spread the mayonnaise and sugar mixture over the top.

Cover and place in your refrigerator 8 to 24 hours. Toss before serving.