I love chicken and rice dishes. They are not only are they delicious they're inexpensive and filling.
This recipe calls for Ritz Crackers combined with butter to make a top crust. Ritz Crackers are one of my favorite snack foods. No seriously I mean L-O-V-E them. They are great with peanut butter, with cheese, with tuna salad, with chicken salad, or just plain out of the box.
What are your favorite snack foods that can double as ingredients in a casserole or dish?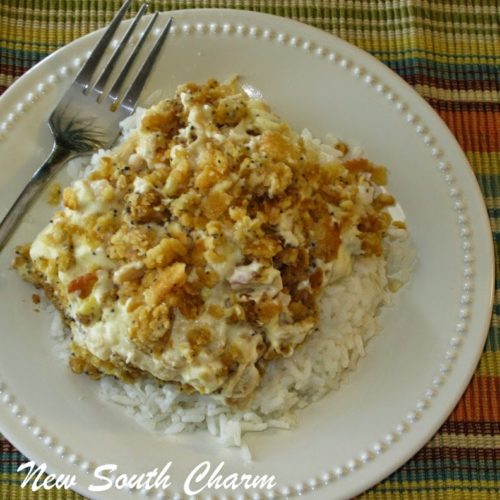 Ritzy Chicken
Ingredients
2-3

Chicken Breasts

(cooked and shredded)

2

Cups

Uncooked Rice

1

Can Cream of Chicken Soup

1 8-

oz.

Carton of Sour Cream

2

Sleeves of Ritz Crackers

2

Tablespoons

of Butter

I went all out and used 3 tablespoons.

2

Teaspoons

Garlic

or two cloves minced

2

Teaspoons

Poppy Seed
Instructions
Preheat oven to 350 degrees

In a mixing bowl combine cream of chicken soup and sour cream until well blended

Melt butter and pour over crushed crackers (go slowly to get an even coat)

Add poppy seeds and garlic to buttered crackers

Line the bottom of a 9×13 casserole dish with shredded chicken

Pour sour cream and soup mixture over the top

Then add the buttered cracker crumbs to make a "crust"

Pop in oven for 30 minutes at 350 degrees

Prepare rice while you wait on the chicken mix to finish in the oven

When it's done spoon the chicken mix over the rice and serve
Like this recipe? Follow me on Facebook for lots of recipes and ideas that your family will love.