This recipe for Peas and Bacon with Pearl Onions is fancy enough to serve to guests or at a holiday meal but simple enough for everyday.
I think that Green Peas get a bad rap. I love their sweet crisp flavor. My said even as a baby I loved peas. They really are my favorite vegetable. The sweet flavor and versatility make them a great all sorts of different recipes. Like this one or on the top of this great Seven Layer Salad.
So, now that I've expressed my love of peas.Let met tell you a little bit about this recipe. I was flipping through a recipe book looking for something different (not another green bean casserole) to take to our church Thanksgiving potluck and I stumbled across a recipe for peas and onions. Now you know how I love peas (unless you skipped the first paragraph) so it caught my attention.
I flipped through my favorite cookbook and found a  very similar recipe. I thought this really needs something  else to make it really special. Then it came to me; bacon! After all everything is better with bacon. So, I grabbed my trusty skillet and fried up a few slices of bacon and then went to town.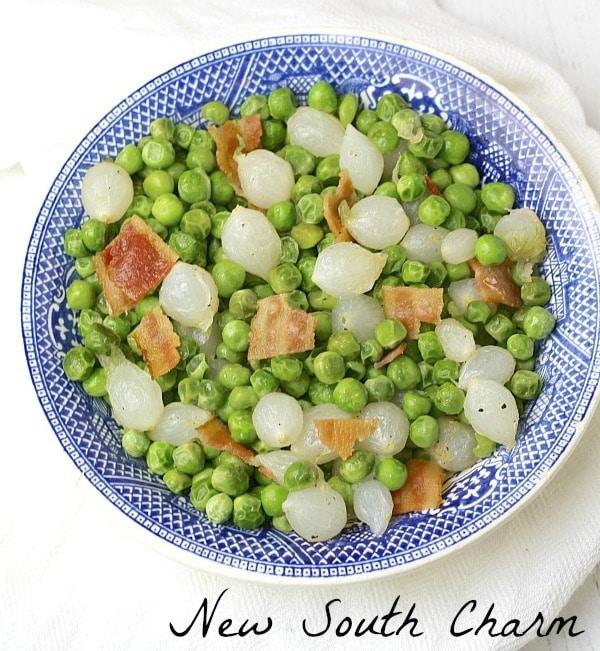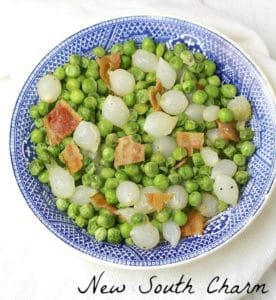 In a pot of boiling water cook the onions for three minutes and than add the peas and cook for another two minutes. Drain water and set aside.
In a large skillet cook five slices of bacon until crisp. Remove bacon from skillet and drain away most of the grease. Add onions and peas to skillet sprinkle with garlic and brown sugar. Season with salt and pepper. Cook over medium high heat for five minutes. At the end of five minutes crumble in the bacon and stir to combine.
That's it! Easy pea-sy! Okay, I know that was totally cornball but I couldn't help myself. All kidding aside though this is really great way to enjoy green peas. I hope you will give it try!
Thanks so much for stopping by New South Charm! I hope you'll find a recipe or two you'll love. Are you following New South Charm on Facebook? I'd love to hear from you; drop by and say hello!
Happy Cooking Y'all!
Susanne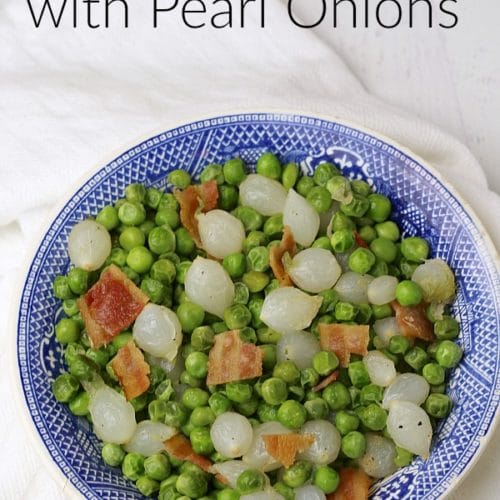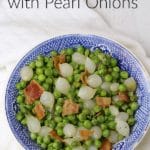 Peas and Bacon with Pearl Onions
Ingredients
2

12 oz bags frozen green peas

1

16 oz bag frozen pearl onions

5

slices

bacon

cooked and chopped

2

tablespoons

butter

1

teaspoon

garlic powder

1

teaspoon

brown sugar

salt and pepper to taste
Instructions
Bring a pot of water to a boil. then add the onions to pot and cook for three minutes and peas to pot and cook for another two minutes. Drain water and set the peas and onions aside.

In a large skillet fry bacon until cooked through and crispy. Set bacon side on a plate lined with paper towels. Drain aways most of the bacon grease.

Add the onions and peas to the skillet and cook for 5 minutes. At the end of 5 minutes crumble or slice the bacon into the skillet and stir to combine.