Growing up I had an uncle that was a grill master. I'm not kidding. If it could be cooked on a grill he could do it and it was always delicious. One of my favorite things he grilled was always Kielbasa. I loved the smoky goodness of it. That fact has never changed. One thing that has changed over the years is the range of recipes that I've added to my arsenal that use smoked sausage as an ingredient. 
Kielbasa
 is a versatile ingredient. I usually keep some on hand in my refrigerator or freezer. In a pinch it can be sliced and tossed in a skillet or on a grill pan for a fast fix. Serve with eggs and toast for a breakfast or a quick, easy dinner.
Another great thing about Kielbasa (or Polish Sausage or Smoked Sausage whatever you want to call it) is that it's inexpensive. That's a definite bonus if you're watching your budget.
For this recipe you're going to need one package of Kielbasa sausage and two to three potatoes. I use regular baking potatoes but if you have a bag of smaller potatoes then you might want to add one or two more the recipe.
When I make this recipe I always peel the potatoes. It's a personal choice. My husband likes the flavor and texture of  potato skins. As I general rule I like my potatoes peeled but I make few exceptions like loaded potato skins or natural cut fries. For this recipe the choice is totally up to you. I think it will turn out fine either way. Just be sure to wash the potatoes really well if you're not peeling them.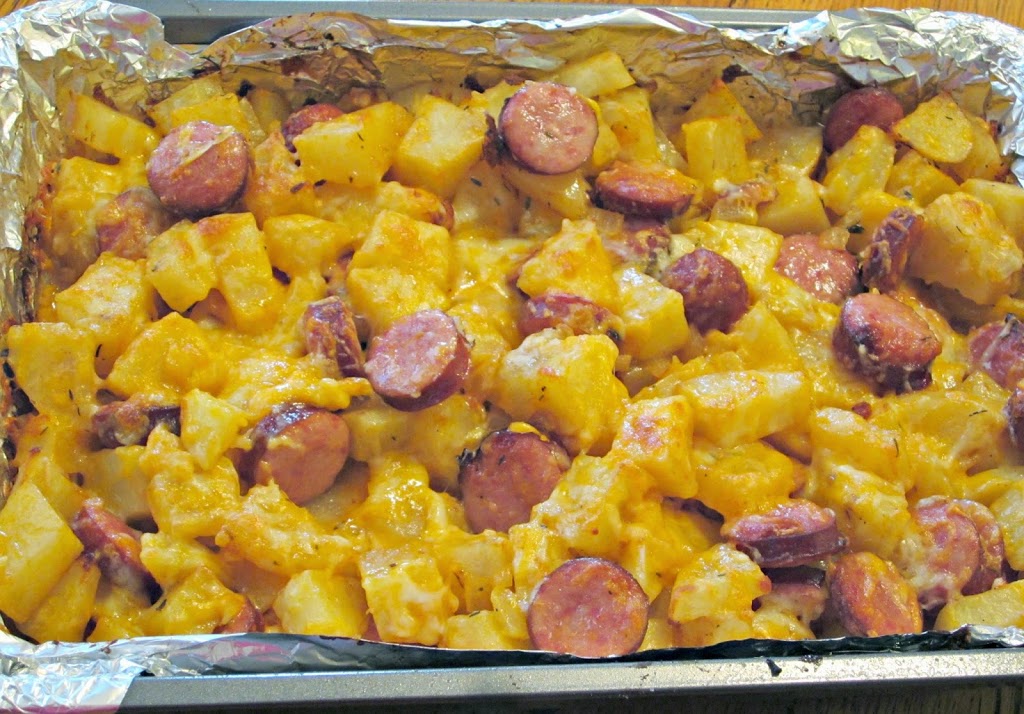 You probably noticed in this picture I covered my casserole dish in two layers of foil. I recommend you do the same. You'll have to stir this as it's cooking. So just in case you tear the foil the second layer will keep you from having a mess. Trust me you'll thank me when you're doing the dishes.
 Scroll down for free printable recipe!
Oven Roasted Sausage and Potatoes
Total Time
1
hour
10
minutes
Ingredients
1

package of smoked sausage

1

large onion

3-4

large potatoes

adjust accordingly

2

cups

sharp cheddar cheese

olive oil

salt and pepper to taste

freshly ground black pepper

½

tsp.

paprika

½

tsp.

thyme

½

cupped shredded sharp cheddar
Instructions
Preheat the oven to 400⁰.

Line a 9x13 casserole dish with foil drizzle with a bit of oil. Coat pan and set aside.

Put the sausage rounds, onions and potatoes into a large bowl. Drizzle with two tablespoons of olive oil. Toss by hand or stir with spoon until well coated.

Season with 1/2 teaspoon paprika and 1/2 teaspoon dried thyme and cup of sharp cheddar cheese. Again toss or stir until well coated.

Pour mixture into prepared 9x13 casserole dish

Place into the heated oven and roast for 45 minutes to an hour stirring every 15 to 20 minutes until potatoes are tender and golden brown. Once the potatoes are cooked add another handful of cheese to the top and put in the oven until cheese is melted.