These Garlic and Herb Marinated Olives make a great appetizer for a party, a healthy snack or even a great gift for the foodie in your life!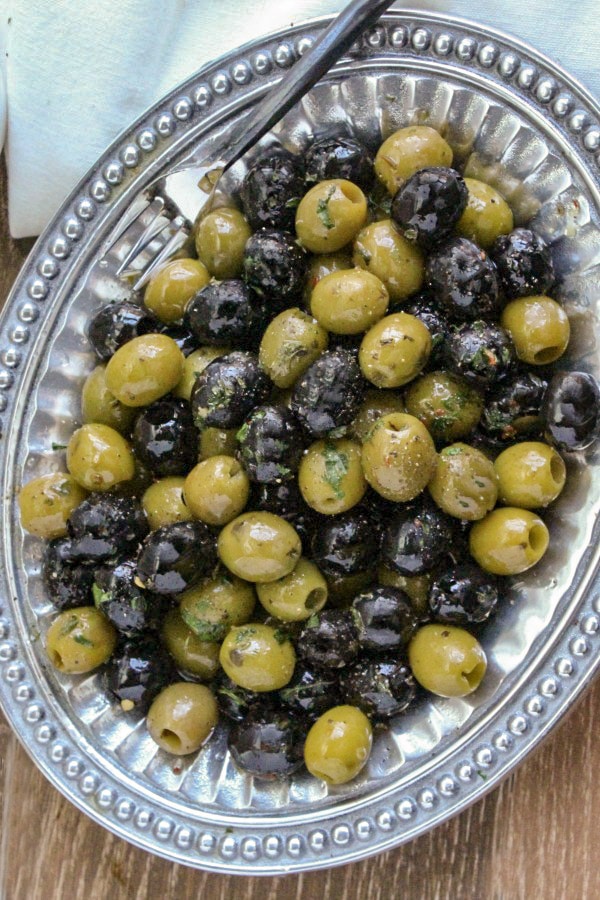 My husband and I just returned from a dream vacation to Italy. I'm not going to lie it was A-MAH-ZING!  Italy is a beautiful country. Everywhere your turned things were postcard picturesque. 
We spent a few days in the Italian countryside touring wine vineyards and olive groves. I honestly felt like we'd somehow walked on to movie set. I won't bore you with tons of photos but I did want to include one I took of an olive tree. Simply because the trees are so beautiful with their slivery green color and bunches of plump olives.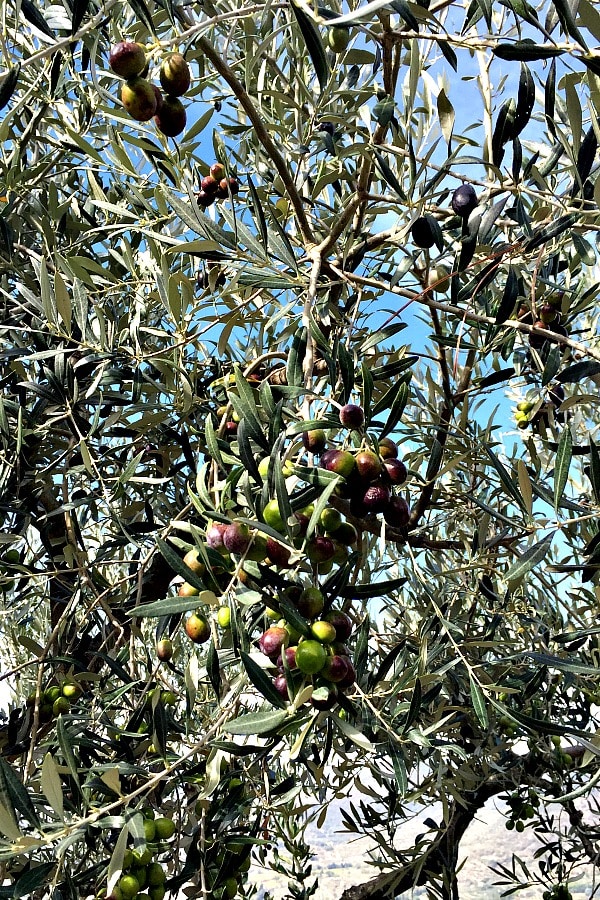 There was one Italian custom I could definitely get used to enjoying everyday.  In the afternoons Italians enjoy what they call an aperitivo. The aperitivo is similar to happy hour here in the states but with one difference, the snacks. During the hours leading up to dinner many people will have a drink like a glass of wine or a spritzer and enjoy a light snack. 
Most bars or restaurants serve a light selection of snacks with your drink during this time. Usually the snacks are nuts, chips, Caprese, cheeses and almost always a selection of Italian olives. 
Now I'll admit I've never really liked olives that much but somehow over the two weeks we were in Italy I learned to love olives. Especially when they are marinated in olive oil and seasonings very much like the olives I'm sharing with you today.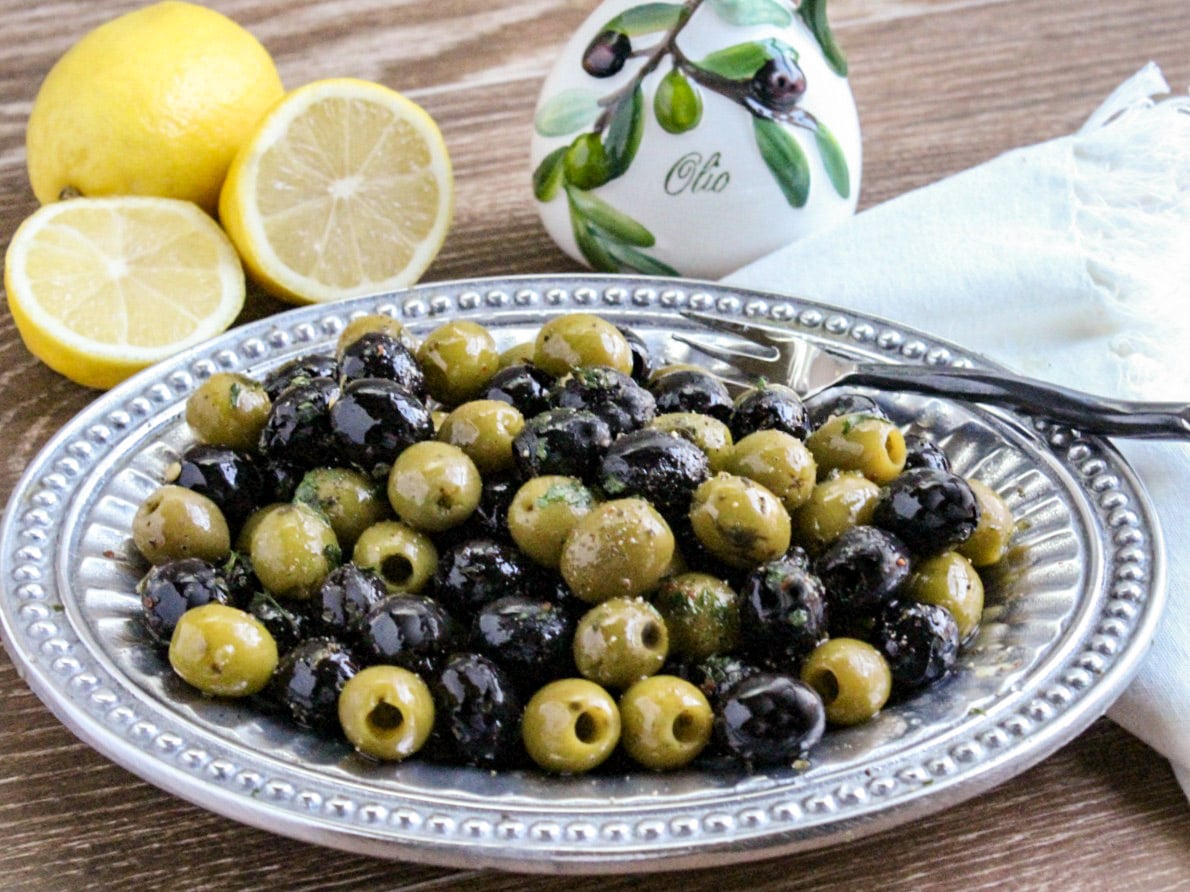 I recommend pitted olives to make this appetizer. You don't want guests to have to be uncomfortable spitting out olive pits. You also don't want to find olive pits hidden in plants and under couch cushions the next day. Okay so that probably wouldn't happen but it is important to make guest comfortable and that's why I recommend using pitted olives.  I actually bought a two cans of cheap of medium black and medium green pitted olives. 
The rest of the ingredients you will need to make these Garlic and Herb Marinated Olives are pretty basic and things you probably already have on hand. 
To make Garlic and Herb Marinated Olives you will need:
olive oil

 

dried parsley

 

dried oregano
garlic

 

red pepper flakes
cracked black pepper

 

lemon zest

 
You will also need a bowl with a fitted lid for mixing and storing the olives in the refrigerator.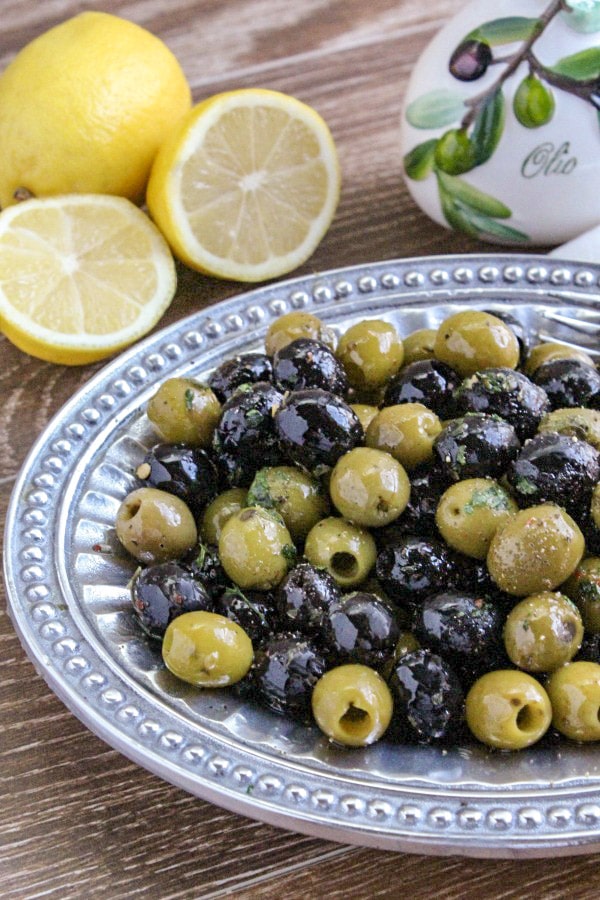 How do you marinate olives?
Marinating olives is really easy. Begin by draining the cans or jars of olives and then rinsing them throughly. 
Next, in a bowl that has a fitted lid combine olive oil, parsley, oregano, garlic, red pepper flakes, cracked black pepper, and the zest of one lemon. 
Finally, add the olives to the mixture and toss to coat them in the olive oil mixture. Cover the bowl with the lid and place in them in the fridge for 1 to 3 days.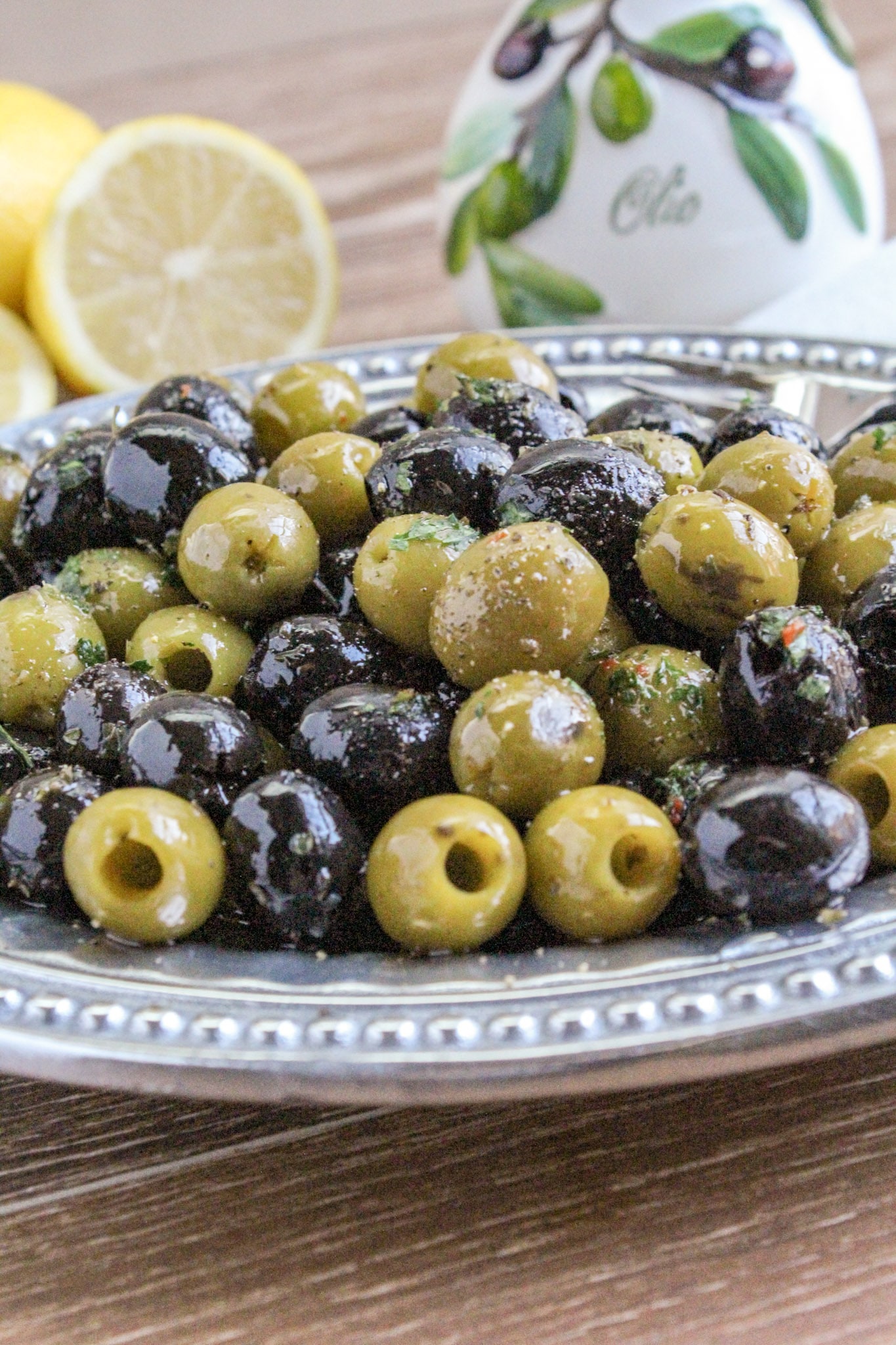 Transfer to a pretty bowl or ramekin for serving. If you are serving olives at a party be sure to provide toothpicks for eating. You don't want your guests to end up with messy hands from the marinade. 
Happy Cooking Y'all!
Susanne 
Looking for more crowd pleasing appetizers?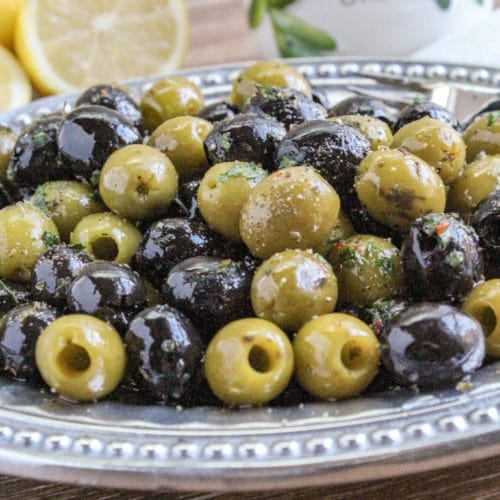 Garlic and Herb Marinated Olives
These Garlic and Herb Marinated Olives make a great appetizer for a party, a healthy snack or even a great gift for the foodie in your life!
Ingredients
1

can black pitted olives

drained and rinsed

1

can green pitted olives

drained and rinsed

1/2

cup

olive oil

1

teaspoon

oregano

1

teaspoon

parsley

1/4

teaspoon

red pepper flakes

2

cloves

garlic minced

zest of one lemon

cracked black pepper to taste