This Christmas Salmon recipe is made with a pomegranate glaze and garnished with pomegranate seeds and scallions. This dish is made to impress and is perfect for sharing on the holidays.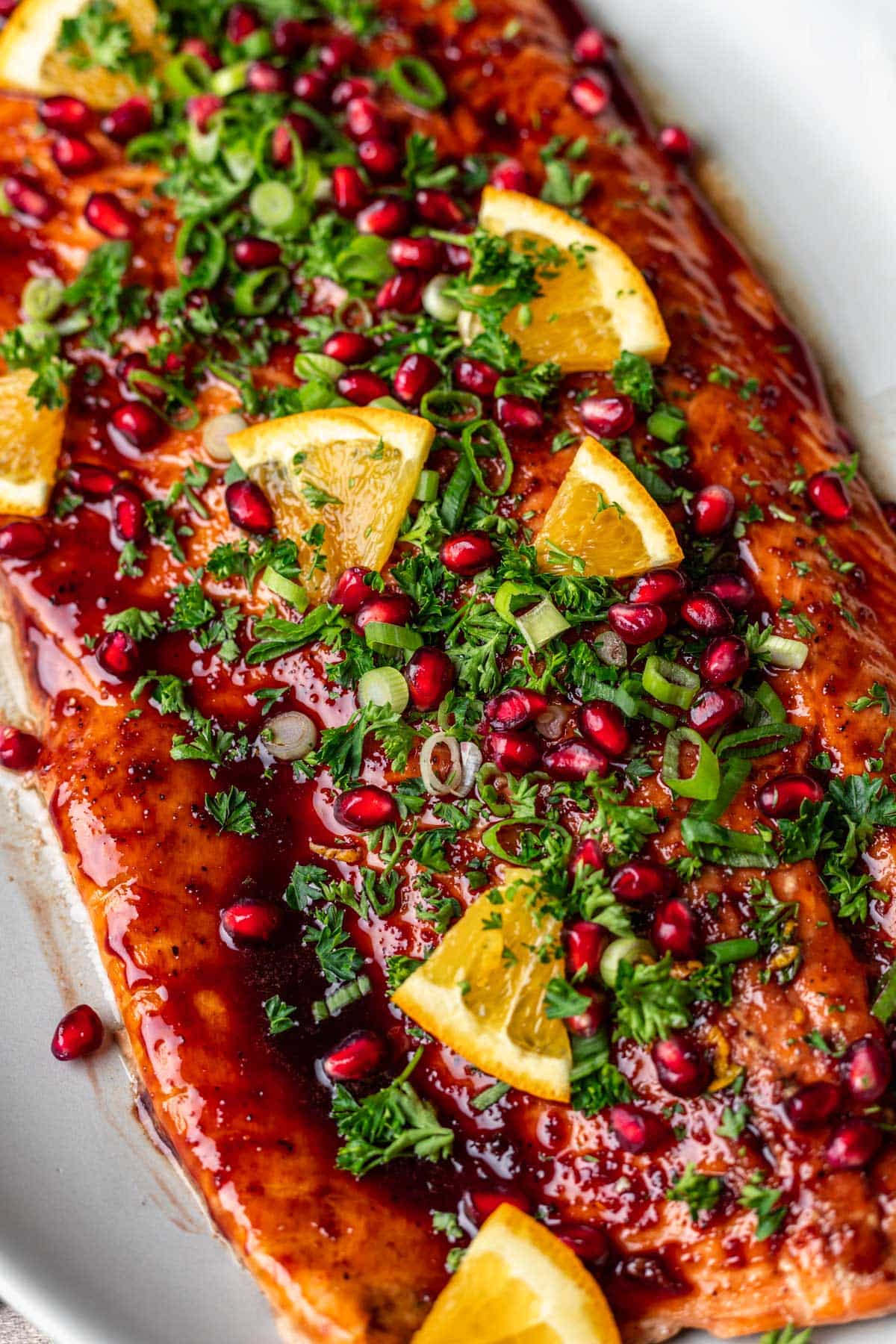 We have been busy this year with Christmas parties. Lots of fun and friends and of course food! I bet I've gained five pounds just from party food.Every party served a salmon appetizer either with toast points or crackers. Today I'm sharing a festive and delicious salmon dish that can be served as either an appetizer or a main dish.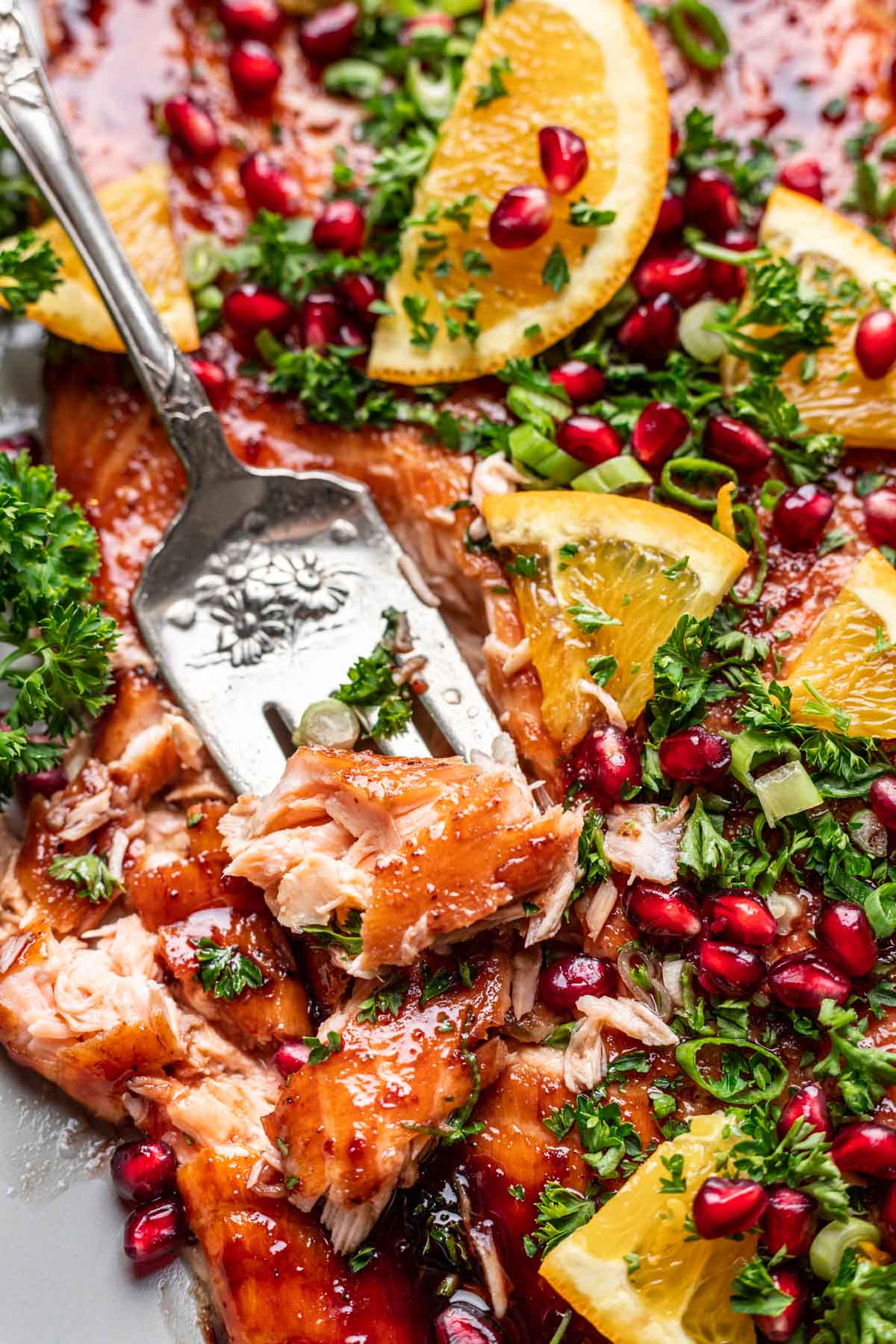 How to make Salmon with Pomegranate Glaze:
Ingredients:
Whole Atlantic Salmon
Pomegranate Juice (sugar free)
Oranges (juice and zest)
Pomegranate Seeds
Scallions
Parsley
Brown Sugar
Salt and Pepper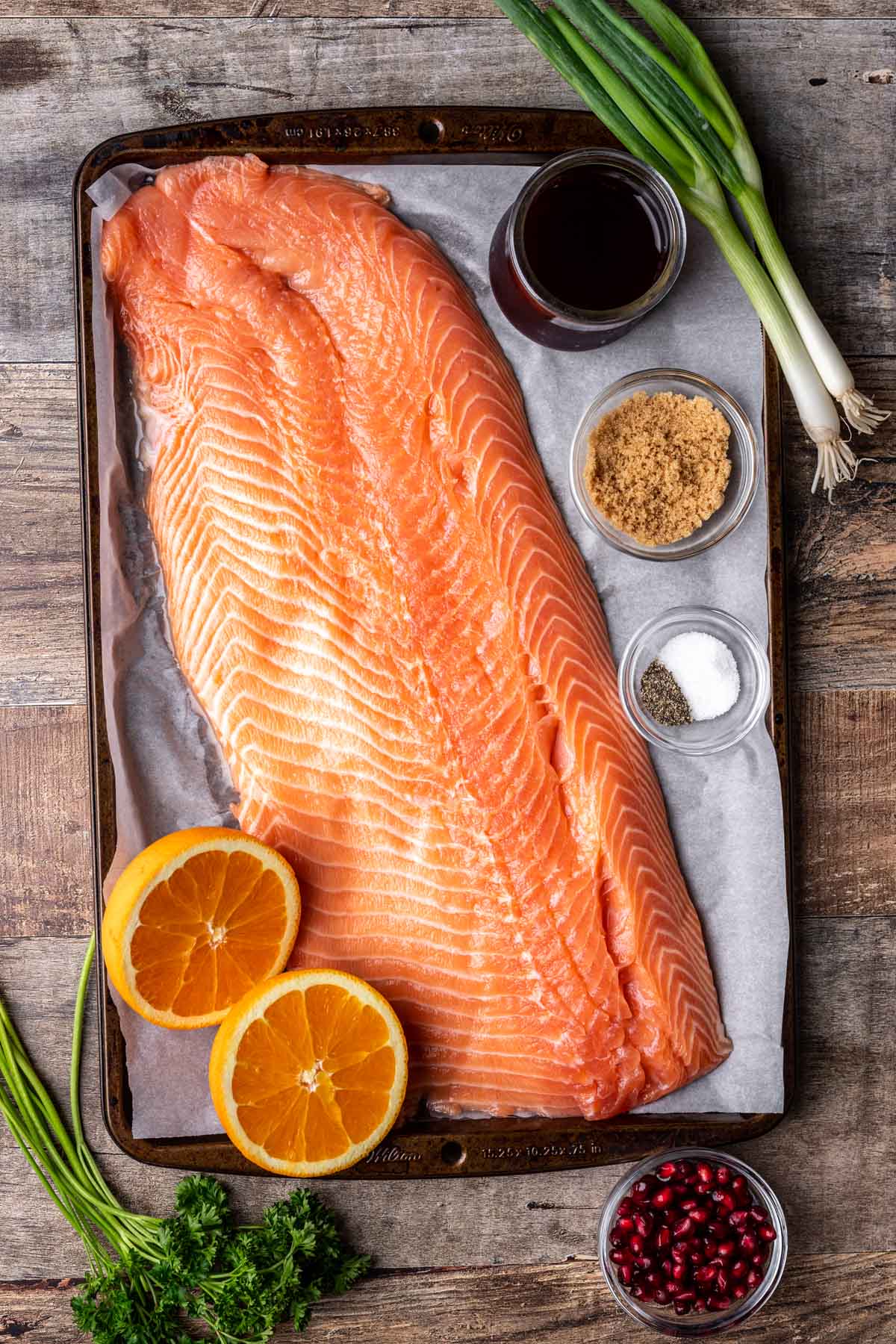 Instructions:
Preheat oven to 300° F. Line a large baking sheet with parchment paper.
Place salmon skin-side down on the baking sheet. Season with salt and pepper.
Add pomegranate juice, brown sugar, orange juice, and orange zest to a saucepan over medium heat.
Bring sauce to a boil. Then simmer for 20 to 25 minutes, stirring occasionally, until it becomes thickened and a syrup-like consistency.

Brush reduced pomegranate sauce over the salmon.
Place salmon in the oven and bake for 30 to 38 minutes, or until the internal temperature registers 145° F on a meat thermometer.

Transfer salmon to a serving platter. Garnish the top with pomegranate seeds, orange slices, fresh parsley, and sliced green onions.
Substitutions and Variations:
You can swap the Whole Atlantic Salmon for two pounds of salmon filets. You can choose fillets with or without the skin.

The scallions or green onions are optional. They do provide a nice bit of crunch and a very slight spice to the fish. If onions are a no go at your house you can totally leave them off or serve them on the side to allow people to add them to their preference.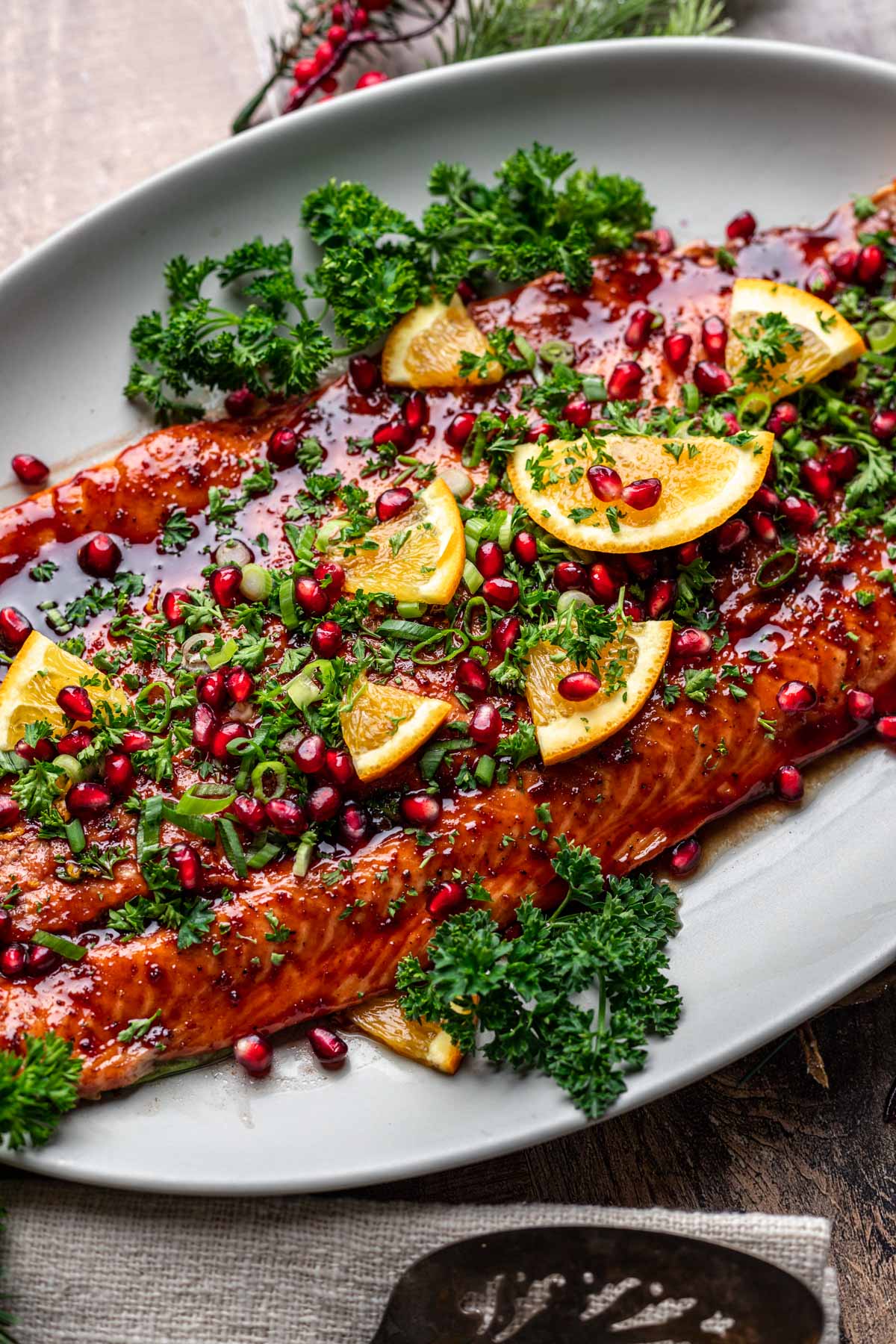 My Notes and Tips:
I like to cook salmon low and slow so it doesn't dry out and overcook.
Any extra pomegranate reduction can be kept in the refrigerator for 7 days. Use it to flavor chicken and other meats.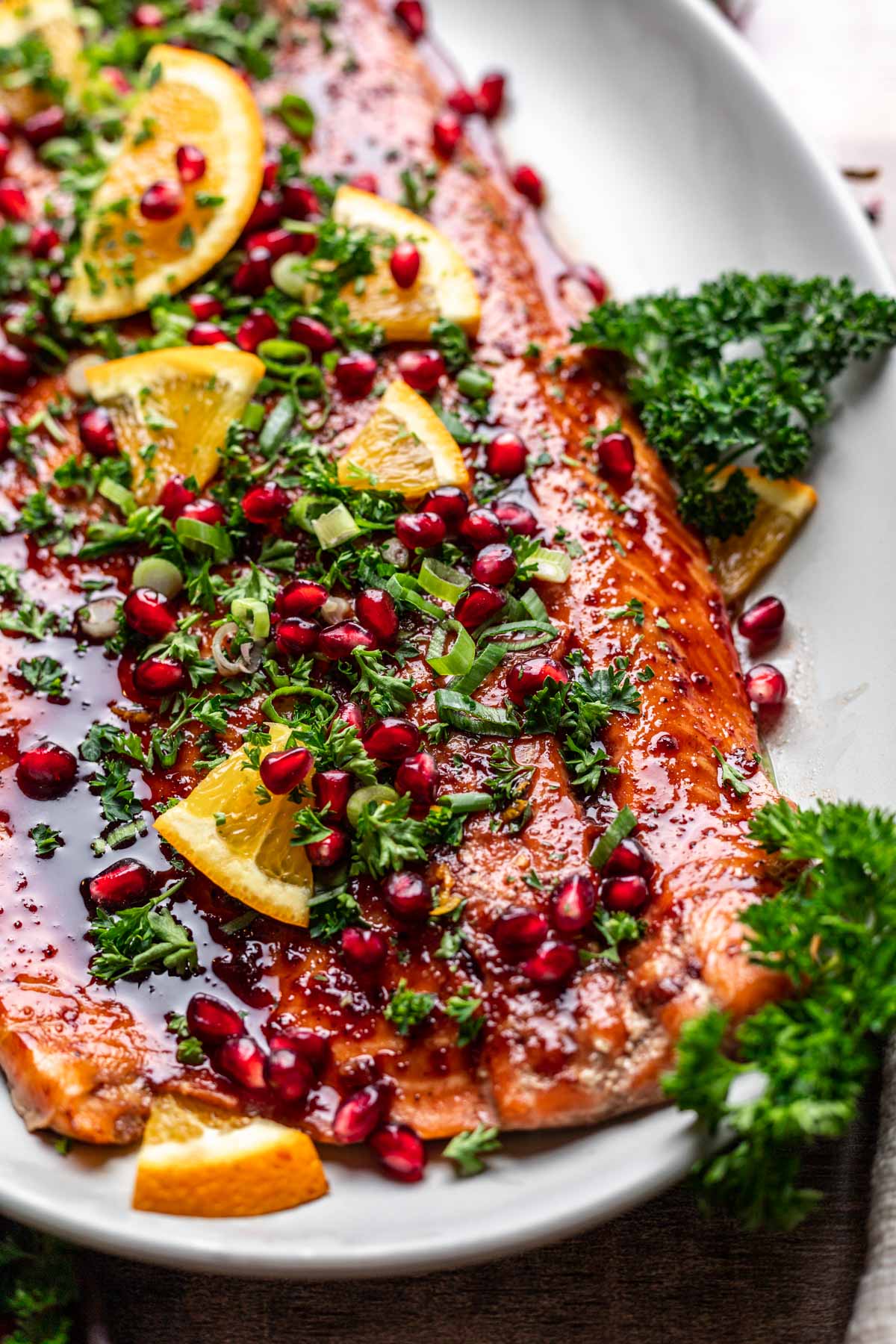 I hope your family will love this recipe as much as we do! If you do try this recipe please come back and leave a comment letting me know how much you liked it!
Happy Cooking Y'all!
Susanne