Cheesy Beef Macaroni Casserole is pure comfort food. There is no other way to describe it. Made with ground beef, elbow pasta, tomatoes, and cheese. This is the kind food that you crave when you've had a long day. It's almost like a big food hug. Okay, so you probably don't hug your food but you get the idea, right?
The ingredients in this recipe are all basic pantry staples for me. I like to keep a wide range of spices, pastas, and can goods on hand. I also keep my refrigerator stocked with a variety of shredded cheeses. I find that if I keep foods on hand to prepare meals with I am more likely to cook at home rather than go out to eat. Eating at home is healthier and less expensive so I feel like it makes sense to keep my kitchen stocked.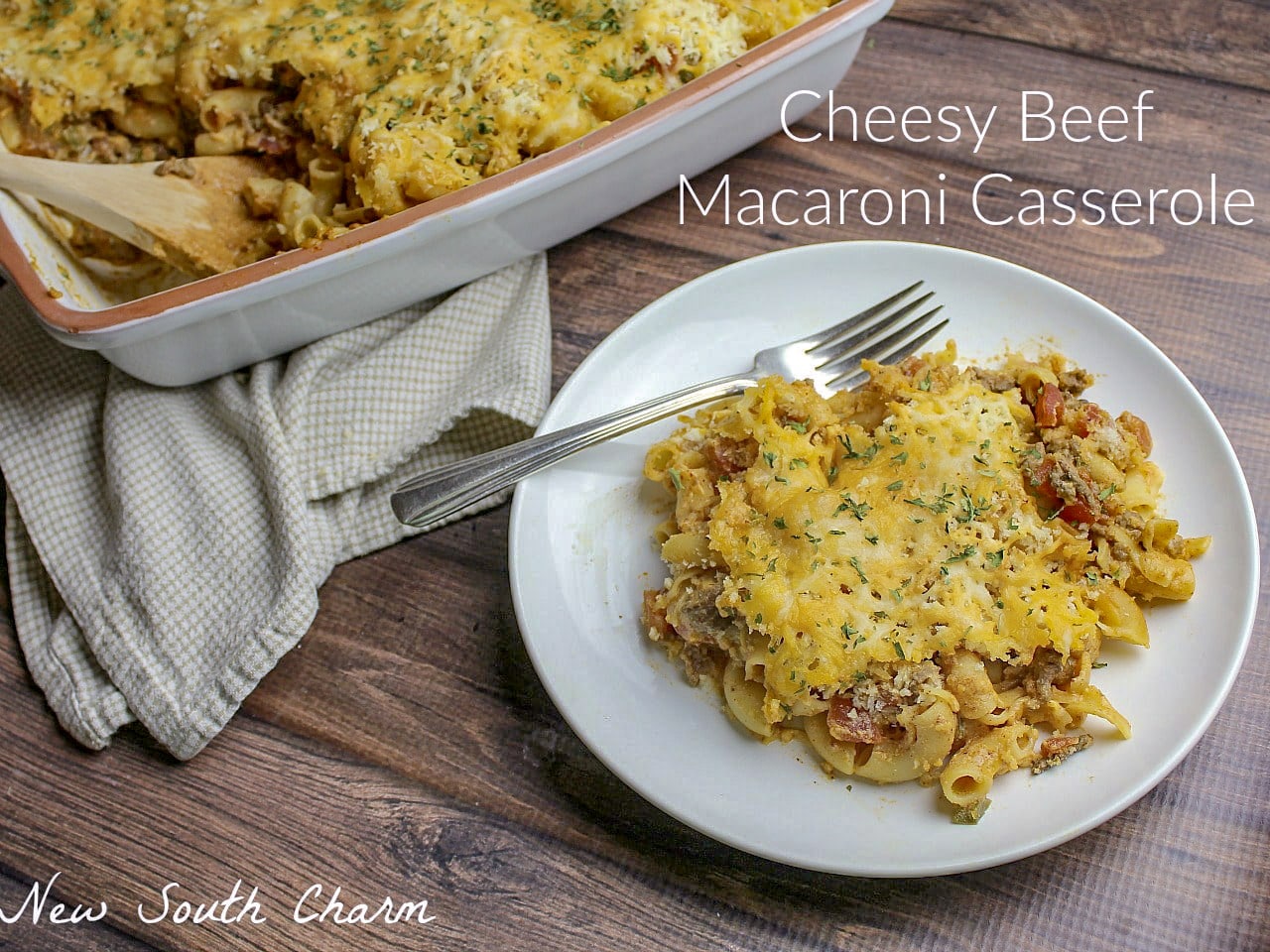 Begin by preparing elbow macaroni according to package directions. Drain and return to pot.
In a skillet over medium heat cook diced onion and bell peppers until tender and slightly translucent. Add ground beef to skillet and brown. Drain excess fat.
Sprinkle flour over beef mixture allow it to sit and cook for to three minutes. Add in garlic powder, chili powder, paprika, stir.
Transfer beef mixture into large pot with cooked macaroni pasta. Pour in two cups of crushed tomatoes. Combine. Simmer five minutes.
Add sour cream, milk and shredded sharp cheddar cheese and Panko bread crumbs. Stir to combine.
Pour the mixture into a large casserole dish. Top with Monterrey Jack cheese and
bake for about 20-25 minutes or until the cheese is melted and bubbly.
Thank you so much for reading! Are you following New South Charm on Facebook? I'd love to hear from you; drop by and say hello!
Happy Cooking Y'all!
Susanne