When I pick a recipe to share with you guys I always make sure it's something that we love. This recipe for Baked Beef and Mushroom Rotini is one of those recipes that I'll be going back to over and over.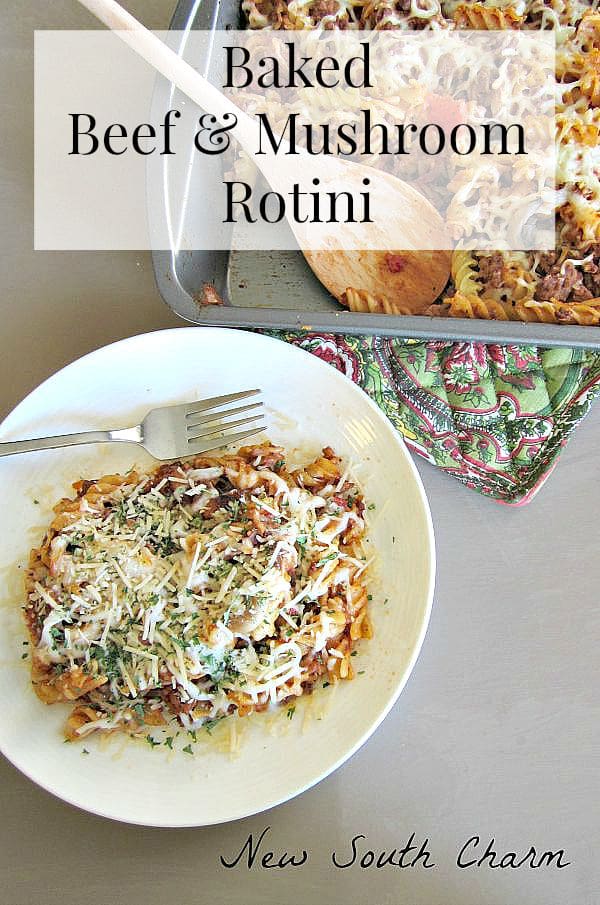 This recipe is company worthy. It's got that rich tomato flavor that everyone loves. Plus if you serve it with salad, a side like my recipe for Oven Roasted Green Beans, and fresh crispy bread your guests will have more than enough to eat. They also will declare you the best cook they know.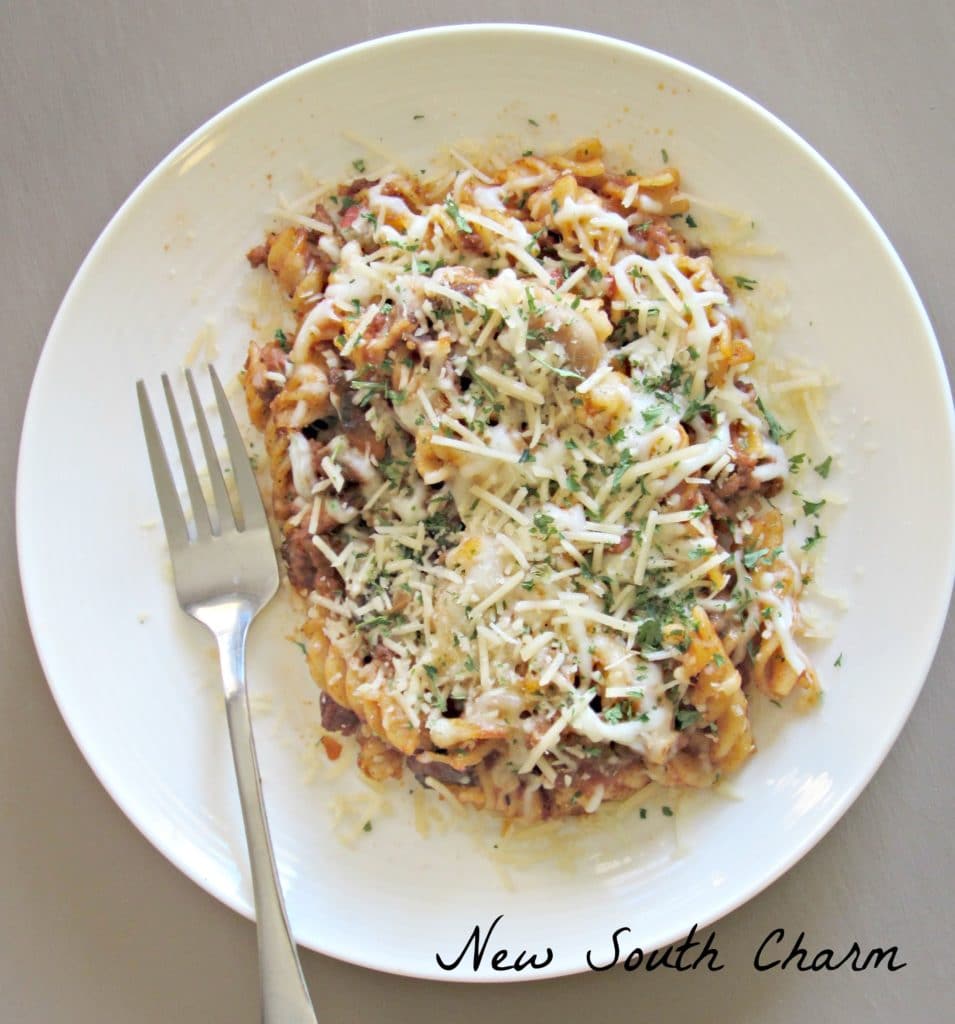 I recommend browning the beef in a large pot or dutch oven. This will make it possible to combine the other ingredients together. I've tried making this in a large skillet and it was a close call with getting everything mixed together in the pan and not on the floor. Doing the dishes is enough work without having to mop up a big mess too, right?
Once the pasta comes out of the oven I garnish with parsley flakes and shredded parmesan. This casserole is almost better the next day so be sure to pack up some leftovers for lunch.
Thank you so much for reading! Are you following New South Charm on Facebook? I'd love to hear from you drop by and say hello!
Happy Cooking Y'all!
Susanne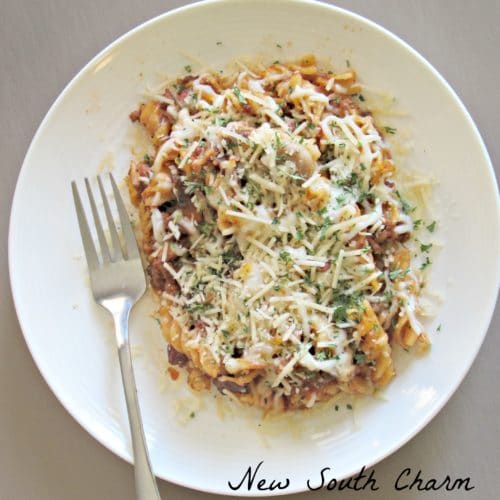 Baked Beef and Mushroom Rotini
Ingredients
1

lb.

ground beef

Rotini or penne Pasta

16 oz.

3

cups

sliced mushroom

I used two 4 oz. cans

1/2

cup

chopped onion

4

cloves

garlic finely minced

1 14.5

oz

can diced tomatoes with basil

garlic, and oregano undrained

1 6

oz.

can tomato paste

no salt added

1/2

cup

of water

1/4

teaspoon

crushed red pepper flakes

1/2

teaspoon

Italian seasoning

1/2

teaspoon

Oregano

1

cup

Parmesan cheese

1

cup

mozzarella

Nonstick cooking spray
Instructions
Preheat oven to 350 degrees and prepare a 9x13 casserole dish with nonstick spray and set aside

Prepare pasta according to package directions

In a large pot or dutch oven cook onions, garlic and ground beef until vegetables are tender and beef is browned

Drain off fat

Stir in cooked pasta, mushrooms, diced tomatoes, tomato paste, water and spices mix until well combined

Transfer mixture half or mixture into prepared casserole the sprinkle Parmesan cheese over mixture. Pour remaining half or mixture on top of cheese and then sprinkle the top with mozzarella cheese bake at 350 for 25 to 30 minutes or until cheese is melted and bubbly.

Garnish with Parmesan cheese and Parsley flakes (optional)