Bacon Scallion Chicken Salad is a low crab recipe that doesn't skip on flavor. It's perfect for lunch or supper on hot days. It's also great for packing in a cooler for a picnic or road trip.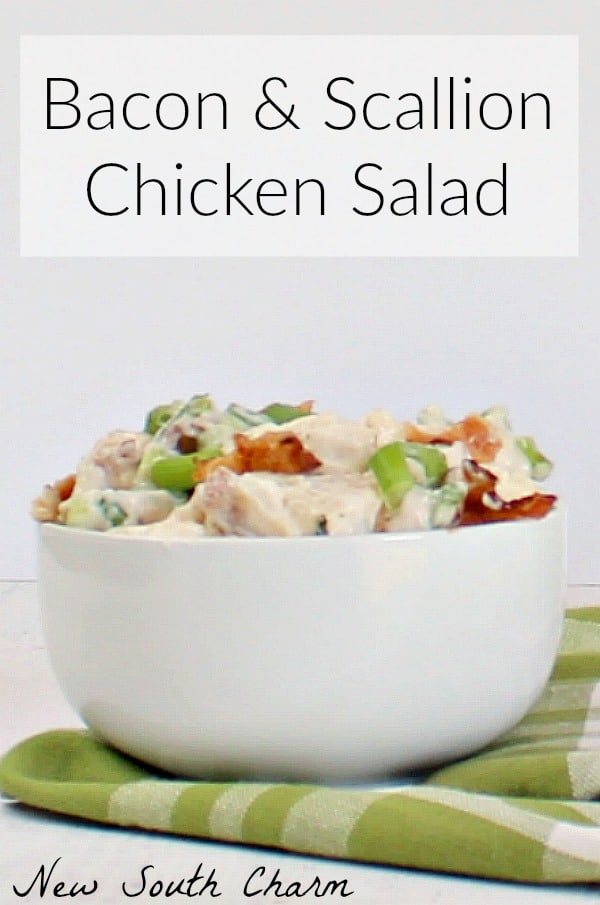 I recently had a long talk with my doctor about losing weight. He suggested that I might want to lose a few pounds to help improve my health. Now I didn't disagree but it wasn't exactly welcomed news. I mean who wants to go on a diet, right?
When I expressed my concerns about dieting and how I hated all the restrictions my doctor patted my knee and agreed. Then he  kindly suggested that I just look for ways to "cut back" on carbohydrates rather than trying to go on diet. More of a lifestyle change rather than a diet plan that I would eventually stop following.
So, that my friends is what I'm learning to do. Now don't fret I will never give up my passion for comfort food. Y'all  know how much I love my pasta, However, from time to time I'll be sharing healthier recipes too.
Today I'm going to share a recipe with you for a low carbohydrate chicken salad. I made this Bacon Scallion Chicken Salad for lunch last weekend and it was so good I had to make it again today.
Prepare 6 slices of bacon and set aside. I like to cook my bacon in the oven. Don't know how to do that? It's really easy. Check out my post How To Cook Bacon In the Oven. Once bacon is cooked set it aside to cool.
Cut up two boneless skinless chicken breasts into bite size pieces. Then warm a tablespoon of olive oil over medium heat. Cook chicken until no longer pink and cooked through.
In a medium bowl stir together a half cup mayonnaise, a half teaspoon of garlic powder, salt and pepper until well combined. Add in chicken, crumbled bacon, and three chopped scallions. Toss together. Chill in the refrigerator for an hour before serving.
Bacon and Scallion Chicken Salad
Ingredients
2

boneless skinless chicken breasts

4 - 6

slices

of bacon

3

scallions

more for garnish if desired

1/2

teaspoon

garlic powder

1/2

cup

Mayonnaise

1

tablespoon

olive oil

salt and pepper
Instructions
Prepare bacon and set aside to cool

Cut up chicken into bite size pieces. Warm a tablespoon of olive oil in a large skillet over medium heat. Add chicken to skillet and cook until no longer pink and cooked through

In a medium bowl combine mayo, garlic powder, salt and pepper. Add chicken, crumbled bacon, and scallions. Toss everything together. Garnish with more scallions if desired. Chill in the fridge for an hour before serving