Bacon Cranberry and Pecan Green Beans are a great side dish for your holiday celebration, but they are so simple to make you'll find yourself making them all year long.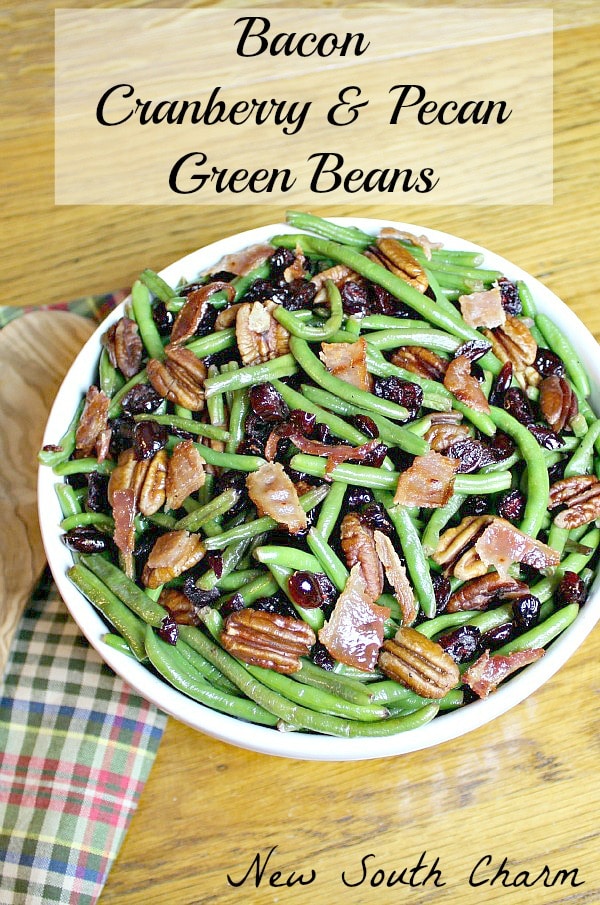 These green beans are called Bacon Cranberry and Pecan Green Beans but it's the bacon in the recipe that's really the star of the show. The bacon combined with the pecans give the green beans a savory flavor. If you've ever had green beans cooked with bacon or cooking in bacon renderings then you know how yummy this is.
The twist on this recipe are the cranberries. They add a pop of tarty sweetness that makes this recipe all the better.
So let's review, fresh green beans, savory bacon and pecans, sweet flavor of cranberry. That sounds perfect to me.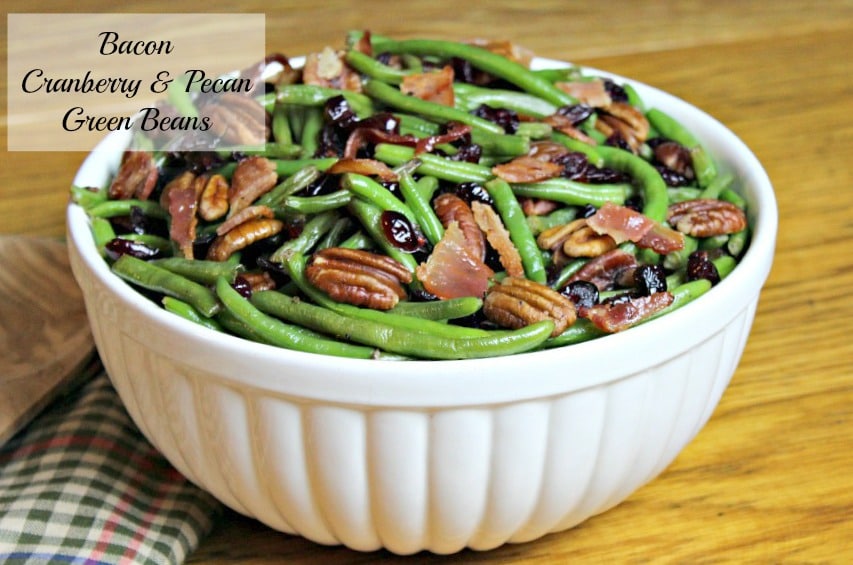 This recipe calls for whole green beans. I prefer to buy them fresh. In the winter months they can be hard to find. When can't find fresh I but frozen. If you are using frozen green beans be sure to thaw them before cooking.
In a large skillet cook 3-5 slices of bacon until they reach desired crispness. Remove bacon from skillet and set aside. Do not drain the bacon renderings from the pan.
Add green beans to pan and toss to coat. Cook until green beans are tender. Add in pecans, dried cranberries, and cooked bacon stir to combine and cook until pecans are fragrant. Stir occasionally to prevent sticking.
Remove from heat and serve immediately. If you are serving them at later, like during Christmas dinner simply pop them into the oven for 5 – 10 minutes to warm through.
It think the green and warm red of the cranberries give this side dish a very Christmas-y look.
Happy Cooking Y'all! &
Merry Christmas!
Susanne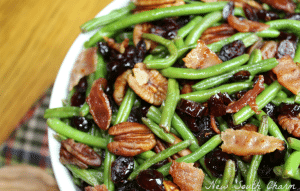 Bacon Cranberry and Pecan Green Beans
Ingredients
4

cups

green beans

3-5

bacon slices

1

cup

dried cranberries

1/2

cup

pecan halves

chopped if you want smaller pieces

salt and pepper to taste
Instructions
In a large skillet cook the bacon until crispy. Remove bacon from

skillet Set aside.

Place green beans in the pan with the bacon grease and toss.

Cook until green beans become tender.

Add bacon, cranberries, and pecans into skillet. Cook until pecans

become fragrant. Stir frequently to prevent sticking.

Serve immediately or place in the oven for 5-10 minutes to warm

through before serving.