This recipe for 30 Minute Nacho Skillet is one of those recipes that's easy to toss together when you're in hurry or just too tired to cook dinner. I try to always have the ingredients to make these nachos.
Don't you just love Nachos? I know I do. I love how much fun they are to make and to eat. Plus they are easy to personalize to your own specific taste with different condiments and toppings.
This recipe is actually adapted from a couple of different recipes I've tried over time. I took the parts we liked the most from those recipes and joined them into one. Like all the recipes I share with you it's easy and inexpensive to make. I also added beans to give the recipe more protein and make it more filling. Also serving it over lettuce is a great way to add more vegetables to your diet.
If you have concerns about the empty calories from the tortilla chips you can skip them all together. Another option is to crush a few and sprinkle them over the top as a garnish. I usually put a few at the bottom and then pile the lettuce on top. This was I'm getting the crunchy and salty flavor I love about nachos but with fewer calories.
My husband and I garnish our nachos differently. I like to add sour cream, a little extra cheese, and a lot of lettuce. He likes to add jalapeño peppers, a little lettuce and a lot of extra cheese. This is a very flexible recipe that allows you to personalize it to your preferences. No matter your preferences you're sure to love the recipe.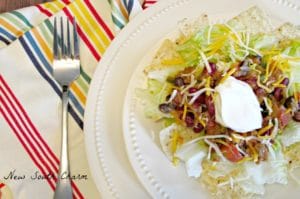 Happy Cooking Y'all!
Susanne
30 Minute Nacho Skillet
Ingredients
1

lb.

ground beef

1

small onion

diced

1

small bell pepper

diced

3

cloves

garlic

minced

1

package taco seasoning

dash of red pepper flakes

2

cans tomatoes and chilies

1

can black beans

1

can dark red Kidney beans

1

tablespoon

butter

2

cups

shredded cheese

one cup for cooking and one cup for sprinkling on top

1

bag tortilla chips

garnishes of you choice
Instructions
In a skillet over medium high heat melt tablespoon of butter

add beef to skillet and cook until brown

drain away fat

mix in taco seasoning and pepper flakes stir until combined

add onions, bell pepper, and garlic to beef and cook for three minutes stirring occasionally

reduce heat

add tomatoes and chilis, black beans, kidney beans, half of the cheese stirring until cheese is melted

cover and allow to simmer for 10 minutes, stirring occasionally

serve over tortilla chips and lettuce, garnish