Baked Shrimp Dip was a HUGE hit at our holiday party and several people asked for the recipe.  I think it's the ultimate compliment when someone asks you for the recipe, don't you?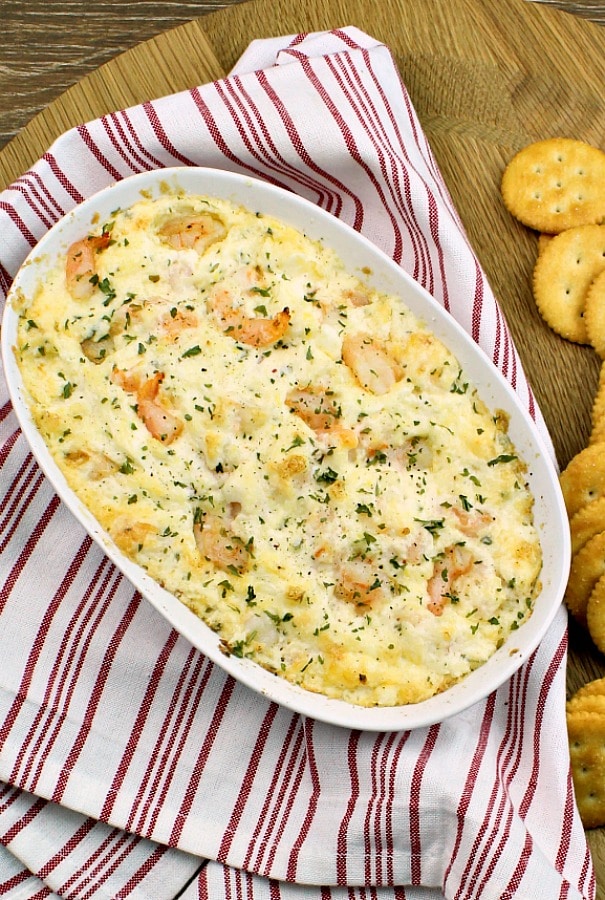 This Baked Shrimp Dip is easy to make but is elegant enough for a gathering or party.
Shrimp is always a big hit at parties but if can become expensive if you're feeding a crowd. I served this dip recently when we had some friends over and everyone wanted the recipe. That's how you know when something is really good, right? When other people ask how you made it.
To make this dip you will need to defrost the shrimp. To do this I simply placed the frozen shrimp in a colander under warm water for a few minutes.
Once the shrimp is thawed completely making this Baked Shrimp Dip is a snap!
You need to heat olive oil in a skillet over medium high heat and then cook the shrimp until the are firm and pink. Once the shrimp are cooked set them aside cool. Once cooked chop the shrimp into small pieces.
Then in a bowl combine cream cheese, mayonnaise, mozzarella, parmesan, garlic and parsley. Add the chopped shrimp to mixture and combine. Then transfer to a small baking dish and bake until golden and bubbly.
I served this with crackers, but you could serve it with toast points, pita chips or even Melba toast.
I hope you'll make and enjoy this recipe at your next get together! It really is really yummy!
Baked Shrimp Dip
Prep time:
Cook time:
Total time:
Baked Shrimp Dip is the perfect appetizer for your next party or game day!
Ingredients
1 lb shrimp, peeled and deveined
8 oz. cream cheese softened
¼ cup mayonnaise
¾ cup mozzarella
¼ cup parmesan
2 tablespoons olive oil
3 cloves garlic minced
½ a lemon juice and zest
2 tablespoon parsley, chopped
salt and pepper to taste
crackers or pita chips for serving
Instructions
Preheat oven to 350 degree
Heat a large skillet and olive oil over medium high heat
Add garlic and shrimp to skillet and season with salt and pepper cook shrimp for 3 to 5 minutes or until firm and pink. Then set the shrimp aside to cool the chop into small pieces.
In a large bowl, mix together lemon juice and zest, mayonnaise, mozzarella, parmesan, and parsley. Stir in chopped shrimp and season with more salt and pepper.
Transfer Mixture into a small baking dish and bake for 25 minutes or until bubbly and golden
Garnish with more fresh chopped parsley and serve with crackers or pita chips
Looking for more great SHRIMP recipes?