Slow Cooker Salsa Verde Chicken Chili is a super easy flavor packed recipe that is perfect for a busy weeknight dinner.
Once the weather starts to cool down I start craving chili. Usually I make a traditional tomato based chili with ground beef. Occasionally, I make white chili that has a chicken broth base and white beans such as cannelloni or Great Northern, chicken and diced chilies.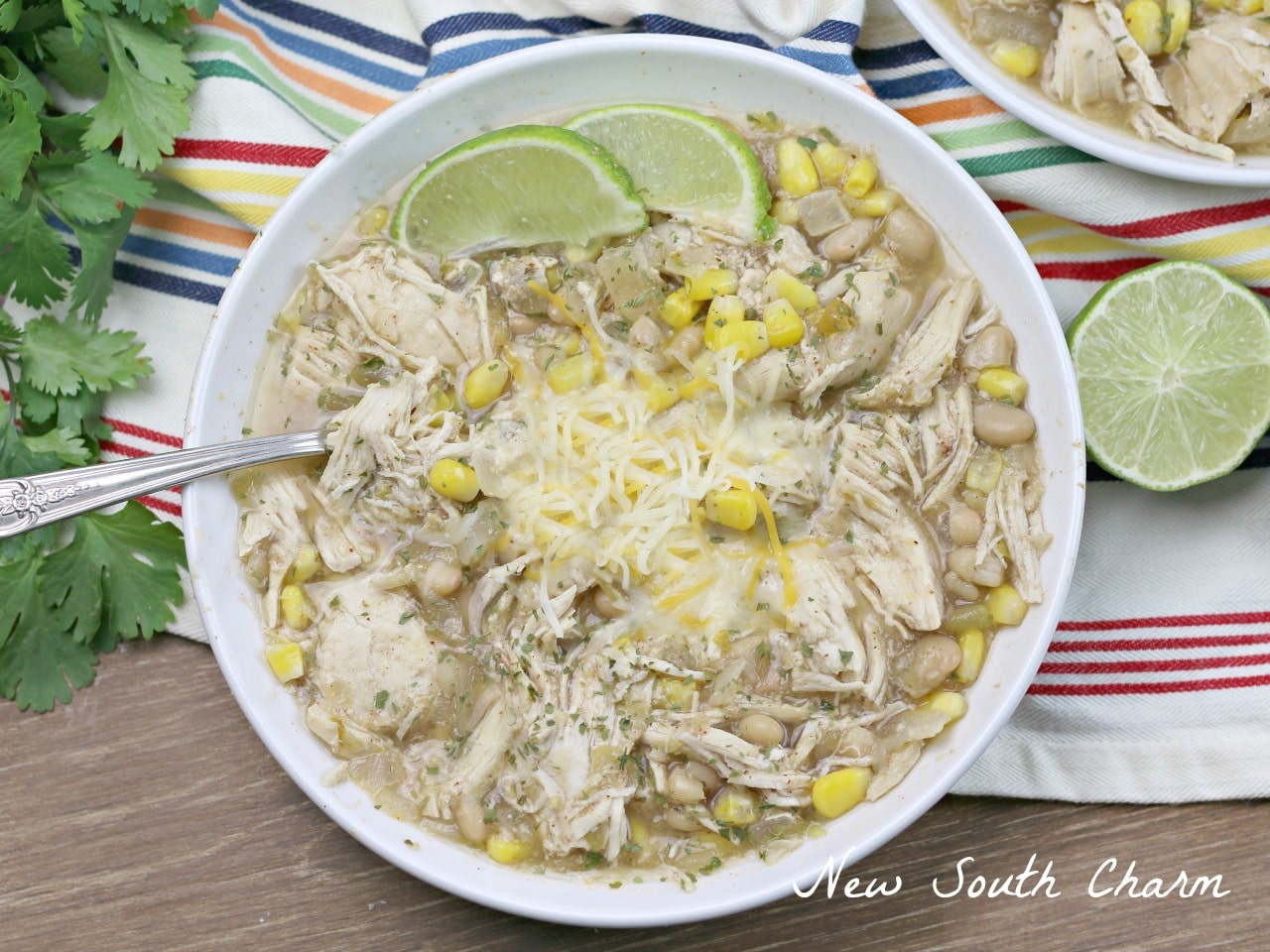 So when I saw a Slow Cooker Salsa Verde Chicken Chili I thought it looked like a great way to enjoy a favorite meal in a new way. Bonus points were awarded for it being a slow cooker recipe!
Now I don't know about you but my favorite kind of crock pot recipes are the kind where you drop in the ingredients, set the timer and walk away until it's done. This Slow Cooker Salsa Verde Chicken is one of those drop and go recipes.
This recipe calls for a seeded and diced jalapeño. Dicing a jalapeño can be tricky, if you touch your face while you are cutting it you can burn your eyes and that can be painful. Whenever I cook with jalapeños I buy them diced in a 4 oz can and I measure out about a teaspoon. You can also buy diced jalapeños in a jar and measure what you want to use and then keep them in the fridge for tacos, hot dogs and even tuna salad.
As this recipe cooks the flavors start to meld together and in the end this chili layered with flavors and packs just a touch of heat. I like to garnish this with cheese and a little fresh chopped cilantro.
Like this recipe? Follow me on Facebook for lots of recipes and ideas that your family will love.
Happy Cooking Y'all!
Susanne

Slow Cooker Salsa Verde Chicken Chili
Prep time:
Cook time:
Total time:
Ingredients
2 lbs. boneless skinless chicken breasts
2 cups chicken broth
1 cup salsa verde
1 small onion, chopped
2 (15 oz.) cans white beans (cannellini or great northern)
1 (15 oz.) can yellow whole kernel corn, drained
1 (4 oz.) can diced green chilies
2 cloves garlic, minced
1 jalapeño, seeded and minced (see post for easy tip)
1 teaspoon cumin
1 teaspoon chili powder
Mexican blend and cilantro cheese for garnish
Instructions
In the bowl of your slow cooker add chicken, onion, beans, corn, garlic, chili power, and cumin jalapeño, and chilies and give it stir.
Cover and cook on low for 6 hours or high for 4
At the end of the cook time remove chicken and shred. Return to slow cooker and stir to combine.
Serve immediately and garnish as desired