Spicy Sausage and Penne Pasta is an easy dinner that comes together in thirty minutes in one skillet.
I'm always on the look out for new quick and easy dinners. If I can make the whole thing in one pan like this Spicy Sausage and Penne Pasta then all the better.
Less mess, less clean up. You can relate right?
About a year ago I made this Spicy Sausage and Penne Pasta for the first time and honestly it as a sort of a let down while it was good it wasn't great but it was so easy to make I didn't want to let it go.
So, I fiddled with the recipe and added a couple spices suddenly this recipe went from blah to BAM!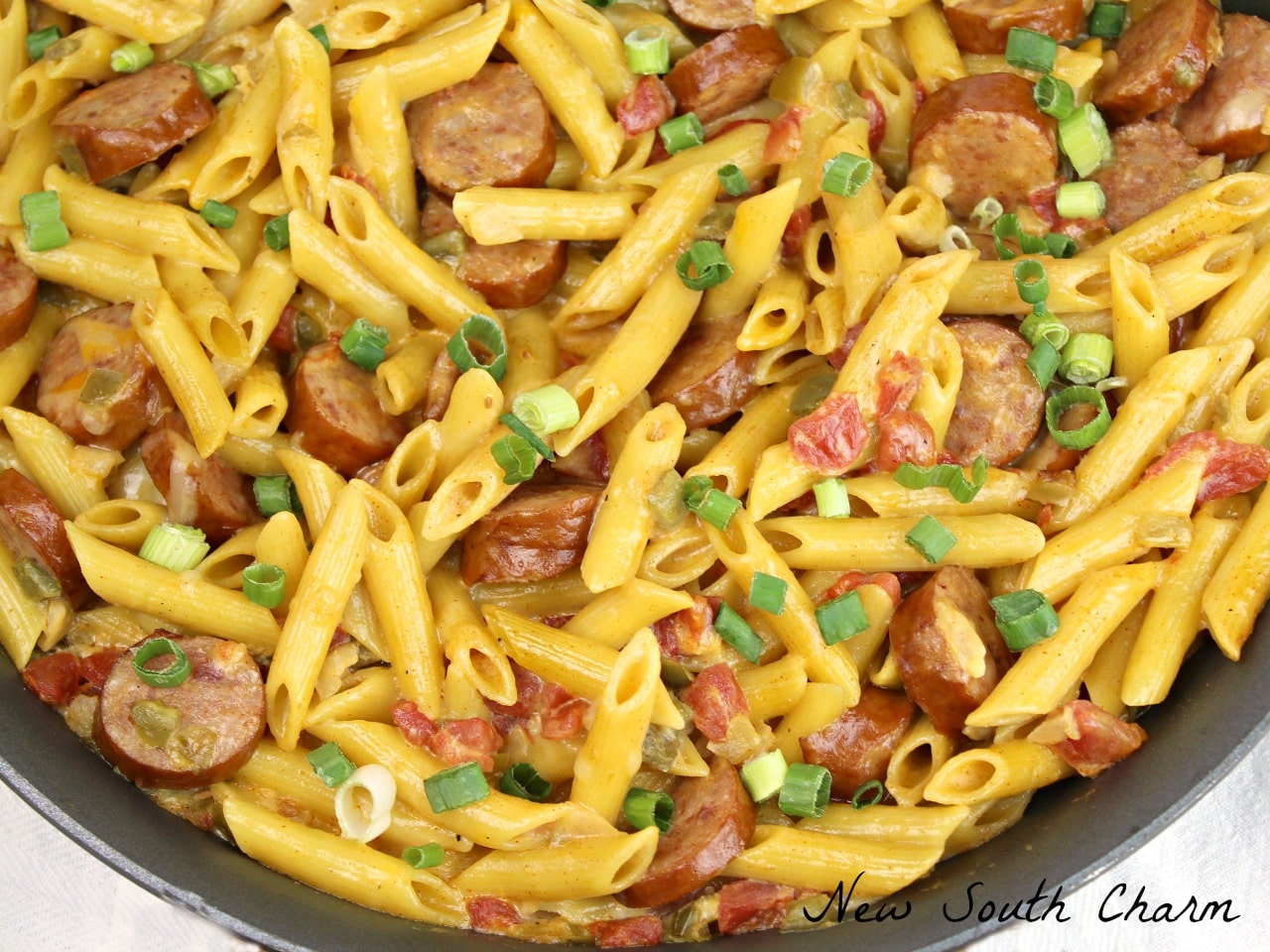 I used a great short cut to make this recipe even faster to prepare. I bought frozen chopped onion and bell pepper. I found them in the freezer section with the rest of the frozen vegetables.
Then, I just opened the bag measured out a cup of each and dumped them in skillet I didn't even defrost them first. You know what the say, work smarter not harder after all adulting is hard why make it harder?
Thank you so much for reading!  Are you following New South Charm on Facebook? I'd love to hear from you; drop by and say hello!
Happy Cooking Y'all!
Susanne

Spicy Sausage and Penne Pasta
Prep time:
Cook time:
Total time:
Ingredients
1 pound Kielbasa
1 (16 oz. box) penne pasta
1 (10 oz. can) Ro-Tel
1 cup onion, diced
1 cup bell pepper, diced
3 cloves garlic, minced
2 cups chicken broth
½ cup cream or milk
1 tablespoon Worcestershire sauce
½ teaspoon paprika
¼ teaspoon red pepper flakes (optional)
1 cup Monterey Jack Cheese
Salt and pepper to taste
Scaillons for garnish (optional)
Instructions
Add olive oil to an oven-safe skillet over medium high heat. When oil is
warm add sausage, onions, bell pepper and garlic and cook about 3-5
minutes or until sausage is browned.
Next, add the chicken broth, tomatoes, cream, pasta, Worcestershire
Sauce, paprika, half of the cheese, salt and pepper and stir together
Bring to boil, cover skillet, and allow to simmer for 15 minutes. Stir in
remainder of the cheese cover to melt. Garnish with scallions if
desired.
Looking for more easy 30 Minute Dinners?