Nothing says Fall like a great pumpkin dessert and this Easy Pumpkin Dump Cake is everything wonderful about this season in a pan.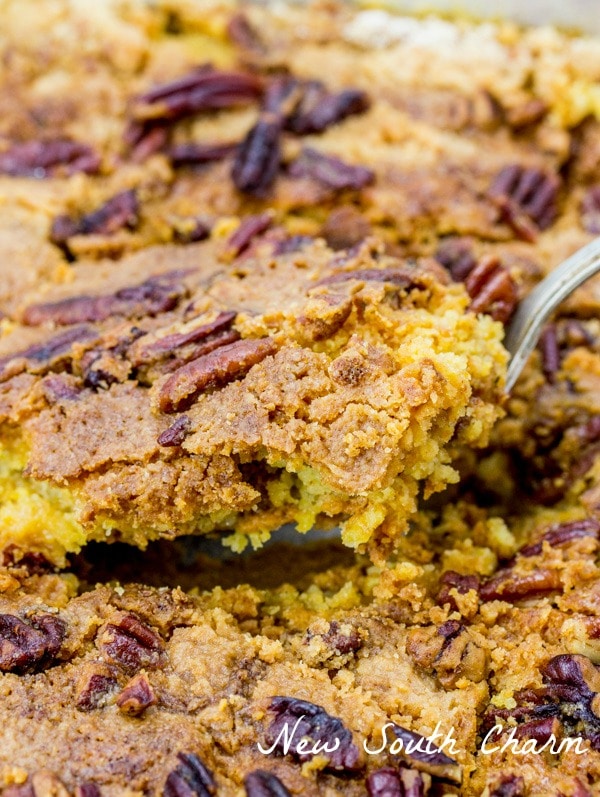 I love an easy dessert recipe and this one is super-duper easy! The only way it could be easier is if it made itself.
Recipes with pumpkin have been gaining popularity over the last few years. Honestly I've been really slow to warm up to it. I had a lot of preconceived ideas about how I wouldn't like pumpkin but it turns out I was wrong. I-was-so-wrong!
You make this pumpkin dump cake with yellow cake mix with sugar and cinnamon and pecans and it makes the whole house smell amazing.
This easy cake is prefect for feeding a crowd and a great alternative to a pumpkin pie for the holidays. Everyone will love the creamy pumpkin layer and the buttery crust. I serve this with a scoop of vanilla ice cream and a drizzle of caramel.
Happy Cooking Y'all!
Susanne
Like this recipe? Follow me on Facebook or Pintrest for lots of recipes and ideas that your family will love.

Easy Pumpkin Dump Cake
Prep time:
Cook time:
Total time:
Ingredients
1 (29 oz can) pure pumpkin
1 box yellow cake mix
1 (12 oz can) evaporated milk
3 eggs
¾ cups butter, melted
1 cup white sugar
3 teaspoons cinnamon
1 cup pecans, chopped
Instructions
(29 oz can) pure pumpkin
box yellow cake mix
(12 oz can) evaporated milk
eggs
/4 cups butter, melted
cup white sugar
teaspoons cinnamon
cup pecans, chopped
Preheat oven to 350º
Grease a 9x 13 cake pan with non stick spray
In a large bowl combine pumpkin, milk, eggs, sugar and cinnamon until well blended. The mixture will be very wet.
Sprinkle yellow cake mix evenly on top of the pumpkin mixture
Add chopped pecans over the top of the cake mix
Bake at 350º for 50 minutes
Top with ice cream and caramel if desired
Looking for more CAKE MIX HACKS try these?