Cowboy Goulash is my twist on a the traditional goulash recipe. This version features lots of Tex-Mex flavors with just a enough  spice to give it a kick. If you're looking for an easy comfort food that with a lot of flavor this recipe is for you.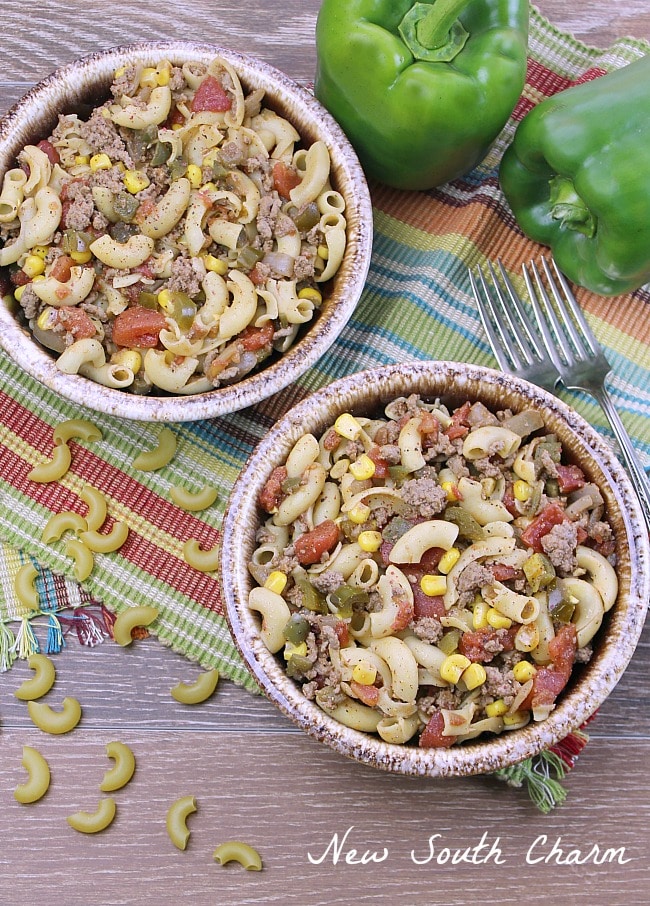 Today I'm teaming up with a few other bloggers to help raise funds for our favorite charity to help support hurricane relief in Houston. Each  blogger selected a Texas style or Texas inspired recipe to post today.
For me it's impossible to think about Texas and not think about cowboys. Both the cowboys in boots and the Cowboys in cleats. The relief organization I'm  supporting is the United Methodist Committee on Relief (UMCOR).
This organization is amazing and they offer assistance for everything from providing meals to helping with the labor of rebuilding damaged homes. And, unlike other national organizations 100% of the money you give to them goes to victim assistance. I'll let you know at the end of the post how you can donate to this group.
When I was younger my mother used to make this Cowboy Goulash it was always one of my favorites. It has remained one of my favorite comfort foods since childhood. In college I made it for friends and sorority sisters before a big cram session for midterms and finals. Over the years I've changed a couple things in this recipe. I've added the jalapeño and Ro-Tel to give it a little kick. I added the Worcestershire sauce to give the recipe a little bit of a smokey flavor. I think adding these three things have really given this recipe more of a Tex-Mex feel.
Now as I said at the beginning of this post I I'm teaming up with a few other food bloggers to help raise awareness and funds for Hurricane Harvey Relief. If you'd like to learn more about UMCOR or make a donation of any size just click the link below. It's really easy and remember 100% of your donation goes to people in need. Thanks!!
Here's the link to the easy to use UMCOR website: https://www.umcor.org
Remember 100% of your gift will be used in the interest of those in need!
Happy Cooking Y'all!
Susanne
Like this recipe? Follow me on
Facebook
for lots of recipes and ideas that your family will love. 
Cowboy Goulash
Prep time:
Cook time:
Total time:
Ingredients
1 lb. ground round
1 (16 oz) box of elbow pasta
1 green bell pepper (diced)
1 cup onion (diced)
3 cloves garlic (minced)
1 jalapeno pepper (minced)
1 can petite diced tomatoes
1 can of Ro-tel
1 can Whole Kernel Corn (drained and rinsed)
1 teaspoon chili powder (more to taste)
1 tablespoon Worcestershire Sauce
Salt and Pepper to taste
Instructions
Prepare pasta according to package directions in a large pot or
Dutch oven.
Cook onions, peppers, and garlic in a large skillet over medium high
heat until onions are transparent and tender.
Add in ground round or beef to skillet and cook until browned
Add chili powder and Worcestershire sauce to beef and stir
Drain noodles and return to large pot.
Add browned beef and vegetables to noodles
Add in cans of tomatoes, and corn pot stir to combine
Simmer on low for 20-25 minutes to allow flavors to mix together.
Looking for more COMFORT FOOD recipes? You'll love these: