Slow Cooker Mariana Sauce is so much better than anything you can get in a jar. You're going to love this simple recipe made with inexpensive staple ingredients.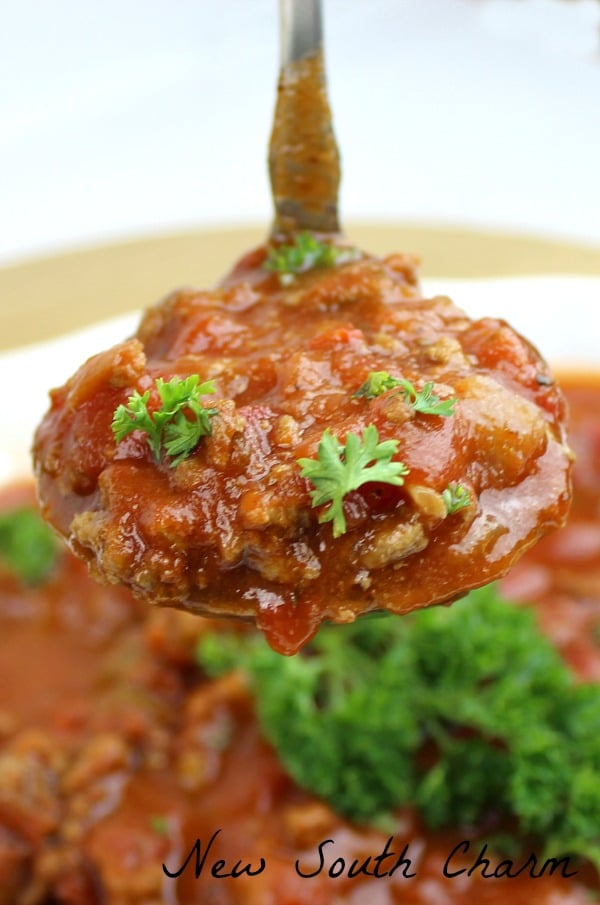 I admit I'm totally guilty of buying and using jarred marinara sauce. In fact I'm willing to bet there's a jar in my pantry right now. BUT I'm today I'm going to share a recipe with you to make your own that's ten times better than any jarred sauce.
This recipe does need browned ground beef so you'll have to do either right before you put it in the crock pot or the night before.
I did it the night before then just popped it in a zip top bag and put it in the fridge. Then the next morning I just dumped the ground beef in the slow cooker and tossed the bag in the trash. Easy-peezy.
Once you've browned your beef transfer it into the bowl of your slow cooker.
Next, add in diced onion and bell pepper. To make this easier and save time I used precut onions and bell peppers from the frozen food section of the grocery store. I didn't even thaw them just measured out a cup of each and tossed them in the crock pot.
Finally add in the oregano, basil, and Italian seasoning and a generous amount of salt and pepper. Stir everything together and then cover and set to cook on low for six to eight hours.
Serve over pasta with fresh parsley or freeze for a perfect easy dinner on a busy night.
Happy Cooking Y'all!
Susanne
Slow Cooker Mariana Sauce
Prep time:
Cook time:
Total time:
Ingredients
2 tablespoons olive oil
1 pound ground beef
1 cup onion, diced
1 cup green bell pepper, diced
3 cloves garlic, minced
2 cans (15 oz) diced tomatoes
2 cans (15 oz) tomato sauce
1 teaspoon oregano
1 teaspoon Italian seasoning
½ teaspoon basil
salt and pepper to taste
Instructions
Heat olive oil in a large skillet over medium high heat and brown ground beef.
Transfer ground beef to slow cooker then add onions, bell peppers, and garlic.
Next pour in cans of diced tomatoes, and tomato sauce. Add the seasonings, salt and pepper and stir to combine.
Finally, cover and set the slow cooker to cook on low for four to six hours.
Serve over pasta for freeze
Garnish with parsley if desired
Looking for more great RECIPES?