Steakhouse Green Beans are a great easy to make side dish for just about any meal. I love to serve them with chicken, pork chops, and of course steak.
A lot of the time dinner around here is just meat and potatoes. Actually, they are more like meat and veggies, I rarely fix potatoes during the week. To keep things interesting I'm always looking for new side dishes. The recipe I'm sharing with you today was inspired by one of our favorite local restaurants and my slight obsession with their green beans.
One of the things I love most about green beans is that they are a low carbohydrate food.  That means I can pair them with a simple protein and still have a piece (or two) of bread with dinner and  stay within my goals for the day. Of course, that doesn't mean I don't splurge every once in while and have pasta. However, for the most part I try to stick to a low carbohydrate diet. Delicious side dishes like these Steakhouse Green Beans are a huge help in sticking with my diet.
I use a skillet to prepare these green beans but you could use a sauce pan if you prefer. Just be sure your pan has a lid. You'll need a lid to help maintain the moisture in the green beans.
Begin by warming up a tablespoon of olive oil over medium heat. This should only take about a minute or two. Next, add a half a small onion to the olive oil and cook until tender, again this should only take a minute or two.
Once the onion is tender add in Worcestershire sauce, chicken stock, water, salt and pepper and stir to combine.
Finally add in a pound of green beans and toss to coat. Bring everything to a boil and then cover and reduce heat to low. Allow the green beans and seasonings to simmer together for about 20 minutes.
While the green beans are simmering I pop a couple of pieces of bacon in the microwave and then crumble them over the top of the beans. Of course the bacon is completely optional if you don't have any on hand or you don't eat bacon just leave it off there so much flavor in these green beans you won't miss it at all.
Thank you so much for reading!  Are you following New South Charm on Facebook? I'd love to hear from you; drop by and say hello!
Happy Cooking Y'all!
Susanne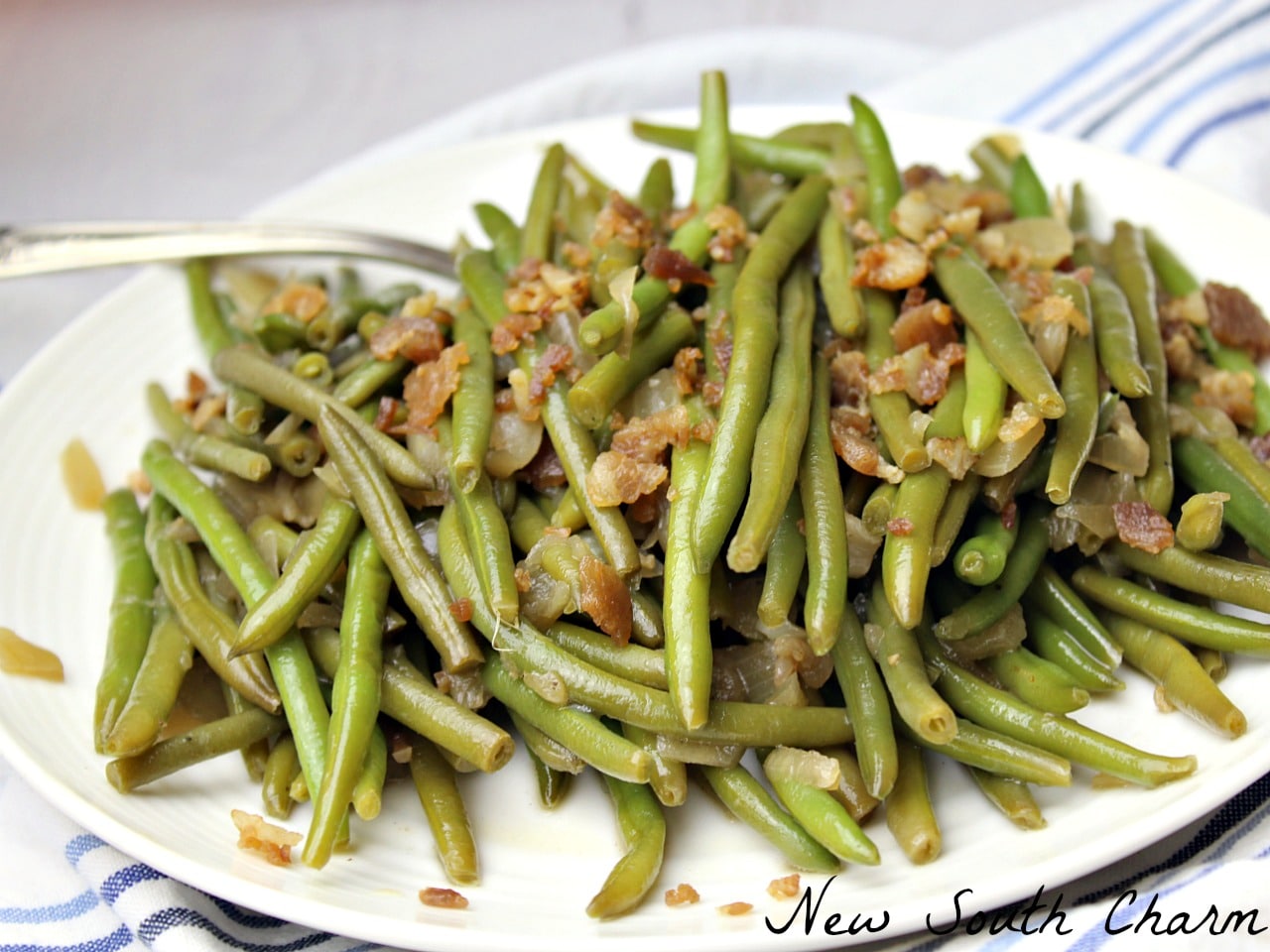 Steakhouse Green Beans
Prep time:
Cook time:
Total time:
Ingredients
1 lb. green beans fresh or frozen
1 tablespoon olive oil
½ small onion diced
⅓ cup chicken stock
⅓ cup water
6 tablespoons Worcestershire sauce
Salt and Pepper to taste
Instructions
Heat olive oil over medium heat
Add onion and cook for about two minutes or until tender
Add chicken stock, water, Worcestershire sauce salt and pepper and stir to combine
Add green beans to mixture and toss to coat
Bring to a boil, cover and simmer for 20 minutes
Garnish with bacon crumbles if desired