Garlic Butter Shrimp will be your new go to dinner for busy nights. This easy recipe only takes 30 minutes to make and tastes like it came from a restaurant! 
If you came here from Pinterest looking for the recipe for Garlic Butter Shrimp this is it! But with new updated and improved pictures!!! 
True story, before I met my husband the only way I'd ever eaten shrimp was fried. I know it's it's a sad, sad story.  I mean how could a person not know about all the other amazing ways to enjoy shrimp? Right?
Anybody else flashback to Forrest Gump when they read that? I wonder how many ways Bubba knew how to cook shrimp?
Garlic Butter Shrimp is the very first shrimp recipe I tried to make at home. We all loved it and it is one of my go to dinners for  nights when time is limited or I just don't want to cook or clean up after cooking, yuck!
This is really easy and fast. I keep a couple bags of shrimp in the freezer just for this recipe. To thaw them out I just dump the shrimp a in colander and run warm water over it for a few minutes. Once the shrimp is thawed I'm ready to cook.
In a large skillet melt two tablespoons of butter. Add garlic to skillet and cook for about a minute or until fragrant. Next add the shrimp to skillet and season with salt and pepper. Cook until they are pink and no longer translucent.  Melt the remaining butter before adding chicken broth bring to a boil cover and reduce heat. Let the everything simmer together for five minutes.
I like to squeeze a little lemon on the shrimp. Then add a little more freshly ground pepper. I think that it's the perfect way to finish off this recipe.
One of the best things about his dish is that you can serve it over pasta or rice or just on it's own. But no matter how to chose this recipe for Garlic Butter Shrimp is going to become one of your favorites.
Thank you so much for reading!  Are you following New South Charm on Facebook? I'd love to hear from you; drop by and say hello!
Happy Cooking Y'all!
Susanne
Garlic Butter Shrimp
Ingredients
2

pounds

shrimp

peeled and deveined

8

tablespoons

butter

divided

5

cloves

garlic

finely minced

1/4

cup

chicken broth

salt and pepper to taste

parsley for garnish

if desired
Instructions
In a large skillet over medium melt 2 tablespoons of butter

Once butter is melted add garlic and cook for one minute

Add shrimp to butter and garlic, season with salt and pepper, stir often, cook until it is pink and no longer translucent

Melt the remaining 6 tablespoons of butter and then add chicken broth and bring to a boil

Reduced heat to low and cover, simmer tougher for 5 minutes
 Looking for more great recipes?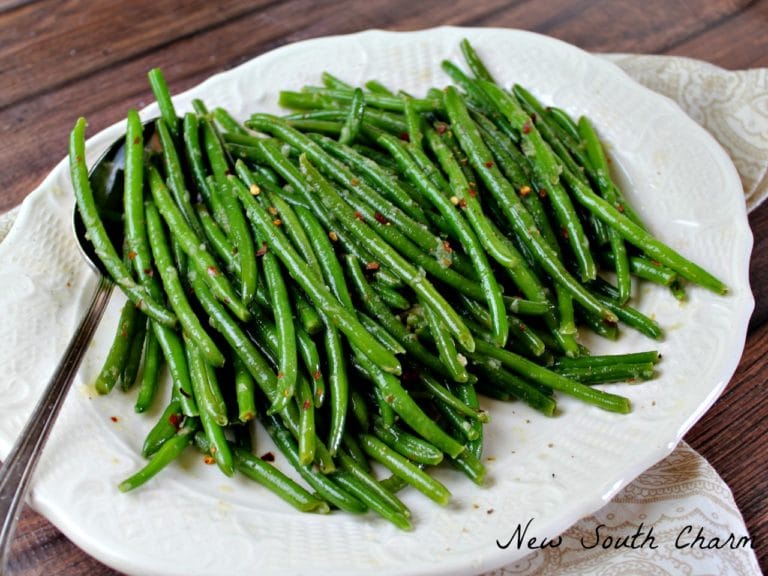 Chicken and Wild Rice Casserole
Easy Three Cheese Tortellini Bake